Defence and the bench: the cause of dwindling football scores
By Ethan Owens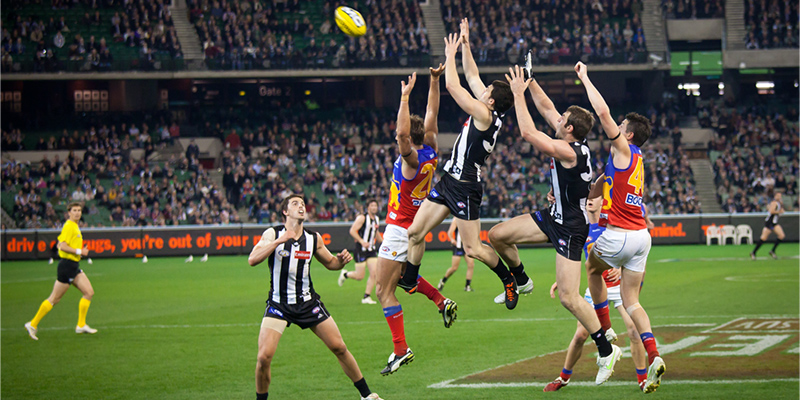 RESEARCH
When fans assemble to watch their favourite footy teams battle, they hope for a heart-stopping, high scoring affair that keeps them on the edge of their seats. But statistics show this is happening less often in recent times because of decreased average scoring in many football codes.
UniSA masters student Jackson Lane has completed a study looking at past game results in the AFL, aligning these with an array of game specific statistics, including offensive and defensive play-related variables, to uncover connections between playing style and other factors that impact scoring.
The 2019 season saw the introduction of nine new rule and interpretation changes designed to keep games flowing and the scores high.
However, scores have been notably lower than previous seasons during the early rounds, highlighted by an encounter between the Fremantle Dockers and the Adelaide Crows in round seven, where the Crows scored just three behinds while the Dockers failed to score in the second quarter – the lowest combined quarter score since 1996.
The research shows a decrease in offensive style while there was a strong increase in defensive style including stoppages, interchange rotations and changes in coaching tactics.
Other studies show that explosive energy is replenished to a higher quality with light active recovery, an opportunity more often available when players are given longer rest through stoppages in play or regular rotations off the field.
Lane believes this allow players to play at a higher defensive level for longer periods of the match.
"More frequent periods of recovery during a match generally means a longer time before fatigue will impact their performance," Lane says.
"Added stoppage breaks allow them to play more defensively, rather than zoning-off which is a common characteristic of players experiencing fatigue."
In 2006-07 when offensive style trended at its highest, figures showed around 50 rotations per team per match. Over time, the interchange rate considerably increased to as high as 140 rotations per match in 2013, correlating with the decreased scoring.
Despite a new 90 rotation cap placed on teams by the AFL in 2016, scoring totals have not increased, sparking further questions about how to increase scoring.
The 2007 average score was 95 points per game (PPG), per team, an average that was significantly higher than the current average score for 2019 after seven rounds, which sits at 81 PPG, a 14.7 per cent score decrease.
"Our results show that continuing to drop the interchange rate to no higher than 50 per match should significantly increase scoring," Lane says.
"There are other possible solutions including the introduction of a 'decongestion' layout, bonus points for long-range scoring or scoring over 100 points, or even something as extreme as decreasing the number of players on the field."
While the potential changes seem controversial and players and fans may be hesitant to accept more changes, the study shows each of these factors currently has negative impacts on average scoring, decreasing overall spectator enjoyment of matches.
Fans were quick to slam the Crows and Dockers for their low scoring game on social media, referring to the match as 'snoozeville' and even comparing the infrequent scoring to soccer where on average, less than three goals are scored per match at the elite level.
The study highlights the most successful AFL teams in recent times have had the perfect balance of offensive and defensive style during times where defensive play is at its most prominent.
The research shows offensive tactics set apart a premiership team from a 'wooden spooner'.
"It sounds straightforward, but we found premiership winning clubs have a stronger presence of offensive style, whereas the amounts of defensive style are uniform across all teams."