Achievements and Announcements
ACHIEVEMENTS
APPOINTMENTS
ANNOUNCEMENTS
ACHIEVEMENTS
UniSA Online's Tom Steer named in SA's top business leaders under 40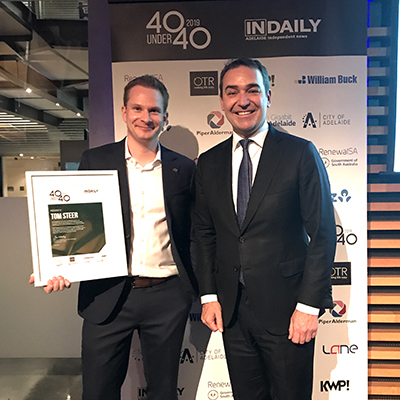 UniSA Online Executive Director, Tom Steer is one of nine UniSA graduates named South Australia's leading business entrepreneurs aged under 40 in InDaily's 40 Under 40 awards.
Steer joined the University in 2017 to lead the start-up and ongoing operation of UniSA Online, the University's online education arm that delivers a suite of career-focused 100 pre cent online degrees.
"This award reflects how far UniSA Online has come in a short period of time due to our collaborative and customer-focused culture as well as the commitment from so many people across UniSA," Steer says.
"As a start-up, we were in a unique position to completely redesign the experience for our online students.
"Our degrees have been specifically designed for online learning and our academic and support services are second to none."
Previously Chief of Staff for Australia and New Zealand at global IT giant, Hewlett Packard Enterprise, Steer says industry collaboration will be a key priority moving forward.
"We're focused on strengthening our existing industry relationships and building new partnerships to ensure our degrees meet current and future workforce needs," he says. "We want to make sure that our graduates are fully equipped to take the next step in their careers."
Steer is a graduate of UniSA where he completed both a Bachelor and Master of Business Information Systems.
Other UniSA graduates recognised in InDaily's 40 Under 40 awards include Cortex Interactive managing director Timothy Angel, KIK Innovation and Enterprises Founder & CEO Louise Nobes, DVE Business Solutions CEO Jo Schneider and City of Adelaide councillor Arman Abrahimzadeh. Vision Beyond Business Solutions director Vanessa Bamford, Physio Fit Adelaide co-founder and director Peter Flynn, AgCommunicators managing director Deanna Lush and CIRQA director Benjamin Wilson were also recognised.
The 40 Under 40 Awards celebrate the passion, vision and achievements of South Australia's finest young business people under the age of 40 and the contribution they are making to the future of South Australia.
An assessment panel representing the South Australian business community judged the nominees against selection criteria and identified the 40 young business leaders who have been outstanding in creating or growing a business in South Australia.
Medal recipient recognised for research innovation
Cameron Ollson's original and creative approach into the interaction of arsenic, cadmium and lead have earned him the Ian Wark Research Medal.
The medal is awarded to the most outstanding Future Industries Institute graduate for research creativity and originality, contribution to knowledge and international publication.
Supervisor Dr Albert Juhasz says Dr Ollson was an outstanding PhD student who designed an ambitious in vivo strategy to show that co-contaminants interacted with each other.
"Over the past two decades researchers have developed an advanced understanding of the individual relative bio-availability and bio-accessibility of commonly encountered inorganic compounds such as arsenic," Dr Juhasz says.
"But Cam's thesis branches away from traditional assessments and moves towards achieving a greater understanding of how inorganic compounds interact with each other and how different sequences also present themselves.
"Significantly, while in vitro assessment lacks sophistication to observe intercellular interactions, they may actually provide a way to conservatively predict in vivo contaminant relative bio-availability in various scenarios and situations which has application in the field.
"Cam's excellent comprehension of this multi-disciplinary research area enabled him to come up with the creative experimental approach and his research has contributed significantly to our knowledge of these contaminants."
Dr Ollson says he's honoured to receive the medal.
"Completing my PhD at UniSA under the supervision of Dr Juhasz and Dr Euan Smith was a fantastic experience," he says. "Ultimately the results have helped refine our understanding of how these co-contaminants interact in the gastro-intestinal tract which gives us a better insight into the potential risks to human health posed by contaminated sites."
While working on his PhD, Dr Ollson produced four publications in international peer-reviewed journals and six conference platform and poster presentations. He secured employment as a senior environmental scientist with Golder Associates in Perth even before submitting his thesis, which he completed within 3.5 years.
He currently lives in Perth with his wife Kari and daughter Vivianna and has just welcomed new daughter Ailee to the world.
Uncle Lewis O'Brien recognised for working to share Aboriginal knowledge
Aboriginal Elder, researcher and educator, Uncle Lewis O'Brien has been recognised by the History Trust of SA for his contributions to South Australia's history.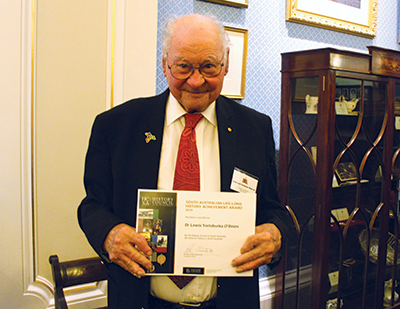 Dr O'Brien, an Adjunct Research Fellow from UniSA's School of Education, was a joint winner of the South Australian Lifelong History Achievement Award 2019. The award honours outstanding and sustained achievements in history teaching, research and scholarship as well as raising community awareness of history and heritage.
Uncle Lewis Yerloburka O'Brien was born at Point Pearce mission on the Yorke Peninsula where Aunty Gladys Elphick, in particular, had a great influence on him. After completing Aboriginal Studies courses in the 1970s, he began working in schools. He soon became a mentor for hundreds of Aboriginal children, families and inmates for more than 30 years.
In presenting the award, the History Trust of South Australia (HTSA) said Uncle Lewis combined knowledge passed down from his Elders with information gained from historians who work with written records.
"He has developed an original capacity to combine Aboriginal ways of knowing with western philosophy," the HTSA said in its citation. "He has been a driving force in reinscribing a Kaurna presence into the Adelaide topographical and cultural landscape and bringing to light Aboriginal knowledge and protocols."
Since the 1960s, Uncle Lewis has been a tireless and proud contributor to heritage, arts, sports and education – from preschool through to tertiary studies.
"He has been unremitting in his efforts to restore, maintain and evolve cultural knowledge and revive the Kaurna language, and he has been a tireless advocate of reconciliation," the HTSA said.
Dr O'Brien received the award jointly with historian Dr Pauline Payne.
The awards were presented as part of the 2019 Historian of the Year Awards, which were announced on 31 May at Adelaide Town Hall.
MOD. and Samstag highly commended in national museum and gallery awards
UniSA's museums and galleries were been recognised for their innovative exhibitions, publications and web design during the Australian Museums and Galleries Association (AMaGA) conference in Alice Springs last month.
Future-focused museum MOD. was highly commended for its website in the Museums Australia Publication Design Awards (MAPDA) Institution Website category.
The Anne and Gordon Samstag Museum of Art was highly commended for its 2018 catalogue in the Brochure category.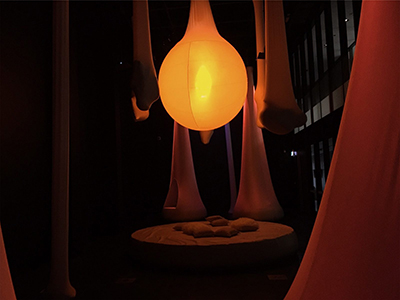 The Sleep Ops exhibit from WAGING PEACE was highly commended by AMaGA in the Temporary/Travelling Exhibition category. The exhibit showcased the research of the UniSA's Behaviour-Brain-Body Research Centre Director Professor Siobhan Banks, looking at potential reasons why humans sleep, the impact of a restful sleep and the impact on the body when people are deprived of it. It was open from late last year until April.
MOD. Director Dr Kristin Alford says the commendations were great recognition of the quality of the work – both publicly and behind the scenes.
"It's a great honour to be recognised by the national association and peak advocacy body representing museums and galleries," Dr Alford says.
"There was a very high calibre of entries from institutions across the country so to receive these two acknowledgements for MOD. and see Samstag recognised as well is a credit to all of the team and the people we work with both within and outside the University of South Australia."
Fish River Ranger Accommodation project wins two trophies at architecture awards
A ranger accommodation project built through UniSA's Design Construct program has been recognised with two architecture awards this month.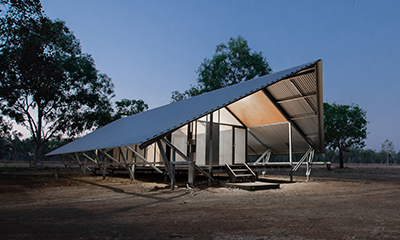 The Fish River Ranger Accommodation project, coordinated by Joti Weijers-Coghlan and David Morris in conjunction with Art, Architecture and Design staff and students, received the Yali-McNamara Award for Small Project Architecture and the Indigenous Community Architecture Award at the Australian Institute of Architects 2019 NT Architecture Awards.
The awards were presented in Alice Springs at the start of June.
The Design Construct program was initiated in 1993 to complement theoretical architectural education with hands-on construction projects.
The Indigenous Land Corporation invited the UniSA Design Construct team to propose upgrades to the Fish River Ranger Accommodation. The project aimed to improve the living conditions of the rangers by retrofitting existing structures to address the extreme climatic conditions of the Northern Territory.
Head of the School of Art, Architecture and Design, Associate Professor Jane Lawrence, congratulated the team on their success, noting "it's particularly poignant to have attained the Indigenous Community Architecture Award during National Reconciliation Week and a testament to the meaningful engagement and impact that this research produces".
The Fish River project is now in the running for the Australian Institute of Architects' National Awards to be held later this year.
Associate Professor of Education recognised for informing policy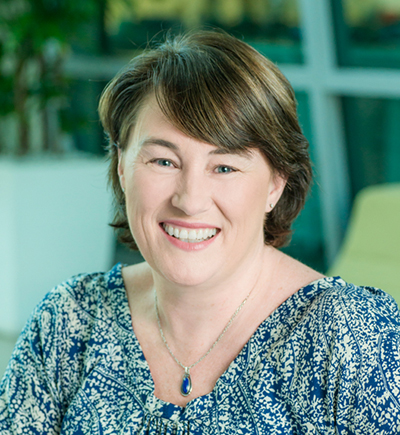 Seasoned media commentator Associate Professor Anna Sullivan's important work in education has again been recognised, this time by the Australian Council of Educational Leaders (ACEL) SA Branch.
At an awards ceremony in Adelaide in May, Assoc Prof Sullivan was announced as the recipient of its 2019 Distinguished Contribution to Research in Educational Leadership Award.
ACEL president Warren Symonds highlighted Assoc Prof Sullivan's authority in the field, with her work influencing modern education policy and practice at national and international levels.
Assoc Prof Sullivan says it was humbling to receive the award.
"I am surprised and feel very honoured to be recognised and acknowledged for my research by educational leaders," Assoc Prof Sullivan says.
Assoc Prof Sullivan is a leading expert in the fields of education policy, teachers' work and school discipline. She is also co-director of UniSA's Research in Educational and Social Inclusion (RESI) Group which is driving research and advancing understanding to create a society that fosters educational and social inclusion.
Much of her research and publications contribute to a greater understanding of how school leaders develop and enact policies in ways that make schools better places for teachers and students. Her research has informed education policy and practice, and she's a well-regarded communicator, appearing in newspapers, radio and television media as well as social media and online platforms.
She was named one of the "top 50 educators to watch" in 2017 by The Educator magazine, and she encourages her fellow researchers to engage with the media to better inform the wider community.
She received a UniSA Academic Excellence Teaching Award in 2014 and has a strong collaboration record, including attracting significant Australian Research Council Linkage funding.
As well as receiving the 2019 individual honour, Assoc Prof Sullivan co-founded the Media Centre for Education Research Australia (MCERA) which was also recognised this year, receiving the ACEL SA Media Award.
The independent, not-for-profit centre was envisioned by Assoc Professor Sullivan. She now chairs it, providing researchers with a platform to contribute to well-informed education news and discussion.
UniSA community features strongly in Queen's Birthday honours list
UniSA staff, alumni and people closely associated with the University have been recognised for their services to education, the defence and police forces and the community in the 2019 Queen's Birthday honours.
UniSA Adjunct Professor Michael Davis was made an Officer in the General Division of the Order of Australia (AO) for distinguished service to the space industry as an advocate, and to science education.
Recent Honorary Doctorate recipient Natasha Stott Despoja was also made an AO, for distinguished service to the global community as an advocate for gender equality, and through roles in a range of organisations. Stott Despoja is the Chair of Our Watch, a joint initiative between the Commonwealth and all state governments, established to drive nationwide change in the culture, behaviours and power imbalances leading to violence against women and their children.
South Australia Police (SAPOL) Assistant Commissioner Philip Newitt, a UniSA Business Administration graduate, was awarded the Australian Police Medal. The medal is awarded for distinguished service by a member of an Australian police force.
Graduates Lieutenant Colonel Ed Stokes and Group Captain Kaarin Kooij were each awarded the Conspicuous Service Cross, which recognises outstanding devotion to duty or outstanding achievement in the application of exceptional skills, judgement or dedication, in non-warlike situations. Lt Col Stokes is an Engineering graduate while Gp Capt Kooij is a Business graduate.
The Lieutenant Governor of South Australia, Professor Brenda Wilson, was made a Member (AM) in the General Division for significant service to community health and to the people of South Australia. Prof Wilson completed a Masters in Business Administration at UniSA.
The former Dean of UniSA's Whyalla campus, Professor Scott Bowman, who recently retired after almost 10 years as Vice Chancellor of CQUniversity, was made an AO for distinguished service to higher education, notably in rural and regional areas, and to social outreach initiatives.
See the Alumni network website for details on other alumni who received honours.
UniSA PhD dissertation corners the award market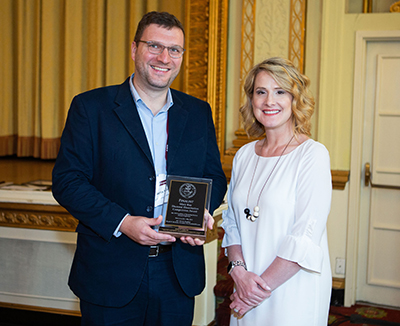 It has been a month of wins for UniSA graduate and researcher Dr Martin Hirche, who took out a coveted Mary Kay doctoral dissertation award at the 2019 Academy of Marketing Science annual conference in Vancouver at the end of May and back home in Adelaide, won the UniSA 2019 Graham Arnold Prize for best dissertation in early June.
A doctoral candidate at UniSA's Ehrenberg-Bass Institute for Marketing Science, Dr Hirche's dissertation explores relationships between product distribution and brand growth.
The Academy of Marketing Science prize is awarded from an international field of doctoral students from any recognised university, college of higher learning, business school or management school, worldwide.
The thesis An Empirical Analysis of Stock-Keeping Units Deviating from the Reibstein-Farris Distribution and Market Share Model: the Role of Product- and Distribution-Related Characteristics analysed why some product sales grow with increased distribution and others may not.
"The dissertation helps to uncover some of the reasons why some brands' sales grow more with increased distribution than for others," Dr Hirche says.
"Specifically, I explored what product characteristics and distribution tactics marketers can modify to grow their brands more effectively and efficiently.
"It is pretty exciting to receive this kind of international acknowledgement for my research and I hope that the knowledge can be applied by brands and brand marketers.
"The support from Mary Kay for research is fantastic.
"The company has been behind this PhD prize globally for 25 years and that is a great commitment to industry relevant research."
Mary Kay vice president of global sales education Beth Lopez says the dissertations were of the highest standard.
"We were so impressed by the dissertation presentations at this year's AMS annual conference. We look forward to providing mentorship and networking opportunities to our winners as they pursue their noble goal of continuous education."
The Academy of Marketing Science is a non-profit, international, scholarly, professional organisation dedicated to promoting high standards and excellence in the creation and dissemination of marketing knowledge and marketing practice through a role of leadership within the discipline of marketing around the world.
The UniSA Graham Arnold Prize for best dissertation in the area of Management, Corporate Social Responsibility, International Management or International Business, honours the first Dean International at UniSA's International Graduate School of Business and is awarded from a generous gift from University Fellow and former colleague of Dr Arnold, Andrew Chen Chew Yen and his wife, Lim Poh Chee.
APPOINTMENTS
New chief executive appointed to UniSA Ventures
An international leader in new technology development and commercialisation has been appointed to head up UniSA's technology commercialisation and investment management company.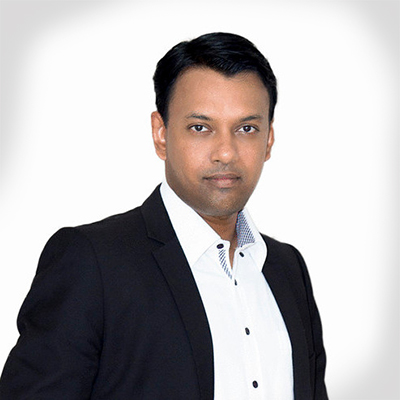 Following an international search, Dr Viraj Perera has been appointed as the new CEO of UniSA Ventures.
Deputy Vice Chancellor: Research and Innovation Professor Simon Beecham says Dr Perera has extensive expertise in innovation, SME development, technology transfer and commercialisation and intellectual property rights in several countries.
"He most recently held a position in the Malaysian Government, leading a public-private Technology Commercialisation Platform (PlaTCOM Ventures) which has a focus on university-industry technology transfer, new product development and commercialisation within the SME sector," Prof Beecham says.
This role led to Dr Perera being recognised by the International Business Review Magazine as one of the Top 60 Influencers in Malaysia in driving and influencing the Malaysian economy.
Dr Perera has also held senior technology transfer and business development roles at Oxford University and the University of Warwick in the UK, and in Australia.
"I would also like to take this opportunity to thank Bruce Tilbrook for acting in the role of interim CEO since February 2019," Prof Beecham says.
Dr Perera will commence in the role on 15 July 2019.
Weatherill and Pyne join UniSA to nurture tomorrow's business leaders
Former federal Minister for Defence Industry Christopher Pyne and former Premier of South Australia Jay Weatherill are joining the staff of the UniSA Business School to deliver business and management education to students of the MBA and build stronger research networks for South Australia.
The pair will join UniSA as Industry Professors, with students set to benefit from a combined 43 years' experience of governance, law-making and leadership from their service in Australian state and federal parliaments.
UniSA Pro Vice Chancellor Business and Law Professor Marie Wilson says the knowledge and networks they bring to the table are invaluable.
"We are excited to welcome Jay and Christopher, both highly qualified lawyers but also people who have carved impressive careers in politics, honing their leadership skills in what is always a demanding arena," Prof Wilson says.
"They will bring not only intellectual acumen to their professorships but also a career's worth of high-level experience in negotiation, international trade, legislation and community consultation and debate, industry liaison, and the host of adaptive skills that are the hallmark of successful leaders.
"Each has also worked to continue to develop the economic sustainability of the state of South Australia and supported its future industries and innovation.
"In addition to their involvement in the UniSA Business School and its MBA programs, Jay and Christopher will be providing strategic government relations advice to the Vice Chancellor, Professor David Lloyd."
Former Labor Premier of South Australia, Jay Weatherill studied law and economics and graduated with a degree in both. He established his own law firm in 1995 and practised until he was elected as the Member for Cheltenham in 2002.
Christopher Pyne was one of the youngest members of the Federal Parliament when first elected in 1993 at 25 years old. Pyne was a practising solicitor before his election and had worked as a research assistant to Senator Amanda Vanstone. Until his retirement this year, he had been re-elected eight times to the House of Representatives for the seat of Sturt.
An alumnus of UniSA, Pyne says he is excited to be supporting the ethos of a great South Australian institution.
"UniSA is providing skills and chances in life for those who wish to gain an education and improve their knowledge, undertaking world-changing research that alters lives, and investing in the economic growth of the state that gives us all the standard of living and quality of life we expect – I am looking forward to contributing to that effort," Pyne says.
And Weatherill is also looking forward to contributing.
"I'm pleased to be supporting such a dynamic and ambitious university and very much looking forward to helping students gain the knowledge and skills they need to be successful," he says.
ANNOUNCEMENTS
Students can access free financial assistance through USASA
Students in a tight spot with money can now access free, confidential and independent financial counselling through the UniSA Students Association (USASA).
Student Support and Retention Manager Luis Gardeazabal says the service began in May 2019 and helps students with a range of different money matters, from emergency support right through to developing a budget and payment plans.
Staff are encouraged to promote the service to students and can refer students to it.
Gardeazabal says it's important that students in financial difficulty seek advice as soon as practicable.
"If students are stressed out about money or just don't know where to start in getting the bills paid, they should get in touch now to make an appointment and speak to a financial counsellor," he says.
Appointments can be requested online.
Areas covered include:
Budgeting
Managing debt
Rights and responsibilities as a consumer
Advocating on your behalf with Campus Central about fee payments
Emergency food vouchers
In limited instances – negotiating with creditors
Referral to other services inside and outside UniSA.