Upcoming events
Talk - Many faces of social identity:
Detecting emergent roles in online interactions with group communication analysis
Monday 22nd October 2018
9.00am – 5.30pm
School of Information & Academic Innovation,
University of Michigan
This talk will present results from recent work that uses language and discourse to capture social and cognitive dynamics during collaborative interactions. I will introduce group communication analysis (GCA), a novel approach for detecting emergent learner roles from the participants' contributions and patterns of interaction. This method makes use of automated computational linguistic analysis of the sequential interactions of participants in online group communication to create distinct interaction profiles. We have applied the GCA to several collaborative learning datasets. Cluster analysis, predictive, and hierarchical linear mixed-effects modeling were used to assess the validity of the GCA approach, and practical influence of learner roles on student and overall group performance. The results indicate that learners' patterns in linguistic coordination and cohesion are representative of the roles that individuals play in collaborative discussions. More broadly, GCA provides a framework for researchers to explore the micro intra- and inter-personal patterns associated with the participants' roles and the sociocognitive processes related to successful collaboration.
News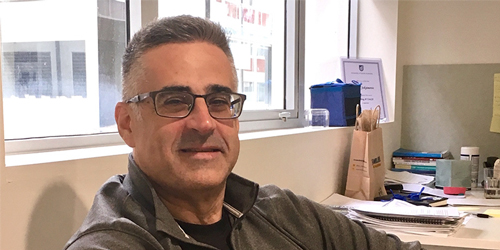 "Visiting Professor Roger Azevedo says AI offers the potential to remove the mundane – leaving time and space for the pursuit of excellence."
Article by Michèle Nardelli
Past events
Digital Learning Summit 2018
Tuesday 13th March 2018
9.00am – 5.30pm
Presented by UniSA's Teaching Innovation Unit and Centre for Change Complexity in Learning, the Digital Learning Summit 2018 will feature a range of presentations from world-class researchers and scholars visiting UniSA from around the world. This one-day event is a chance for you to engage with the latest innovations and ideas in digital learning. I've included the link to the program
Presentations
Learning Analytics:
Over simplified and under used
This presentation reflects on the noted promise of fields such as learning analytics and big data in terms of their capacity to deliver new forms of educational practice. That is, the rise and enculturation of data-informed learning and teaching, the provision of early alert systems, flexible and personalised learning opportunities enacted through recommender systems and the development of individualised learner profiles. The complexities of educational systems will be explored to better understand why learning analytics remains largely in the developmental phases and how these challenges can be addressed at a systemic sector-wide level.
Download: Preparing for the digital university PDF