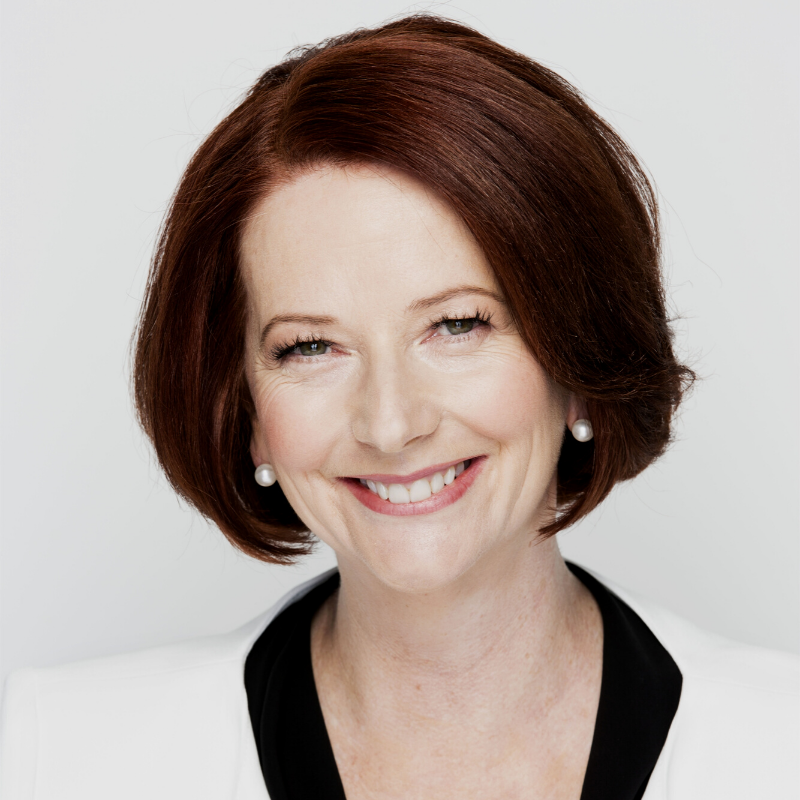 MONDAY 27 JULY,
6PM TO 7.30PM, ACST,
6.30PM TO 8PM, AEST
Online Event
Presented by The Bob Hawke Prime Ministerial Centre
Access Video HERE
Join us for an In-Conversation and Book Launch of Women and Leadership: Real Lives, Real Lessons written by Former Australian Prime Minister Julia Gillard AC and economist, Dr Ngozi Okonjo-Iweala. This inspirational and practical book written by two high-achieving women, shares the experience and advice of some of our most extraordinary women leaders, in their own words.
The Hon Julia Gillard AC will be in-conversation with Julia Lester.
From their careers and interests in politics, business and not-for-profits both Julia and Ngozi have strong ideas about the impact of gender on the treatment of leaders. In their book, Women and Leadership, they seek to put the academic work about women in leadership to the test in the real world.
They have conducted face-to-face interviews with Jacinda Ardern, Hillary Clinton, Ellen Johnson Sirleaf, Theresa May, Michelle Bachelet, Joyce Banda, Erna Solberg, Christine Lagarde and more. Each leader was asked the same set of interview questions and their responses were then used to examine whether their lived experiences were in line with or different from what the research would predict.
Women and Leadership presents a lively and readable analysis of the influence of gender on women's access to positions of leadership, the perceptions of them as leaders, the trajectory of their leadership and the circumstances in which it comes to an end. By presenting the lessons that can be learned from women leaders, the authors provide a road map of essential knowledge to inspire us all, and an action agenda for change that allows women to take control and combat gender bias.
This event will now be hosted online. Please register your interest so that we can keep you up-to-date. A link to this online event will be sent to registrants to view the broadcast. If you have already registered for this event your registration will be automatically transferred to an online registration for this event.
Pre-order the book from the Matilda Bookshop website here for the special price of $29.99 (RRP $35) to have it posted or delivered to you.
THE HON JULIA GILLARD AC
The Hon Julia Gillard AC was sworn in as the 27th Prime Minister of Australia on 24 June 2010 and served in that office until June 2013. She is the first woman to ever serve as Australia's Prime Minister or Deputy Prime Minister.
As Prime Minister and in her previous role as Deputy Prime Minister, Julia delivered nation-changing policies including reforming Australian education at every level from early childhood to university education, creating an emissions trading scheme to combat climate change, improving health care, commencing the nation's first ever national scheme to care for people with disabilities, addressing the gender pay gap for social and community sector workers and delivering an apology to all those who had suffered through the practice of forced adoptions.
In October 2012, Julia received worldwide attention for her speech in Parliament on the treatment of women in professional and public life. She currently serves as the inaugural Chair of the Global Institute for Women's Leadership at Kings College in London, which through research, practice and advocacy, is addressing women's under-representation in leadership.
She is the Chair of Beyond Blue, one of Australia's leading mental health awareness bodies; is Chair of global funding body for education in developing countries, the Global Partnership for Education; and is Patron of the Campaign for Female Education. Her memoirs, My Story, were published by Random House in September 2014.
Website: Julia Gillard
A Podcast Of One's Own, Chair of the Global Institute for Women's Leadership, Julia Gillard
Forbes: Julia Gillard, Australia's First Female Prime Minister On Leadership, Education And The Misogyny Speech
Beyondblue: Connection supporting us through uncertain times, The Chair of Beyond Blue, The Hon. Julia Gillard AC
Julia Gillard on role modelling, resilience and leadership
Julia Gillard on Breaking Barriers for Women in Politics
DR NGOZI OKONJO-IWEALA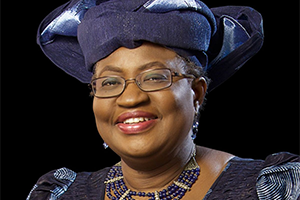 Dr Ngozi Okonjo-Iweala is an economist and international development expert with over 30 years of experience. She is Chair of the Board of Gavi, the Vaccine Alliance and of the African Risk Capacity (ARC). She is Co-Chair of The Global Commission on the Economy and Climate. She also sits on the Boards of Standard Chartered PLC and Twitter Inc. She was recently appointed as AU Special Envoy to mobilise International support for the fight against COVID-19 and WHO Special Envoy for Access to COVID-19 Tools Accelerator.
She served twice as Nigeria's Finance Minister, from 2003-2006, 2011-2015, and briefly as Foreign Minister, the first woman to hold both positions. She spent a 25-year career at the World Bank as a development economist, rising to the No.2 position of Managing Director, overseeing an $81 billion operational portfolio in Africa, South Asia, Europe and Central Asia.
Dr Okonjo-Iweala was named Minister of the Decade, People's Choice Award (2020) by Nigeria's This Day newspaper. In 2019, she was named one of Transparency International's 8 Female Anti-Corruption Fighters Who Inspire. She has been ranked by Fortune as one of the 50 Greatest World Leaders in 2015, by Forbes as one of the Top 100 Most Powerful Women in the World consecutively for four years, by Time as one of the Top 100 Most Influential People in the World in 2014, and by the UK Guardian as one of the Top 100 Women in the World in 2011.
Dr Ngozi Okonjo-Iweala is the co-author of Women and Leadership: Real Lives, Real Lessons.
JULIA LESTER
The Hon Julia Gillard AC will be in-conversation with Julia Lester. Julia has worked as a Radio Broadcaster and Producer, TV Current Affairs Reporter, Public Speaker, MC of events concerts and conferences, Interviewer, News Journalist, Teacher, Actor and Musician.
Her interests and areas of knowledge are broad, including politics, music, visual art, literature, ideas, religion, and philosophy. For pleasure she reads widely, performs composes and consumes music, gardens, walks and camps in the bush, travels, visits galleries, has long conversations in cafes trying to work out how the world works. She's still trying.
Julia was born in Melbourne, grew up in Adelaide, studied Music, Politics and Education at the University of Adelaide and the University of New England.
After a career in teaching secondary school music and drama, Julia then embraced the media. She initially worked as a journalist in commercial radio and TV.
In 1985 Julia joined the ABC where she stayed, with a few breaks, for 30 years. During that time, she worked as a Journalist and Presenter in TV and Radio across many areas: interviewer and documentary-maker with ABC Radio National, 7.30 Report reporter, live talk host on 891 ABC Adelaide, Presenter of Classic Drive with ABC Classic FM until her retirement in 2015.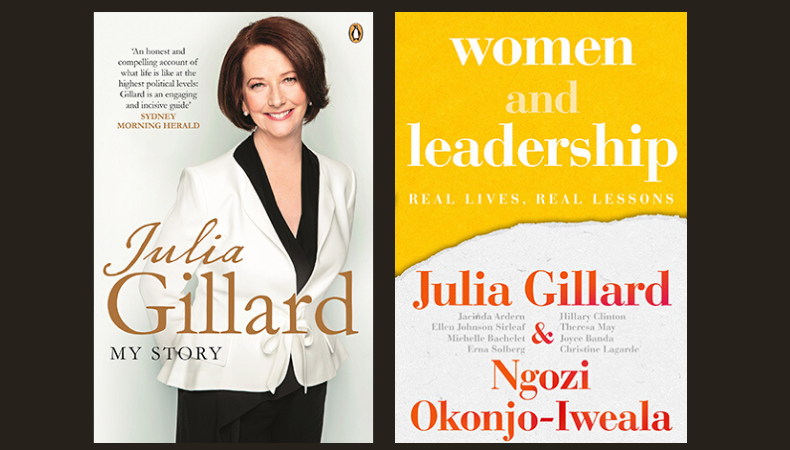 Presented by The Bob Hawke Prime Ministerial Centre.

Image Credit: HERO, The Hon Julia Gillard AC, Photographer: Peter Brew-Bevan
---
While the views presented by speakers within The Bob Hawke Prime Ministerial Centre public program are their own and are not necessarily those of either the University of South Australia, or The Bob Hawke Prime Ministerial Centre, they are presented in the interest of open debate and discussion in the community and reflect our themes of: Strengthening our Democracy - Valuing our Diversity - Building our Future.
The copying and reproduction of any transcripts within The Bob Hawke Prime Ministerial Centre public program is strictly forbidden without prior arrangements.