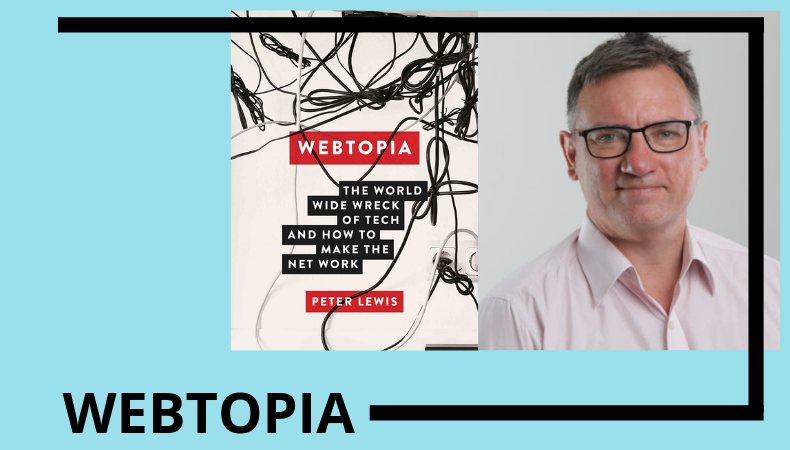 THURSDAY 11 JULY, 6.00PM - 7.15PM

ALLAN SCOTT AUDITORIUM
Access Podcast HERE
Presented by The Bob Hawke Prime Ministerial Centre
The web was supposed to transform our world. So why are things so messed up?
The arrival of the internet promised a utopian, creative and democratic future that would break down traditional institutions and replace them with exciting collaborative networks. But 20 years on the world seems more divided and more distracted than ever, and it is this amazing technology that lies at the heart of many of our most pressing problems.
In Webtopia, Peter Lewis draws from his own pre- and post-tech experience and conversations with entrepreneurs, politicians, pastors, parents, teachers and journalists to argue that technology itself is not the problem. We are. If we can fix our relationship with technology, it will be easier to fix our relationships with each other in an increasingly fragmenting world.
Riveting, engaging and wise, Webtopia traces our digital journey to this crisis point and, fearlessly, marks out a better route from here.
'Read Webtopia and find out how and why the online world is already reading you.' — Catharine Lumby
Author Peter Lewis will be in-conversation with Brad Chilcott.
Books will be available for purchase from 5.30pm in the Allan Scott Auditorium foyer.
PETER LEWIS

AUTHOR & JOURNALIST
Peter Lewis has worked as a journalist, political staffer and social researcher for over 30 years. He is the executive director of Essential, a progressive research and communications company whose fortnightly poll is published by Guardian Australia.
Peter is a regular commentator on ABC TV and radio and Sky News, and is a featured columnist for Guardian Australia.
More Information
The Guardian, Articles
Twitter: @PeterLewisEMC
BRAD CHILCOTT

In 2011, Brad founded the "Welcoming Australia" movement, now a national organisation with staff in four states and national network of local government associations implementing the Welcoming Cities framework for building communities where everyone is welcome to belong, contribute and thrive. Brad is the Chair of the Welcoming Australia Advisory Panel and a Board director.

Brad is an Associate Director at Essential Media and is engaged by Multicultural Development Australia to deliver an innovative social housing for purchase project in Brisbane.

Brad was the Founder and Lead Pastor of a progressive and inclusive Christian community in Adelaide - called Activate Church - and was on the national steering committee of Christians for Marriage Equality. Brad sits on the Board of Reconciliation SA and Food for Education (Kenya) and was named in South Australia's 100 Most Influential People in 2018.
More Information
The Guardian, Articles
Twitter: @bradchilcott
Presented by The Bob Hawke Prime Ministerial Centre. Book sales by Matilda Bookshop
---
While the views presented by speakers within The Bob Hawke Prime Ministerial Centre public program are their own and are not necessarily those of either the University of South Australia or The Bob Hawke Prime Ministerial Centre, they are presented in the interest of open debate and discussion in the community and reflect our themes of:
Strengthening our Democracy - Valuing our Diversity - Building our Future
.
The copying and reproduction of any transcripts within The Bob Hawke Prime Ministerial Centre public program is strictly forbidden without prior arrangements.