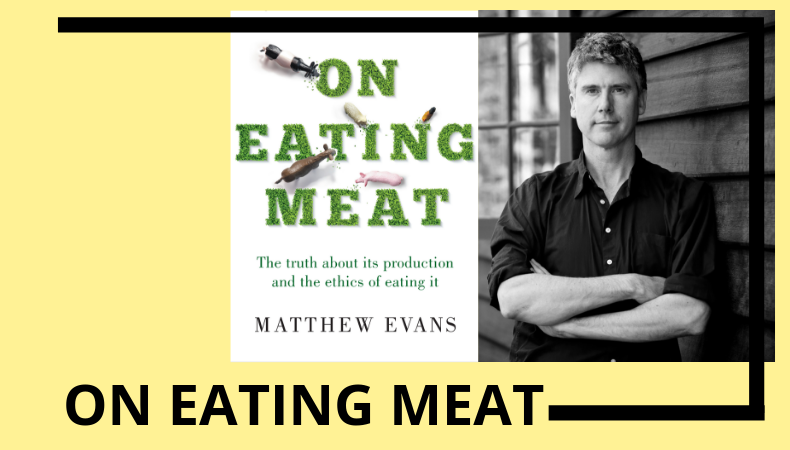 TUESDAY 9 JULY, 6.30PM - 7.45PM

ALLAN SCOTT AUDITORIUM
ACCESS PODCAST HERE
Presented by The Bob Hawke Prime Ministerial Centre and Matilda Bookshop
Matthew Evans will be in-conversation with Julia Lester

Australia is a nation of carnivores. On average, Australians consume 111.4 kilograms of meat per person each year, yet the global average is just 34.1 kilograms, and we regularly trade places with the USA to become the world's biggest meat eating nation. We know that eating meat has an obvious impact on animals, and our health and the planet, so is veganism the only ethical answer?
In his new book, On Eating Meat, Matthew Evans, aka The Gourmet Farmer, calls for greater understanding, less radicalisation and ethical omnivores to stand up for the welfare of animals and farmers alike. On Eating Meat is a lightning rod for the vegan, vegetarian and carnivore alike.
How can 160,000 deaths in one day constitute a 'medium-sized operation'? Think beef is killing the world? What about asparagus farms? Or golf? Eat dairy? You'd better eat veal, too. Evans writes:
'Genuinely informed conversation about what constitutes a 'moral' carnivore remains elusive. Partly, this is because the debate has been seconded by those who want us to implicitly trusts what happens behind those locked farm gates – as well as those who want us to eat no meat at all.'
Going vegan might be all the rage, but the fact is the world has an ever-growing, insatiable appetite for meat - especially cheap meat.
Former food critic and chef, now farmer and restaurateur Matthew Evans grapples with the thorny issues around the ways we produce and consume animals. From feedlots and abattoirs, to organic farms and animal welfare agencies, he has an intimate, expert understanding of the farming practices that take place in our name. Ultimately Evans is calling for less radicalisation, greater understanding and transparency, and for ethical omnivores to stand up for the welfare of animals and farmers alike.
Sure to spark intense debate, On Eating Meat is an urgent read for anyone who has thought about the food they eat and where it comes from.
Books sales from 6.00pm in the Allan Scott Auditorium foyer and book signing following the presentation.
Click HERE for more information about the book, and to pre-purchase a signed copy for $27.99 ($33RRP) to collect on the night
MATTHEW EVANS
AUTHOR & TV PRESENTER
Matthew Evans is a former chef and food critic, now a Tasmanian smallholder, restaurateur and food activist. He raises pigs, milks cows, tends a garden, runs a farm restaurant and teaches from Fat Pig Farm, in the picturesque Huon Valley.
Matthew is the star of the long-running SBS TV show The Gourmet Farmer as well as food documentaries What's the Catch? and For the Love of Meat. He is the author of twelve books, including the authoritative and internationally bestselling Real Food Companion and The Gourmet Farmer Deli Book, as well as his autobiography Never Order Chicken on a Monday followed by The Dirty Chef.
More Information
SBS TV: Gourmet Farmer
SBS TV: For The Love of Meat
Fat Pig Farm
Twitter: @MatthewEvansFPF
JULIA LESTER
Matthew Evans will be in-conversation with Julia Lester. Julia has worked as a Radio Broadcaster and Producer, TV Current Affairs Reporter, Public Speaker, MC of events concerts and conferences, Interviewer, News Journalist, Teacher, Actor and Musician.
Her interests and areas of knowledge are broad, including politics, music, visual art, literature, ideas, religion, and philosophy. For pleasure she reads widely, performs composes and consumes music, gardens, walks and camps in the bush, travels, visits galleries, has long conversations in cafes trying to work out how the world works. She's still trying.
Julia was born in Melbourne, grew up in Adelaide, studied Music, Politics and Education at the University of Adelaide and the University of New England.
After a career in teaching secondary school music and drama, Julia then embraced the media. She initially worked as a journalist in commercial radio and TV.
In 1985 Julia joined the ABC where she stayed, with a few breaks, for 30 years. During that time, she worked as a Journalist and Presenter in TV and Radio across many areas: interviewer and documentary-maker with ABC Radio National, 7.30 Report reporter, live talk host on 891 ABC Adelaide, Presenter of Classic Drive with ABC Classic FM until her retirement in 2015.
Presented by The Bob Hawke Prime Ministerial Centre in association with Matilda Bookshop
---
While the views presented by speakers within The Bob Hawke Prime Ministerial Centre public program are their own and are not necessarily those of either the University of South Australia or The Bob Hawke Prime Ministerial Centre, they are presented in the interest of open debate and discussion in the community and reflect our themes of: Strengthening our Democracy - Valuing our Diversity - Building our Future.
The copying and reproduction of any transcripts within The Bob Hawke Prime Ministerial Centre public program is strictly forbidden without prior arrangements.