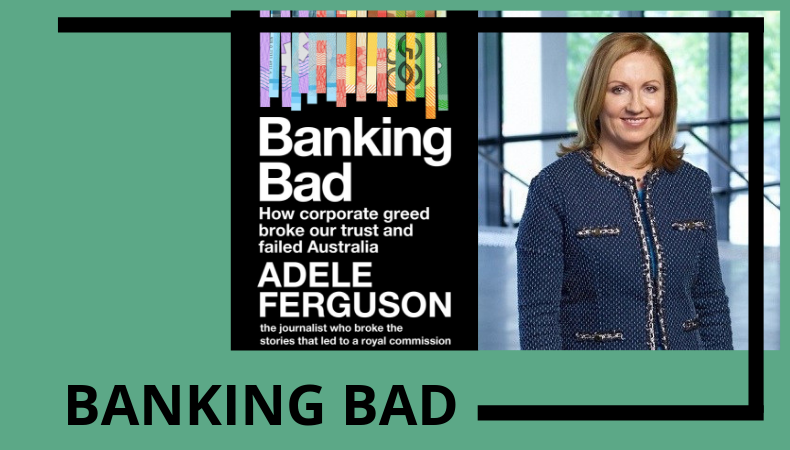 Presented by The Bob Hawke Prime Ministerial Centre and Matilda Bookshop
Allan Scott Auditorium, Hawke Building, UniSA City West campus, 55 North Terrace, Adelaide MAP

The shocking truth about Australia's financial institutions, as told by Adele Ferguson, the journalist who did the most to bring about Australia's banking royal commission.
Against the odds Australia ended up with a banking royal commission. As hearings progressed in 2018, revelations about banking and insurance practices rocked the nation. Even defenders of the banks were blindsided.
In Banking Bad, Adele Ferguson traces the origins of the banking scandal to the early 1990s, when buckets of money began pouring into compulsory superannuation funds, set up by Labor Treasurer Paul Keating. Attracted by the increasing cash, banks devised corrupt or questionable practices to get their hands on funds, along with aggressive selling practices that ignored due diligence, trust and honesty.
Drawing on the multiple sources who led her to break the stories of greed and malpractice – the individuals, business owners, farmers and ordinary people who lost everything – Adele Ferguson also looks at some of the highly ranked captains of industry who fell so publicly from grace; the compromised regulators, who worked cap in hand with the organisations they were policing; and at the recommendations of Commissioner Kenneth Hayne to a government who never wanted the investigation at all. And she asks where to from here?
This is a book every person with a bank or insurance account should read and learn from.
Books sales from 6.00pm in the Allan Scott Auditorium foyer and book signing following the presentation.
ADELE FERGUSON
AUTHOR & JOURNALIST
Adele Ferguson is a multi-award winning senior business writer and columnist for leading newspapers The Age, The Sydney Morning Herald and the Australian Financial Review. She is a regular guest reporter on ABC's Four Corners and the author of the best-selling unauthorised biography of Gina Rinehart, the richest woman in Australia.
Her series of investigations into financial institutions over the past five years helped bring about a royal commission into the sector.
Presented by The Bob Hawke Prime Ministerial Centre in association with Matilda Bookshop
---
While the views presented by speakers within The Bob Hawke Prime Ministerial Centre public program are their own and are not necessarily those of either the University of South Australia or The Bob Hawke Prime Ministerial Centre, they are presented in the interest of open debate and discussion in the community and reflect our themes of: Strengthening our Democracy - Valuing our Diversity - Building our Future.
The copying and reproduction of any transcripts within The Bob Hawke Prime Ministerial Centre public program is strictly forbidden without prior arrangements.