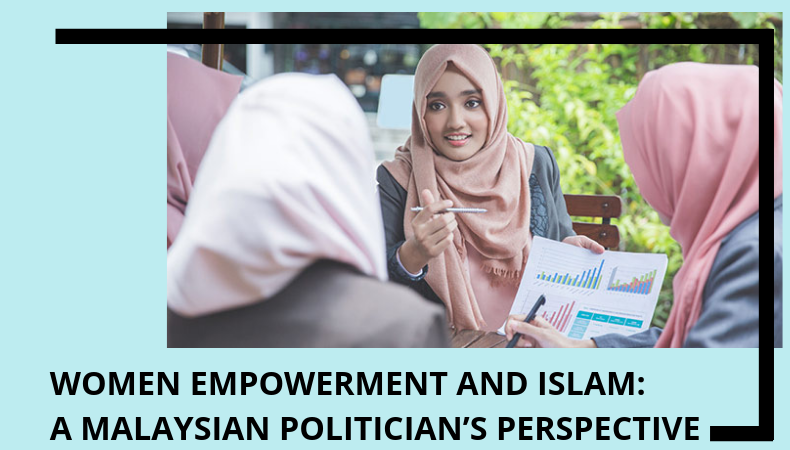 MONDAY 9 SEPTEMBER, 6.00PM - 7.15PM

BARBARA HANRAHAN BUILDING, BH2-09
Barbara Hanrahan Building, BH2-09, Hawke Building, UniSA City West campus, North Terrace, Adelaide, MAP
Presented by The Bob Hawke Prime Ministerial Centre
Delivered by The Honourable Zuraida Binti Kamaruddin
The Honourable Zuraida Binti Kamaruddin is the Minister of the Housing and Local Government, Ministry of Malaysia and also a Member of Parliament of the Ampang constituency in the Malaysian state of Selangor. She is also a Member of Cabinet and the Women's Chief of the Pakatan Harapan (PH) ruling coalition.
Having risen through the ranks of the male-dominated Malaysian political scene, Zuraida has seen her share of the struggle for the recognition of women in Malaysia to be seen as an equally important voice and source of strength and new ideas. Her appointment to the Housing Ministry was the first for a woman politician. Traditionally, women tend to only hold the Women's Ministry portfolio.
She is a proponent of increasing the participation of women of all ages in all fields, particularly leadership positions, politics and industry and has created various initiatives to develop leadership skills in young women. She is also a staunch advocate for the environment and sustainable development. Zuraida played a crucial role in drafting the National Community Policy in her quest to address social issues faced by housing communities in Malaysia.
In this lecture, Zuraida will share her personal experience and views as a woman minister, politician, wife and mother and on how the teachings of Islam guide her efforts in empowering women in Malaysia.
Zuraida will be introduced by Professor Marie Wilson, Pro Vice Chancellor (Business and Law) of the University of South Australia Business School.
ZURAIDA BINTI KAMARUDDIN
MALAYSIAN MINISTER OF HOUSING AND LOCAL GOVERNMENT

Zuraida is the Malaysian Member of Parliament for the constituency of Ampang which is located in the industrialised Malaysian state of Selangor. She is a member of the Malaysian Cabinet as the Minister of Housing and Local Government since May 2018 while also being the Women's Chief of the Pakatan Harapan (PH) ruling coalition.
As a minister of the historic newly elected Malaysian government, Zuraida has started to implement reforms to upgrade the living conditions of Malaysians of the middle class and particularly those belonging to the bottom 40% (B40) of household income earners who only earn 940 USD and below by initiating various schemes to increase the supply of affordable and comfortable housing. Zuraida is also a champion of environmental issues, especially pertaining to waste management which falls under the ambit of her Ministry. In line with the new Malaysian government's direction of balancing economic growth with environmental protection, Zuraida has restructured the SWCorp, which is a government-linked corporation tasked with solid waste management and public sanitation to become more efficient, integrated and provide better customer satisfaction. Her Ministry is also responsible (via SWCorp) in enforcing laws related to solid waste management and public sanitation. It is also tasked with public engagement and community education such as introducing 3R modules in pre-schools to promote recycling with the aim of increasing the recycling rate to 30% by 2020. Despite these efforts, the never-ending problem of overflowing landfills has caused Zuraida to implement Waste to Energy (WTE) initiatives where solid wastes are now being utilised to generate electrical energy. This will not only reduce the operating cost of solid waste management but also generate revenue through environmentally friendly energy generation.
More Information
Twitter: @ybz99
Q&A with new Housing Minister Zuraida Kamaruddin
MARIE WILSON
PRO VICE CHANCELLOR (BUSINESS AND LAW) OF THE UNIVERSITY OF SOUTH AUSTRALIA BUSINESS SCHOOL

Professor Marie Wilson is Pro Vice Chancellor (Business and Law) of the University of South Australia Business School. Professor Wilson has a track record of delivering in both industry and university leadership, and under her direction the UniSA Business School is becoming nationally and internationally recognised as a leader in applied research and in the education of global professionals.
Professor Wilson holds a Juris Doctor (JD) in contract and employment law, a PhD in management and has over twenty years of university leadership experience, including senior roles at Griffith University and the University of Auckland.
Presented by The Bob Hawke Prime Ministerial Centre

---
While the views presented by speakers within the Hawke Centre public program are their own and are not necessarily those of either the University of South Australia or The Hawke Centre, they are presented in the interest of open debate and discussion in the community and reflect our themes of: Strengthening our Democracy -Valuing our Diversity - and Building our Future.
The copying and reproduction of any transcripts within the Hawke Centre public program is strictly forbidden without prior arrangements.