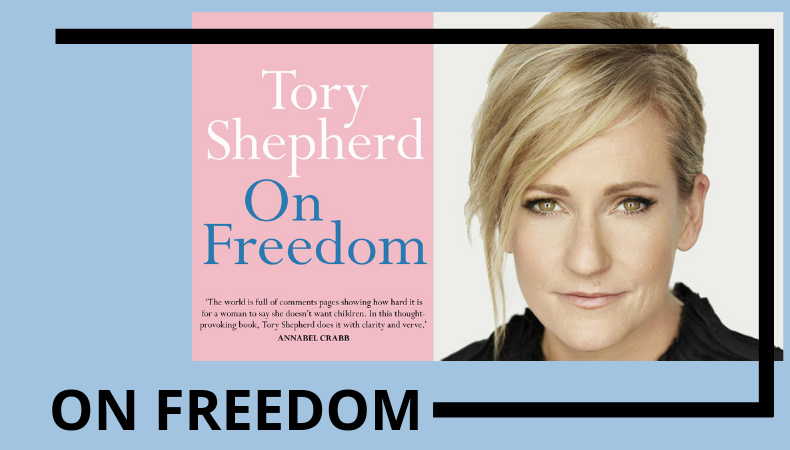 THURSDAY 6 JUNE, 6.00PM - 7.15PM

ALLAN SCOTT AUDITORIUM
ACCESS PODCAST HERE
Presented by The Bob Hawke Prime Ministerial Centre
They're labelled as selfish, as 'deliberately barren', and sometimes as crazy old cat ladies, but increasingly women are choosing to be childfree. Over the next few decades couples without children are set to outnumber those who have them.
Launching her new book, On Freedom, Tory Shepherd looks at how women's freedom to choose motherhood is reshaping their own lives as well as society.
Tory Shepherd will be in-conversation with Dr Niki Vincent, South Australian Commissioner for Equal Opportunity.

Books will be available for purchase from 5.30pm in the Allan Scott Auditorium foyer.
TORY SHEPHERD
JOURNALIST
Tory Shepherd is the State Editor of The Advertiser, and one of the paper's senior columnists. After finishing Honours in Anthropology and a Masters in Communication, she ended up as a 'mature-age' cadet at the paper a decade ago. She covered state politics, police rounds and health before absconding to fill in as the editor of The Punch, a national opinion website. The Advertiser lured her back to cover federal politics. As State Editor she is shifting her focus more towards State issues. Tory is a humanist, a feminist, and a chilli fanatic.
More Information
Twitter: @toryshepherd
Tory Shepherd at The Advertiser
DR NIKI VINCENT

SOUTH AUSTRALIAN COMMISSIONER FOR EQUAL OPPORTUNITY

Dr Niki Vincent is the South Australian Commissioner for Equal Opportunity. As such, she is responsible to the Attorney General for the general administration of the SA Equal Opportunity Act (1984).
Prior to this appointment, Niki held the position of CEO of the Leaders Institute of SA as well as a concurrent appointment as a member of the SA Remuneration Tribunal. She currently Chairs the Australian Council of Human Rights Authorities (ACHRA), serves on the national management committee of Play by the Rules and is a member of the SA/NT Advisory Council for the Committee for Economic Development of Australia (CEDA). She also holds an appointment as an Adjunct Associate Professor in the University of South Australia's Business School. In addition, she is an active ambassador for Time for Kids – a respite foster care organisation.
Niki holds two University Medals (for her PhD and Honours in Psychology). She has also received an Australian Leadership Award and was an SA Finalist in the Telstra Business Woman of the Year Award. She has authored numerous academic publications.
More Information
Equal Opportunity Commission
Twitter: @nikivincent
Presented by The Bob Hawke Prime Ministerial Centre. Book sales by Matilda Bookshop
---
While the views presented by speakers within The Bob Hawke Prime Ministerial Centre public program are their own and are not necessarily those of either the University of South Australia or The Bob Hawke Prime Ministerial Centre, they are presented in the interest of open debate and discussion in the community and reflect our themes of: Strengthening our Democracy - Valuing our Diversity - Building our Future.
The copying and reproduction of any transcripts within The Bob Hawke Prime Ministerial Centre public program is strictly forbidden without prior arrangements.