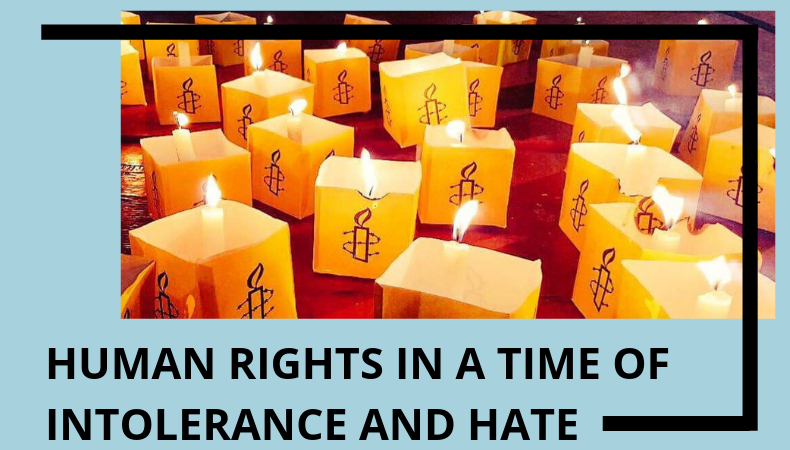 DELIVERED BY KUMI NAIDOO, SECRETARY GENERAL, AMNESTY INTERNATIONAL
TUESDAY 18 JUNE, 6PM - 7.15PM

ACCESS VIDEO HERE
Hall C, East Building, Adelaide Convention Centre, North Terrace entrance, Adelaide, Map
Presented by The Bob Hawke Prime Ministerial Centre and Amnesty International

We are living in a time when hatred and fear are used to divide communities, close borders, and distract attention from the complex problems facing our world.
Intolerance and hate are used to justify cruelty against others and build a rhetoric of fear. What is the role of human rights in building a fairer, happier world?
To move forward, we must recognise the interconnection of rights. Climate change is tied to inequality and race. Civil and political rights are suppressed at the moment people demand basic economic justice. Sex discrimination is bound up in the economic exclusion of women. People who take action to realise these rights are demonised and feared.
In the 2019 Amnesty International Oration, Secretary General of Amnesty International, Kumi Naidoo discusses the role rights protection can play in building a better, more inclusive world. Amnesty International is the world's largest human rights movement. We are tackling some of the most complex challenges of our time.
KUMI NAIDOO

SECRETARY GENERAL, AMNESTY INTERNATIONAL

Kumi is a lifelong social justice campaigner. This is his first visit to Australia in his new role as Secretary General of Amnesty International.
Kumi's community activism began in apartheid South Africa. As a teenager, Kumi was expelled from school for organising anti-apartheid protests, forced underground and then into exile. Meanwhile, his older brother languished in prison for his resistance to apartheid.
Kumi returned to South Africa as the regime began to crumble. During this transition, the country experienced the highest levels of political violence. Undaunted, Kumi worked on adult literacy and voter education programs.
Kumi has held multiple leadership roles, including Chair of the Global Call for Climate Action, Founding Chair of the Global Call to Action against Poverty, Co-founder of Africans Rising for Justice, Peace and Dignity, and Executive Director of Greenpeace International. These experiences inform his role as leader of the world's largest human rights organisation, Amnesty International.
CHARLIE (KHALIL) SHAHIN AO

MANAGING DIRECTOR PEREGRINE CORPORATION

Mr Charlie (Khalil) Shahin AO will join the evening to provide a special introduction and his personal reflections.
Charlie was born in Lebanon. His late Palestinian father's vision for a better life for his family in Australia is an inspiration to him in leading South Australia's largest private company. Charlie is a respected community leader dedicated to harmony and mutual understanding in our multicultural society. No stranger to civil war and hardship, he and his family champion the rights of refugees here in Australia and around the world.
Join us for reflections with Kumi and Charlie in a world facing intolerance and hate. This is about why human rights are needed now, more than ever.
More Information
Amnesty International
Amnesty International's new Secretary General Kumi Naidoo sets his vision for human rights
Kumi Naidoo: Contagious courage, TEDxAmsterdam 2014
Kumi Naidoo: The world needs more civil disobedience, not less, TEDxJohannesburgSalon
"Bigger, bolder and more inclusive": Kumi Naidoo sets out his vision for human rights
Le Monde Diplomatique: Unless we fight for everything, we'll have nothing, Kumi Naidoo
Facebook: Amnesty International Australia - SA/NT Branch
Twitter: @kuminaidoo
While the views presented by speakers within The Bob Hawke Prime Ministerial Centre public program are their own and are not necessarily those of either the University of South Australia or The Bob Hawke Prime Ministerial Centre, they are presented in the interest of open debate and discussion in the community and reflect our themes of: Strengthening our Democracy - Valuing our Diversity - Building our Future.
The copying and reproduction of any transcripts within The Bob Hawke Prime Ministerial Centre public program is strictly forbidden without prior arrangements.