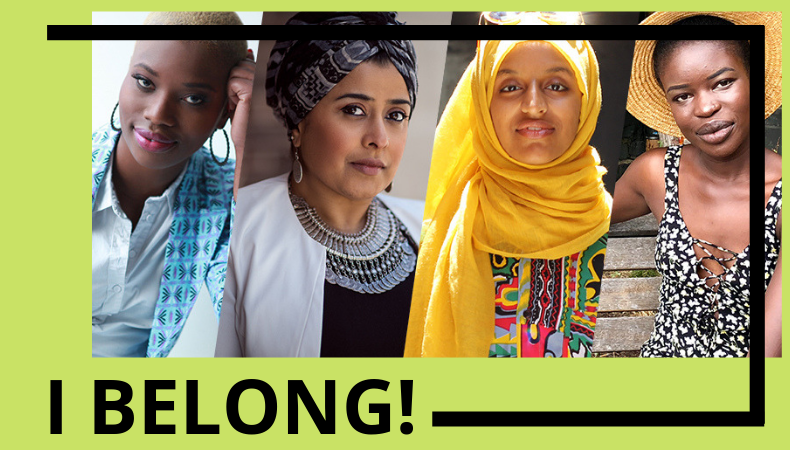 THURSDAY 20 JUNE, 6.30PM - 8.00PM

ALLAN SCOTT AUDITORIUM
ACCESS VIDEO HERE
Allan Scott Auditorium, Hawke Building, UniSA City West campus, 55 North Terrace, Adelaide, MAP
Presented by The Bob Hawke Prime Ministerial Centre and Australian Refugee Association (ARA)
This event will be opened by His Excellency the Honourable Hieu Van Le AC, Governor of South Australia
Young African and Muslim Australian women speak about finding identity, what life is like behind the headlines and what we can all learn about becoming a truly civil society.
Cross Cultural Consultant Tasneem Chopra will MC a panel of vibrant young professional women: Khadija Gbla, Manal Younus and Flora Chol who will share with the audience their experiences and insights about what it means to grow up as African or Muslim Australian in Australia, what it takes to belong and the challenge of claiming their space.
MC: TASNEEM CHOPRA

A Cross-cultural Consultant, Tasneem Chopra has recently been appointed as an 'Anti-Racism Champion' by the Australian Human Rights Commission. Previously, she was one of '50 Women you Need to Know' in 2017's Herald Sun International Women's Day count, following a listing in Latte Magazine's '2016 – Women to Watch'.
In previous years she has been listed in The Age Magazine's Top 100 most influential 'Movers and Shakers in Melbourne' and The Australian Magazine's Leader series, of ''Top Ten Thinkers'. As Chairperson of the Australian Muslim Women's Centre for Human Rights (AMWCHR), she has long represented Muslim women's welfare concerns to welfare and government agencies.
website
Tasneem Chopra La Trobe University Distinguished Alumni Award 2018
Don't Believe the Hype, Exceed It - The War Against Stereotypes: Tasneem Chopra at TEDxMelbourne
Twitter: @TasChop
KHADIJA GBLA

Khadija Gbla is a very passionate and inspiring African Australian woman. She is an award winning human rights activist, inspirational speaker, facilitator and consultant. She has displayed great courage and determination in achieving her aspirations of giving women, youth and minority groups a voice at a local, state and international level. Khadija utilises her powerful and inspired voice to advocate equality.
Khadija provides advocacy, training, speaking on domestic and family violence, racism, human rights, refugees and cultural diversity through her cultural consultancy. She is the survivor advocate protecting Australian girls from Female Genital Mutilation (FGM) and supporting survivors of FGM. She has represented Australia in the international arena at the Harvard National Model United Nations, Commonwealth Youth Forum and Australian and Africa Dialogue, Commonwealth heads of States Women's Forum etc. She has displayed great courage and determination in achieving her aspirations of giving women, youth and minority groups a voice at a local, state and international level.
She is an Ambassador for Our Watch, an organisation established to change attitudes of violence towards women and their children, and member of Harmony Alliance -Migrant and Refugee Women for Change aims to provide a national inclusive and informed voice on the multiplicity of issues impacting the experiences and outcomes of migrant and refugee women in Australia.
Khadija has been recognised through numerous awards for her vision and leadership, including 2017 Cosmopolitan Magazine Women of the Year finalist, 2016 Women's Weekly, Qantas Women of the Future Award finalist, 2016 AusMumpreneur Rising Star and Making a difference –non-profit Award, 2014 The Advertiser South Australia's 50 most Influential Women, 2013 Madison Magazine Australia's Top 100 Inspiring Women, 2013 Amnesty International Human Rights Activists to watch in 2013 and the 2011 Young South Australian of the Year, among others.
website
The Canberra Times: Human rights activist Khadija Gbla: women, girls, embrace the rage
My Mother's strange definition of empowerment, TEDxCanberra
Twitter: @KhadijaGbla
MANAL YOUNUS

Manal Younus is an Australian based freelance storyteller from Eritrea who believes that language and stories are the very fabric of our existence. Using her writing and performance, Manal explores different aspects of life from perseverance, identity, travel and truth. She speaks on a vast number of issues including youth leadership, gender and female empowerment, faith, blackness, culture, language, migration, displacement, racism and inter-culturalism. Manal has featured on ABC's QandA, presented at the Adelaide TEDx, just to name a few favourites.
Manal also facilitates writing, performance, public speaking, youth empowerment and intercultural awareness workshops in schools, community groups and professional environments to encourage others to develop their own voices.
website
How can people of colour best discover themselves?, TEDxAdelaide
Manal Younus -Australian Poetry Slam Finalist 2014
Twitter: @tismanal
FLORA CHOL

Flora Chol is a Writer, Poet and activist hailing from South Sudan. Flora writes poetry which explores an unprovoked sense of creativity. Flora's writing delay into the complexities of race, intergenerational trauma, gender and culture issues and the dynamics of growing up as a young South Sudanese woman in Australia.
As a Pan Africanist, Flora explores many themes and discourses through her writing that advocate for a free, self-reliant and self-defining Africa. She embodies these beliefs through arguments which mostly deconstruct present day neo-colonial regimes.
Flora is the author of Tomorrows Dream, a Poetic Anthology, her first official publication. In her spare time, Flora is a devoted tea enthusiast, a lover of traditional music, a reader and an MC.
Facebook
Salt Magazine articles
Meet poet, writer and social activist Flora Chol
Twitter: @FloraChol
While the views presented by speakers with in The Bob Hawke Prime Ministerial Centre public program are their own and are not necessarily those of either the University of South Australia or The Bob Hawke Prime Ministerial Centre, they are presented in the interest of open debate and discussion in the community and reflect our themes of: Strengthening our Democracy - Valuing our Diversity - Building our Future.
The copying and reproduction of any transcripts within The Bob Hawke Prime Ministerial Centre public program is strictly forbidden without prior arrangements.