Thomas Keneally AO In Conversation with Julia Lester
| | |
| --- | --- |
| | Wednesday 29 March 2017 |
Watch the YouTube video HERE

Access the Podcast HERE

Thomas Keneally AO, Author and Playwright
Award-winning Australian author Thomas (Tom) Keneally AO is one of Australia's most prolific and best known novelists. As the multi-award-winning author of more than 30 novels, dramas, screenplays and books of non-fiction, he is also one of its most distinguished. In 1982 he won the Booker Prize for Schindler's Ark, which was made into the Academy Award-winning film Schindler's List. His novels The Chant of Jimmy Blacksmith, Gossip from the Forest and Confederates were all short-listed for the Booker Prize, while Bring Larks and Heroes and Three Cheers for the Paraclete won the Miles Franklin Award.
Born in Sydney in 1935, Tom studied for the priesthood as a young man and then began a career in school teaching before his literary success enabled him to become a full-time writer. In addition to the Booker Prize and the Miles Franklin Awards, Tom Keneally has also won the Los Angeles Book Prize, the Royal Society of Literature Prize, the Scripter Award of the University of Southern California, the Mondello International Prize and the Helmerich Prize (U.S.). Tom Keneally's history of Irish convictism, The Great Shame and The Commonwealth of Thieves about the penal origins of Australia were both published in all the English language markets. He has also published three volumes of A History of Australians and the story has now reached 1970. More recently he has published Three Famines, a narrative history of famine, and the novel, The Daughters of Mars. Tom Keneally holds a number of national and international honorary doctorates. In 1983 he received the Order of Australia for his services to Australian Literature and in 1997 was declared one of Australia's '100 Living Treasures'.
Tom will be receiving an Honorary Doctorate from the University of South Australia at a Graduation Ceremony on Wednesday 29 March prior to this event. We look forward to celebrating this honour with him at our event.
Julia Lester
Thomas will be in conversation with Julia Lester. Julia has worked as a Radio Broadcaster and Producer, TV Current Affairs Reporter, Public Speaker, MC of events concerts and conferences, Interviewer, News Journalist, Teacher, Actor and Musician.
Her interests and areas of knowledge are broad, including politics, music, visual art, literature, ideas, religion, and philosophy. For pleasure she reads widely, performs composes and consumes music, gardens, walks and camps in the bush, travels, visits galleries, has long conversations in cafes trying to work out how the world works. She's still trying.
Julia was born in Melbourne, grew up in Adelaide, studied Music Politics and Education at the University of Adelaide and the University of New England.
After a career in teaching secondary school music and drama, Julia then embraced the media. She initially worked as a journalist in commercial radio and TV.
In 1985 Julia joined the ABC where she stayed, with a few breaks, for 30 years. During that time, she worked as a Journalist and Presenter in TV and Radio across many areas: interviewer and documentary-maker with ABC Radio National, 7.30 Report reporter, live talk host on 891 ABC Adelaide, Presenter of Classic Drive with ABC Classic FM until her retirement in 2015.
More Information:
The Thomas Keneally Centre
ABC: Tom Keneally explains why he can't let go of the damage done by the Catholic Church
ABC Big Ideas: Tom Keneally celebrates 50 years as a writer
The Sydney Morning Herald: Celibacy and the modern priest: Tom Keneally on his new book Crimes of the Father
The Sydney Morning Herald: After 50 years, writer Tom Keneally takes a bow
YouTube clip: Tom Keneally — The character of Oskar Schindler
Twitter: @ThomasKeneally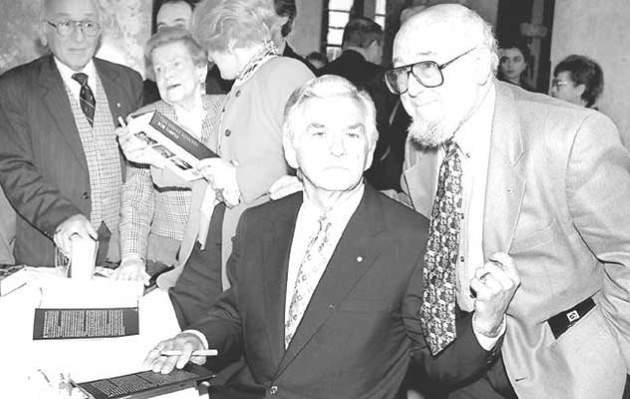 Bob Hawke AC and Tom Keneally at the book launch of: "The Hawke Memoirs" launch, Museum of Contemporary Art in 1994.

Presented by The Bob Hawke Prime Ministerial Centre
---
While the views presented by speakers within the Hawke Centre public program are their own and are not necessarily those of either the University of South Australia or The Hawke Centre, they are presented in the interest of open debate and discussion in the community and reflect our themes of: Strengthening our Democracy - Valuing our Diversity - and Building our Future.

The copying and reproduction of any transcripts within the Hawke Centre public program is strictly forbidden without prior arrangements.