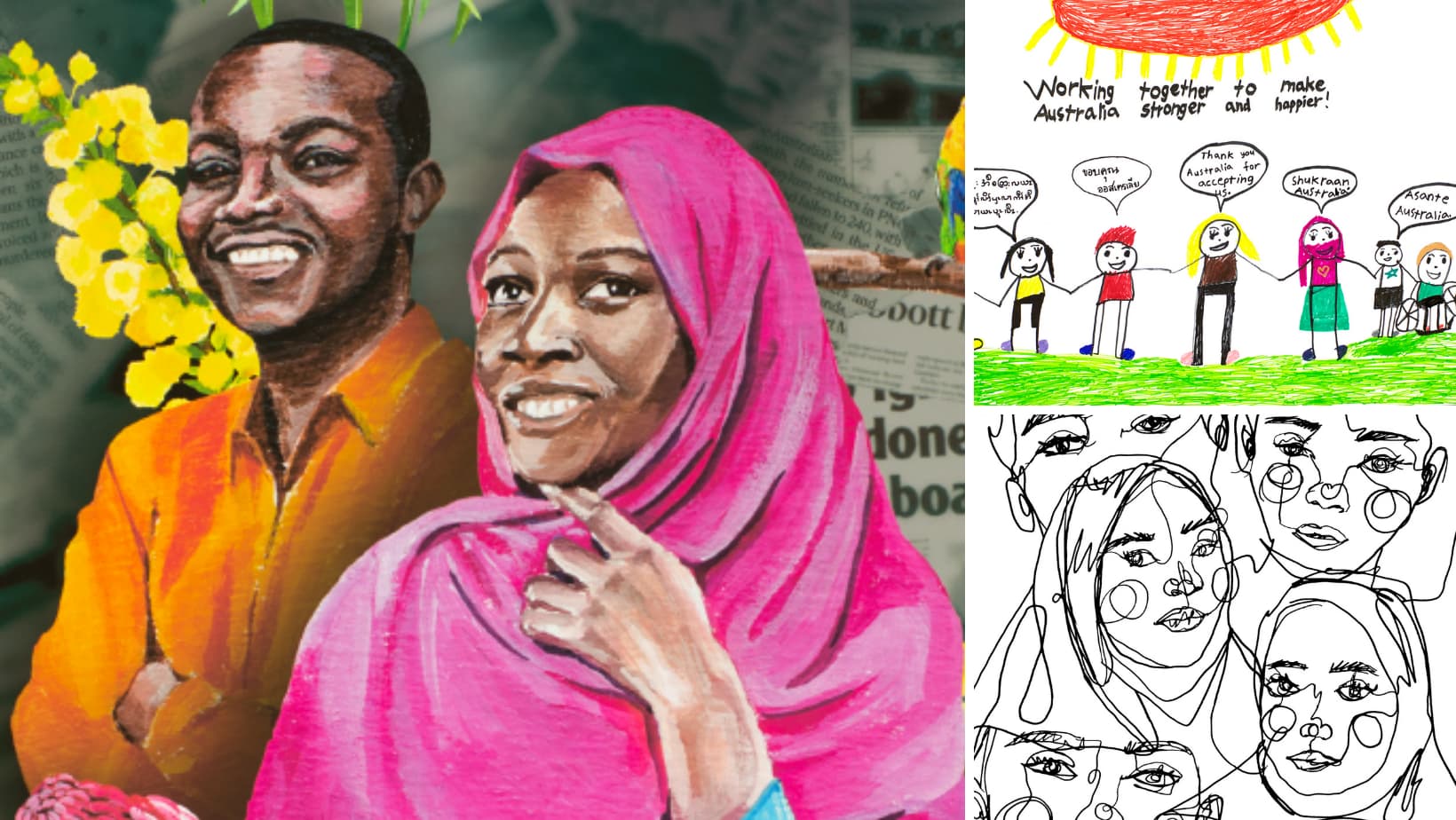 SA REFUGEE WEEK 2021 YOUTH POSTER AWARDS EXHIBITION
3 JUNE - 30 JUNE 2021

THE BOB HAWKE PRIME MINISTERIAL CENTRE'S
KERRY PACKER CIVIC GALLERY
AUSTRALIAN MIGRANT RESOURCE CENTRE PRESENTS
THE SA REFUGEE WEEK YOUTH POSTER AWARDS AND EXHIBITION
HOSTED BY THE BOB HAWKE PRIME MINISTERIAL CENTRE
Opening Hours: Monday - Friday, 9am - 5pm (Thursdays until 6pm)


Hawke Building Level 3, UniSA City West campus, 55 North Terrace, Adelaide MAP
---
This exhibition showcases selected posters from several hundred submitted by students from across the state of South Australia in primary, secondary and tertiary educational institutions. The artwork is a response to themes which are critical in the acceptance and settlement of new arrivals to Australia.
Those themes include multiculturalism, cultural diversity, anti-racism and the welcoming of refugees into Australia as well as how refugees become part of, and contribute towards, the Australian "family". Understanding that visual communication has a strong role to play in relaying social messages that can also help build a more resilient and connected community while celebrating our rich cultural diversity.
AWARD WINNERS
PRIMARY
Best Poster
Si Bi Oh
Mount Gambier North Primary School IELP
Runner Up
Tcross Laisun
Holy Family Catholic School
Commended
Sarah Colic
Richmond Primary School
SECONDARY
Best Poster
Vanisa Chaodee
Our Lady of the Sacred Heart College
Runner Up
Marni Gibson & Olivia Geddes-Coutanche
Brighton Secondary School
Commended
Tain McCullum
Cornerstone College
TERTIARY
Best Poster
Tiana Marcellino
University of South Australia
Runner Up
Blessel Gulle
University of South Australia
Commended
Nathan Lovell
University of South Australia
Image Credits: Hero Image: Left Best Poster, Teritary, Tiana Marcellino; Top Right Best Poster, Primary, Si Bi Oh; Bottom Right Best Poster, Secondary, Vanisa Chaodee

Presented by The Bob Hawke Prime Ministerial Centre and Australian Migrant Resource Centre
---
While the views presented by speakers within the Hawke Centre public program are their own and are not necessarily those of either the University of South Australia or The Hawke Centre, they are presented in the interest of open debate and discussion in the community and reflect our themes of: Strengthening our Democracy - Valuing our Diversity - and Building our Future.

The copying and reproduction of any transcripts within the Hawke Centre public program is strictly forbidden without prior arrangements.