Unsound 2018 Discourse Program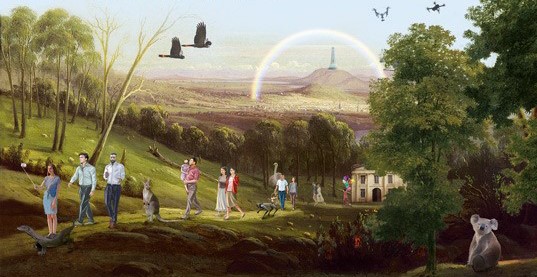 15 - 16 December 2018
Allan Scott Auditorium, Hawke Building, 55 North Terrace, UniSA City West Campus
Enter via The Kerry Packer Civic Gallery, 3rd Floor, Hawke Building, UniSA City West Campus
Unsound Adelaide, the adventurously curated music festival being held on the weekend of December 14-16, has announced its Discourse Program, presented by The Bob Hawke Prime Ministerial Centre.
A titanic line-up of writers, thinkers and musicians in spirited conversation about electronic, experimental and improvisational music, and the ethics of listening and activism in an era of online surveillance. The Discourse Program rounds off the already-announced line-up of artists performing at Adelaide's Queen's Theatre and the late night club lineup at Sugar, featuring: Ben Frost (Australia/Iceland), Bliss Signal (Ireland/UK), Ciel (Canada), DJ Lag (South Africa), Eartheater (US), Emily Glass (Australia), Giant Swan (UK), Lanark Artefax (UK), Lucas Abela (Australia), Matmos (US), MFO (Germany), Mun Sing (UK), Nicolás Jaar (Chile/US), ptwiggs (Australia), Resina (Poland), Roza Terenzi (Australia) and Tzusing (Malaysia).
Entry to the Discourse Program is free.
Bookings are essential. CLICK HERE to register.
Please note that tickets are issued by DAY rather than by SESSION. Entry may be available at the door subject to capacity.
The daytime Discourse Program, to be held in the Grainger Studio, follows the tradition of Unsound Krakow and Unsound New York, providing a deeper insight into the musical program and an opportunity for audiences to connect with artists. This year's Discourse Program features an Artist Talks by Chilean-American Nicolás Jaar, one of the best known electronic musicians of his generation, and renowned Baltimore electronic duo, Matmos; a three-way discussion about performing "In the Moment" with three of the most patently physical performers of our time: Berlin-based Eartheater (whose live shows are far heavier than her recorded works), UK improvisers Giant Swan, and Sydney's own Lucas Abela, who wields a sheet of glass as an instrument; and a session titled The Underground 2.0 - Scenes and Genres In A Globalised World, moderated by music writer Kate Hennessy with artists Ben Frost (Australia/Iceland), Bliss Signal (UK), Sydney club musician ptwiggs and Krakow-based Gosia Plysa from Unsound.
Full details of Unsound Adelaide's Discourse Program below.
DISCOURSE PROGRAM: SATURDAY 15 DECEMBER
1pm
Hearing The Cloud with Emile Frankel
Berlin-based Australian writer Emile Frankel appears at Unsound ahead of the publication of Hearing The Cloud by Zero Books. In this talk, the causal nature of making music about the future becomes a platform to consider the act of composing, one note over another, as an act of resistance and an act of prophecy. In spite of narrowing images of tech-dystopias and flooded worlds, experimental sound and club culture attempts to open up spaces for alternate and vital imaginings. Play, honesty, and the maxim "this music changed me" will all be discussed, referencing artists from Unsound Adelaide in 2018 and over the years.
2.15pm
In The Moment
Approaches to Performance and Recording What are the differences between recording in the studio and live performance? This discussion will include Eartheater, whose live shows are far heavier than her recorded works, and also involve physicality in performance. Giant Swan, meanwhile, do not perform tracks from their record releases, but rather improvise. As for Australian Lucas Abela, he wields a sheet of glass as an instrument in a way that can only be experienced as performance, and his installations also need to be experienced in a specific time and place. Their various approaches are explored in conversation with Mat Schulz, co-founder and Artistic Director of Unsound round the world.
3.30pm
Artist talk: Nicolas Jaar
Chilean-American Nicolas Jaar is one of the best known electronic musicians of his generation. Although initially known for club music, in recent years he has embarked on evermore explorative directions, including a five-hour improvisational concert at PS1. He was part of the band Darkside, runs the Other People label, and in 2015 Jaar also scored Dheepan by director Jacques Audiard, the winner of the Palme d'Or at Cannes. Jaar discusses all this and more in conversation with Tim Shiel of Triple J and Double J.
4.45pm
The Underground 2.0
Scenes and Genres In A Globalised World In the 21st-century, how does the specificity of local scenes relate to a wider musical world connected online? How does living and working as an artist in a perceived cultural centre differ from living in a place far away? What's the difference between a community connected to a physical place and online? This discussion will explore all these questions, as well as ways the Internet has affected notions of music genre and the ways we listen. Participants include Australian Ben Frost, who relocated to Iceland many years ago but still spends time in Australia, Ireland's James Kelly of Bliss Signal and now defunct black metal band Altar of Plagues, Sydney club musician ptwiggs and Krakow-based Gosia Plysa from Unsound. Moderated by music writer Kate Hennessy.
DISCOURSE PROGRAM: SUNDAY 16 DECEMBER
2pm
Eavesdropping, with Joel Stern
Joel Stern, curator, musician and co-Artistic Director at sound art organisation Liquid Architecture, will discuss 'Eavesdropping', a major investigation of the 'politics and ethics of listening' undertaken in collaboration with James Parker of Melbourne Law School, and encompassing exhibitions, performances and lectures in Melbourne and throughout Australia in 2018. Eavesdropping is a slippery and ever evolving term, and therefore a highly generative one for drawing together unlikely lineages and correspondences; between law, politics, sound, the surveillance state, algorithms, activism and art. This presentation will be covertly recorded.
3.15pm
Artist Talk: Matmos
Made up of members M. C. Schmidt and Drew Daniel, U.S. duo Matmos are one the of the world's most unique experimental electronic acts, their long and storied career involving a seemingly endless array of inventive forms. This includes collaborating with Icelandic musician Bjork, creating music with samples of surgical procedures, and an album made up entirely of sounds produced by the Whirlpool Ultimate Care II washing machine located in their basement. They will also discuss their live interpretation of Robert Ashley's Perfect Lives, and Drew Daniel's black metal covers in the shape of electronic music released as The Soft Pink Truth. Moderated by Unsound Adelaide's David Sefton.
4.30pm
The First Days of Australian Techno
Adelaide's position at the cutting edge of the birth of contemporary electronic music in Australia is both a well-known fact in town and a closely-guarded secret elsewhere. Unsound Adelaide brings together the definitive panel of the principle movers and shakers from the time to discuss, reminisce and speculate. Damien Donatois the founder of Juice Music, the label at the centre of the burgeoning scene and one which came to have a global impact in the new techno underground. Mistress Serena was the organiser of Dirty House, the club at the centre of it all. Moderated by Cathy Adamek, an active player at the time and since as an independent club organiser.
The Discourse Program is presented by The Bob Hawke Prime Ministerial Centre, UniSA
Unsound Adelaide, described as "one of the great festivals in the world" (The Quietus), began in Krakow, Poland in 2003. Now in its 15th year, Unsound has grown to be one of the world's most adventurous music festivals – with Adelaide being the only Southern Hemisphere event.
Click here for further ticket information.
Presented by The Bob Hawke Prime Ministerial Centre and Unsound Adelaide