Posted 26/06/2015
by:

Professor David Lloyd
The year has turned its corner, the days are getting longer and midwinter has passed.
It's pretty easy for me to type that, sitting as I am in Singapore in 32 degrees of sunshine (with 65% humidity though - it's not all a bed of roses). I'm offshore to celebrate graduations. We've been to Malaysia and Singapore and next up is Hong Kong. The trip affords a little time to reflect and to pen this note. The more astute among you will spot a correlation between airplane travel and the manifestation of my all too sporadic missives.
Looking at the first half of 2015, I think the university has a lot to be pleased about. Our enrolment numbers, our positioning nationally and internationally. We show a 'highlights' video at the offshore alumni events - which you can also see on our Youtube channel - and there's certainly a lot going on, up to and including the appointment of our next Chancellor and the beginnings of our strategic capital investments in the likes of the Health Innovation Building and the Great Hall. Certainly our alumni in this part of the world are increasingly engaged with the university and both curious and wanting to be more involved in our journey.
There is a lot of change underway within the university but that also mirrors our wider community and society. Organisational business models, modes of working, norms of engagement are all changing and it is a topic of conversation in every organisation, business meeting, and alumni dinner, I attend. How we talk about these changes and manage ourselves and keep perspective is a challenge in itself. I feel that something more is required in our own internal communications within our community. So, as one experiment, I'd like to have a series of 'open mic' chats on campus for staff. All comers. Across the campuses and without a script or a specific agenda - just myself and some of the members of SMG - in the round. To answer first hand any questions that people have about the context within which we are operating, how we are travelling, what we are doing, why we are doing it and what we are looking ahead to. They won't be structured as 'consultations' or 'management presentations' or 'debates' - simply open discourse and discussion around what's going on. We will set up a series of dates, and we'll see what happens. Who knows - nobody might turn up. Or we might need a bigger boat. (A nod to my favourite film, celebrating its 40th birthday this year.)
In other update news, it's now full steam ahead in preparation for the 25th Birthday next year. There's a really neat website coming soon with details on our plans and how you can get get involved. Speaking of plans and getting involved - the Great Hall campaign has now kicked off. I've got my three words picked out, but I'm not telling. You'll have to find them after it's built...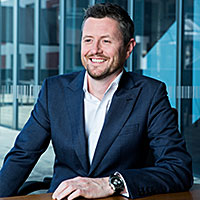 Through The Big Picture, I hope that our whole community gains a greater and current appreciation of what is going on, how it fits together and how our activities connect and reinforce each other at a whole of enterprise level.
Archive
---
Tag cloud