Mr Bill Kelty AC pays tribute to his long-time friend and colleague, the late Hon Robert JL Hawke AC, GCL.
Delivering the 22nd Annual Hawke Lecture, former ACTU Secretary Bill Kelty, outlines Hawke's remarkable career. Kelty considers Hawke's legacy - from educational access, multiculturalism, his role in the anti-Apartheid movement and sanctuary for Chinese students. Right to the end of his life, Bob Hawke had an indefatigable desire to advance Australia and the world. Kelty reflects on the issues that were Hawke's "unfinished business", including climate change and a Treaty with First Nations Peoples and shares his views on the future.
The Annual Hawke Lecture is presented by The University of South Australia as an opportunity to consider the larger issues of life, including the future of our nation and our world, and how we can shape it. We hope that you may join us for this special event and opportunity to reflect on Bob Hawke's vision of Australia, and looking towards the future, consider how we can honour his memory.
MR BILL KELTY AC
Bill Kelty has had a long career in the union movement, as a board member of several private and public companies, a director of the Reserve Bank of Australia, and member of the AFL Commission, since graduating as a Bachelor of Economics from La Trobe University.
His career commenced when he was appointed as an industrial officer, Federated Storeman and Packers Union, after which he became a research officer for Workers' Education Association, Adelaide and then research officer/advocate for the Australian Council of Trade Unions (ACTU).
From 1977-83, he was Assistant Secretary of the ACTU, and then Secretary from 1983-2000 when the 'Accord' between the Federal Government and the Union movement evolved.
Current board appointments include Linfox Group Director, Evans and Partners Advisory Board, Virtual Communities Director and Luna Park Board Director. Other previous governance roles include Commonwealth Government Regional Development Taskforce Chairman, Superannuation Trust of Australia Chairman, Ministerial Advisory Group for Young Adults Chair, National Employment and Training Taskforce member, Australian Retirement Fund Director, Industry Funds Investments Director, Australian Football League Commissioner, AFL Players' Trust Board member and Foundation for Rural & Regional Renewal member.
Sydney Morning Herald: Bob Hawke saw unfinished business right up to the end, says Bill Kelty
ABC Perth: Bob Kelty recalls Bob Hawke's achievements
The Bob Hawke Prime Ministerial Library: Bob Hawke Timeline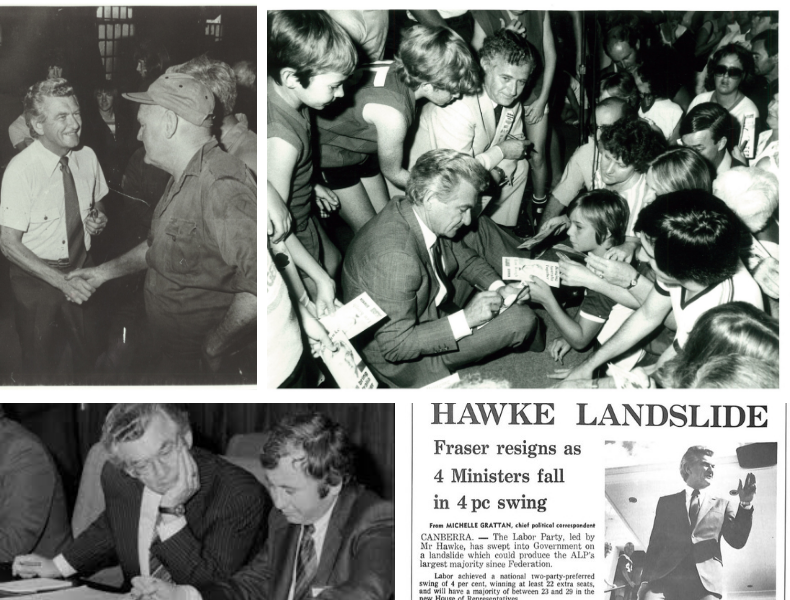 Top Hero Image: Image Credit: Nadine Shaw, Photography; Image Above: Top Left: Copyright Unknown; Top Right: ALP Election Campaign 1984, Bob Hawke with Mr L. Keogh Member for Bowman; Bottom Left:

Bob Hawke and Bill Kelty at Parliament House on July 6th, 1979. Image Credit: Peter Wells

; Bottom Left: Image used with permission from Fairfax Media The Age, 1983
While the views presented by speakers within The Bob Hawke Prime Ministerial Centre public program are their own and are not necessarily those of either the University of South Australia or The Bob Hawke Prime Ministerial Centre, they are presented in the interest of open debate and discussion in the community and reflect our themes of: Strengthening our Democracy - Valuing our Diversity - Building our Future.
The copying and reproduction of any transcripts within The Bob Hawke Prime Ministerial Centre public program is strictly forbidden without prior arrangements.