Posted 15/12/2021
by:

Professor David Lloyd
With a week or so to go before the Christmas closedown, I wanted to send a brief note of thanks to you all for everything you've done to keep the show on the road in what can only be described as another very unusual year - (doesn't that make it usual?). From fending off cyber-attacks to rolling up sleeves for vaccination roll-outs, 2021 certainly wasn't a dull year.
It's quite hard to fathom that the end of 2021 is already now just upon us. Harder for me than most – as I seem to suffer from a form of temporal dyslexia (dystempia?) which means I hardly ever know what day it is, never mind what year, decade or indeed how old I currently am.
I don't know about you, but I personally found 2021 to be a much, much, more difficult year to get through than 2020. We were all working flat out once again, thankfully mostly in situ in the uni, but also working against the almost surreal backdrop of a now fully-established-and-showing-no-sign-of-easing-off global pandemic, which was happening to us – and over which we had no meaningful control. Almost every one of our well laid plans was impacted in some form or fashion and embedding multiple layers of contingency planning became the norm. Don't get me started on attempted travel plans. Suffice to say, did not happen ☹.
Someone allegedly once said (in an affected Southern drawl) that life is like a box of chocolates, you never know what you're going to get. In that context 2021 was, and you can insert your own choice of least favourite here, a box of chocolates comprising 76% coffee creams, 23% Turkish Delight and only 1% hazelnut pralines. Spoiler alert – of those three, I would only choose to willingly eat the pralines. Looking on the bright side – and it behoves us to do that in our line of work - it was all chocolate of one form or another. As we stop to reflect on the year that was, we can be very grateful as an institution. There are so many others who did it so much tougher than we did this year.
One of the most important messages I've taken from this year's culture survey results is that we don't pause enough to reflect on, celebrate and recognise our achievements. Perhaps that is the biggest downside of our excelling at being unstoppable. We are all too often headlong in a rush to get things done, and the next thing, and the next thing, that our successes can be left behind in the rear-view mirror, unacknowledged.
I'm not very big on making resolutions at this time of year, particularly if they need to have contingency plans around them, but I do resolve to better recognise and celebrate how great we are going forward – and not just the big-ticket things. There is an abundance of innovation and achievement all over this organisation, every single day – it would be nice to call it out more often. So, we certainly shouldn't forget that UniSA turned 30 this year – and amidst everything else, we once again kicked a lot of goals – and should be proud of that. You can take a look at our highlights from the year in review here
I do realise the irony in my typing this, while at the same time, sitting on my desk, is a fresh list of things that I think we need to crack on and do in 2022. That's the gig though. More on that next year.
Christmas and the Holiday Season prompts reflection and renewal. In these tough times, taking time to decompress is very important, so I do hope you're planning to avail of the wellness days and have planned for some rest and relaxation. When I was growing up in Ireland, in the absence of on-demand 4K streaming services and long before VCRs were affordable – yes, I am that old - there were two national TV stations – RTE1 and RTE2. The Christmas/New Year period was the only time of year that there were half decent movies on telly – as the schedulers worked to fill continuity slots while people where on holidays, and this was something I looked forward to each year with great anticipation. It's funny that Christmas movies are ones that we return to time and again. Movies like It's a Wonderful Life, Home Alone, The Vacation or Love Actually have all become perennial Christmas watch-list favourites, just like Die Hard and Gremlins. (embrace it, they are legitimate Christmas Movies!)
In keeping with the idea of returning once again to re-watch seasonal favourites at this time of year, I hope you'll have a few minutes in the coming days to click on this link – don't worry, it is ISTS approved, this isn't a clever phishing exercise – and maybe raise a smile again at our expense. It may even start a tradition…
All going well, we will reach the State's 90% vaccination target over the coming weeks and will soon be enjoying greater relaxation of restrictions thereafter, including the prospect of welcoming back our international students to on-campus study. I do look forward to also welcoming you back after a restful holiday break and wish you and yours the very best of the Season.
In the meantime, do take care, and see you 2022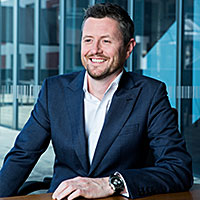 Through The Big Picture, I hope that our whole community gains a greater and current appreciation of what is going on, how it fits together and how our activities connect and reinforce each other at a whole of enterprise level.
Archive
---
Tag cloud