Posted 09/08/2020
by:

Professor David Lloyd
I reckon it's about four years now since I used a Jaws quote. (Surprising, given it's my all-time favourite film and the reason I still don't go in the water). During our 25th Birthday celebrations I wove a few into my speech for the gala dinner - ending with 'you're gonna need a bigger boat' - to indicate that we had bigger times ahead of us here in UniSA. Prescient, as it turns out, but who knew what a tumultuous period we would also go through in the intervening years.
I feel like throwing out another Jaws quote now. And not just because the movie is 45 years old this year. I'm sorry if that revelation has dated you unexpectedly. One from Amity's hapless Mayor, Larry Vaughn (who, as an aside, in the movie, has a sports jacket so stylish it now has its own Facebook page with nearly 5000 followers – and they say social media influencers are a millennial thing).
He says, 'You yell barracuda, everybody says, "Huh? What?" You yell shark, we've got a panic on our hands…'
These days, you yell transformational amalgamation, everybody says 'Huh? What?' You yell merger, we've got a panic on our hands…
Mergers, it seems, are a bit like sharks, when you least expect it, they come swimming back to bite you.
Look beyond the headlines for a moment and lean into the possibility. Public Post-secondary education powers South Australia's largest export industry. It caters for over 150,000 students, employs approximately 12,000 people and operates with a combined annual turnover of over $2.5 billion dollars. Post-secondary education in South Australia is currently provided by our three major public Universities and TAFE-SA. This is an already strong sector of paramount strategic economic and societal value to this State and as we move to recover from the economic impost of COVID19, this is a sector we must enable to grow even stronger than before. Growing it is key – not shrinking or cutting or 'right-sizing' (how I dislike that disingenuous term). Start from a simple question. How do we make it bigger and better?
South Australia has an excellent track record in educational innovation, for example – the inspired decision to bring SAIT and SACAE together to form UniSA in 1991 – building what has since become one of the world's best young universities - us.
It's in that vein of exploring the possible, of holding space for 'what if' or 'why not' that we could think about more than business as usual.
Thinking about something doesn't commit you to doing it. But it means you're less likely to be taken by surprise or bitten by it, should it come to pass without your involvement.
I for one would welcome an opportunity to explore whether the tertiary education landscape of South Australia could be even better geared than it currently is to support the State and generations of South Australians going forward, to truly differentiate Adelaide as Australia's City of Learning. But that could never come at the expense of the culture, the success, the essence of everything we hold dear about UniSA or, indeed, what's great and held dear about the other tertiary institutions here in the State. In 2018 the exploration of the merit of merger played out on the public stage as never before, but it was the economics of the proposed model that put pay to its progression – not egos, not grandstanding – simply the inability of the business case to stack up.
In any new thinking about possible future landscapes we need to remember that while Monopoly is an entertaining board game, more often than not it results in a poor end-user experience in a real marketplace. There's very little merit in doing exactly the same thing and expecting a different outcome. There's a definition of something in that type of approach. And always beware the poorly conceived sequel. Jaws2. Jaws3. Don't mention the Revenge.
As it stands – nothing is being explored, nothing is 'afoot'. There's no need to panic.
I've said this in many other contexts recently - UniSA is holding its own. As I type this, our virtual Open Day is in full swing, with thousands of prospective students engaging with our staff online, exploring the possible, holding space for 'what if' or 'why not' in their own futures. I think we owe it to each and every one of these future students, all of them, to always think bigger, to think better and to challenge and stretch ourselves for their benefit.
After all, we're the University for South Australia, Australia's University of Enterprise. We should always be leading the way.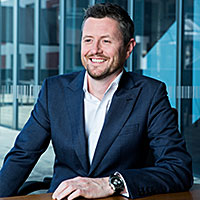 Through The Big Picture, I hope that our whole community gains a greater and current appreciation of what is going on, how it fits together and how our activities connect and reinforce each other at a whole of enterprise level.
Archive
---
Tag cloud