Posted 26/06/2020
by:

Professor David Lloyd
The definition of prudence is one of those circular ones - it's the quality of being prudent - so to find out what it really means you've got to look up another word. Life's like that quite often. Like the committee to abolish committees. Being prudent is acting with or showing care and thought for the future. It's often used to describe an approach to the managing of finances. With good reason. Managing your finances prudentially (look that one up yourself) makes sense - it's what we typically all aspire to - acting with care and thought for the future. The irony that prudence begins with a 'P' and can sit quite happily alongside our strategic aims around People Programs and Precincts, isn't lost on me. We've found a fourth 'P'. And if we are committed to delivering on the other 3, we need it now, more than ever.
I've said before that we wouldn't rush to react to the challenges posed by the ramifications of the global COVID19 crisis. That we wanted to ascertain the real impact on our operations and that we would plan for all eventualities, with the preservation of employment and the overall health of our university front of mind in every case. That hasn't changed. This week UniSA hit it's highest ever ranking in the Times Higher Education (THE) world ranking of young universities (that's universities under the age of 50 to you and me) (I used to think that being under the age of 50 was young) (when I was younger) (I digress). I'll say that again. Our highest ever ranking. Twenty fifth in the world. Firmly among the worlds very best young universities. Against a backdrop unparalleled in the history of our organisations – a full academic organisational transformation with a global pandemic thrown into the mix for good measure. UniSA still kicks goals. Models 'Unstoppable'. Because of our culture, our composition and our commitment. Everything we have to work to protect and preserve in the next couple of years – so that we can emerge from this dip – and it is a dip – as strong, if not stronger than before, well placed to continue to deliver for our students, our partners and our community.
To preserve and protect, we're going to need prudence. That starts at the top – senior staff have volunteered reductions in their salary packages and won't receive any increment this year. But it's not about being The Grinch either – as you'll have seen, we've progressed this year's pay increment for all staff covered by the enterprise agreement. It's about balance. About continuing of focus around non-salary cost reductions. About holding firm on all non-essential travel – lets connect virtually to the world and our collaborators for now. About reining in discretionary spend and about laser-like focus on concentrating our resources around our core activities supporting teaching, research and the student experience. About managing and filling vacancies internally wherever we can. About managing allocated budgets on a line by line basis with a duty of care to the financial health of the whole organisation. It's about using your judgement so that we collectively do what we can reduce our spend and sustain our community – thinking about the need to have over the nice to have – just for a while – as we bridge the COVID19 gap.
We're modelling the proposed changes to the Commonwealth funding of universities announced last Friday and working through the intricacies of change which seem to create additional places, without additional funding. The issue of 'who pays' for higher education is back on the table, with costs shifting from the government to the individual in some instances, and dramatically so in certain cases, but the retention of the income-contingent deferred loan scheme of HECS is so important in this regard. Time will tell what impact the proposed reform actually has on demand or enrolment patterns. In a year with so much turbulence, this is just one more consideration for us to have front of mind as we model our possible futures. But we are pretty good at holding space for alternate futures in this university.
As we move into the latter part of 2020 (when did that happen?) we will work closely with Executive Deans and General Manager and unit Directors to ensure we have a shared understanding of our approach to prudence, our new fourth 'P'. This approach isn't going to grind us to a halt – its going to enable us to continue to excel as Australia's University of Enterprise – to remain in good shape, nimble, agile – a model for what can be achieved through cooperation and communication and shared goals for the future.
Prudence to prosper? Might be a tagline too far – but it's what we are going to do.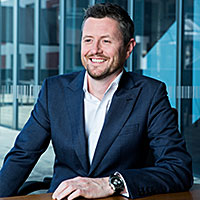 Through The Big Picture, I hope that our whole community gains a greater and current appreciation of what is going on, how it fits together and how our activities connect and reinforce each other at a whole of enterprise level.
Archive
---
Tag cloud