Posted 14/02/2020
by:

Professor David Lloyd
It's been quite the start to 2020. A little over six weeks into the year and already we have seen fires, floods, a global health emergency…
Throughout the bushfire crisis UniSA staff were responding and contributing across the board. We applaud and offer our heartfelt thanks to those who were on the front line as CFS volunteers and who worked so tirelessly to protect lives and properties under extraordinarily difficult conditions. Behind the scenes a lot was going on too. Our psychologists and mental health experts were advising government at the highest levels on intervention packages, as well as helping to ameliorate the immediate impact of the fires on the mental health of firefighters and others affected by them. Our early years educationalists were helping to support children who have experienced trauma. And our experts in business and tourism were sharing ideas to rebuild the businesses that have been so dramatically impacted in the fires. We've also funded a new community-based role for a Coordinator of Wildlife Recovery to be based on Kangaroo Island. Tangible, discrete actions which we hope will, individually and collectively, help make a difference.
Then there's COVID-19. The temptation to compare the new coronavirus's name to a cold war drama miniseries is there, yet it's no laughing matter. But there are cold war connotations in the fear and suspicion this health emergency is precipitating in the wider community – so much of it unfounded and frankly, un-Australian, as xenophobia bubbles to the surface in unpalatable and unacceptable ways. We can't allow hysteria to diminish the multicultural vibrancy of our community – we can be respectful and supportive as well as appropriately implement public health protections.
As I am typing this, the National Security Council is meeting to further extend the border security measures in place – the so-called travel ban – which is impacting on so many of our international students and visitors. The intervention is an appropriate step for public health protection at this time – for all of the public, not subgroups. The impact though, is staggering. Close to 100,000 university students are directly affected simply by having been in mainland China, celebrating the Lunar New Year as a situation outside of their control arose. They now find themselves unable to return directly to Australia to commence or continue their studies. It's an almost unimaginable scenario for the whole sector.
We, UniSA, have 1226 students in this situation – currently in mainland China and without a means to commence or continue their studies with us as they had originally hoped and planned. And similarly to the way in which our staff calmly rallied and contributed to resolution of the bushfire crisis, our staff are again doing outstanding work here. They're working to minimise the impact of the travel restrictions and to actively manage the well-being of our students. To keep them informed and to reduce their anxiety. Every single day since the evening of 1st February, our academic and professional staff have been working to identify, connect, advise and assist those affected students. Our experience in external education is being brought to bear on the provision of viable study options. Students are receiving individually tailored plans and communications and the flexibility being afforded in terms of teaching and administration options is outstanding.
Why? Because they're our students and more than just having a duty of care, we do care.
It's simply in the nature of this organisation.
Calm, collected, responsive and impactful.
Quiet achievers, making a difference.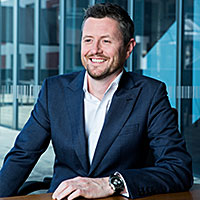 Through The Big Picture, I hope that our whole community gains a greater and current appreciation of what is going on, how it fits together and how our activities connect and reinforce each other at a whole of enterprise level.
Archive
---
Tag cloud