Posted 10/11/2020
by:

Professor David Lloyd
The sight of Christmas trees on display in David Jones this week startled me. I should clarify, I don't suffer from dendrophobia and I have, eight years in, made some appropriate mental adjustment to the fact that Christmas happens in summertime in this neck of the woods, but the advent of the holiday season manifest in this fashion gave me pause for thought that the year-that-shall-not-be-named is drawing to a close. Thank goodness I hear you sigh. And with good cause. Who'd have dreamt that one up 12 months ago when forecasting the year ahead?
As all around us co-workers busily festoon our workspaces with tinselly things, it's true that we now have some cause to celebrate, not least our successful collective endurance of a series of trials – fires, floods, pestilence, unprecedented toilet paper shortages, academic organisational transformations, surreptitiously wearing sweatpants while working from home, stranded international students, flipping from on campus to online education, casting and recasting budgets, all the new legislation, travel bans, addressing student hardship, practicing prudence and, above all, enduring sustained and debilitating uncertainty and externally imposed restrictions at so many levels, all limiting our core freedoms and sense of true self-determination.
It's little wonder that people are tired, always a common refrain at this time of the year, but probably more true this year than ever before. Navigating that 101-word preceding sentence may have added a little extra tiredness to your day, and for that, I apologise.
Wondering where the reindeers get their magic from and my resultant perennial bout of chronophobia (the irony) then got me thinking about 2021. 'Uh Oh,' I hear senior staff thinking as they read this, but they, and you, can relax. 2021 won't faze UniSA. We have a plan. 'Uh Oh,' I hear the senior staff thinking again. Not the Baldrick-esque 'as cunning as a fox who's just been appointed Professor of Cunning at Oxford University' type of plan1, but cunning, nonetheless. Our plan could be accused of drawing inspiration by Disney's Frozen as it involves letting go. Sing it with me…
In 2021, we will control what we can, and we will let go of what we can't. We will prioritise our efforts and resources aligned to our stated Enterprise25 goals and objectives. We have a set of actions that the University Council has recently endorsed, and which will occupy our efforts and time (and our priority) across 2021-2023 – advancing E25 and our standing nationally and internationally.
Foremost among them is our intent to be the first university in Australia with a single integrated teaching and research plan. You'd have thought that would have been done somewhere before now, but apparently not. We'll prepare an Academic Enterprise Plan (Australia's first!) that joins up our core functions and strategies for research and teaching. One of our key goals will be to reduce complexity.
Back in the days of Crossing the Horizon (remember that?) we used talk about cutting red tape but cutting red tape up doesn't really get rid of it, it sometimes makes it harder to deal with. I've come to believe that red tape is actually a by-product of complexity, and universities are really, really good at making things complex. They have people who write 101-word sentences, for example. So, for the next few years, we shall make the reduction of complexity our key focus.
That (simple) commitment to reduce complexity means we ought (and will) spend 2021 looking a little more closely at how we do what we do, assessing whether what we do adds value and spending quality time thinking about what we should do to do what we do better, in less complex ways. That sentence had only 52 words – almost a 50% improvement already. Progress.
In other words, looking to 2021, we will not be rushing to change, (rumours of a POT coming to a UniSA near you in 2021 hot on the heels of the 2020 AOT are unfounded. It is a great acronym, but a watched POT never boils in my experience). Rather, next year, all things being equal, and assuming we all return safe and well rested after a decent summer break, we shall begin appraising the 'as is' of what we do, so that we can imagine, agree and articulate a less complex 'to be' and put in place a simple and clear path to its realisation across 2022 and 2023. That'll keep us busy and out of trouble, and we probably needn't fear the passage of time quite so much as we go.
Cunning, eh?
That'll do, Baldrick.
---
1. For anyone wondering, this quote taken is from the last episode of the 4th series of the BBC comedy show Blackadder. The fact that I've included this explanation as a footnote is emblematic of the fact that what might still feel like popular culture to me, actually ended its TV run in 1989. That was during the 20th Century. Two years before UniSA was founded - and we turn 30 next year. Eight years before the first Harry Potter book was published, never mind committed to the silver screen. Son of a nutcracker. That's the chronophobia right there. Urgh. If you want to feel even worse, Frozen was released seven years ago – and while I'm at it, Elf, with Will Ferrell hit cinemas 17 years ago. (Besides Blackadder and Frozen, there are Harry Potter and Elf references up there – this isn't all entirely random). Outdated pop culture references that require explanation through footnotes are time's cruel yardstick. I digress. Ho Ho Ho.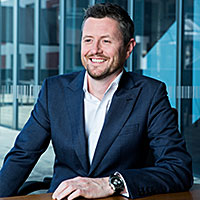 Through The Big Picture, I hope that our whole community gains a greater and current appreciation of what is going on, how it fits together and how our activities connect and reinforce each other at a whole of enterprise level.
Archive
---
Tag cloud