Posted 06/02/2019
by:

Professor David Lloyd
What did you really talk about? It's all decided isn't it?
You could be excused for taking a cynical view of senior staff retreats. The *managers*, wearing casual clothes, bonding and hugging (yes that does happen) and determining our future without having to live with the consequence of doing all the work.
Actually, in our case specifically, you shouldn't.
Shouldn't be excused and shouldn't take such a view.
True, there was a higher quotient of denim in the room last Thursday and Friday than you might ordinarily observe when the senior staff are going about their day-to-day operations, but there wasn't any top-secret determination of the future and there actually was a lot of work done and thought given to consequence.
I'm a lapsed chemist. Which means that somewhere in my psyche there's an inner scientist, who subscribes to scientific method and experiment to determine truth. So, with the senior staff, we were experimenting. Under Enterprise25 (or E25 for those in a perpetual hurry) we said:
We want a program-focused institution;
We want to reduce operational silos.
How do you get to that? Well:
You build your institution around your programs;
You build your institution around a smaller number of 'things' which are, by necessity, each a bit bigger than the existing things (because you're not seeking to reduce your activity).
Simple eh? I'm not trivialising it, but it really can be boiled down to deciding what it is you want to achieve and then setting about doing it. Of course, there are lots of additional considerations, augmenting the teaching and research capacity in the institution, building our 'one team' culture, growing staff in the classroom, curriculum transformation, enhanced student outcomes - but they're not structure dependent, they're operational. Structure is a means to a managerial end, it's not the definition of us. It has to be workable and it should enable our stated ambition.
So let's step through the conversation that was had at the senior staff retreat. I find that if you can imagine John Blake doing the voices, this next bit will sound better in your head:
"We want fewer operational silos and we want them to be built around programs. We want to strengthen program leadership. We want academics spending their time on teaching and research. Whatever academic structure we describe therefore has to be appropriately supported by corporate and academic professional services. We have to get the academic structure right first, aligned to our ambition – program focus, fewer silos – and then we make sure the services structure is right."
'OK'
"So what's the right academic structure?"
Silence.
"Let's start from the premise that we won't build the wrong one."
'OK' (I do like a team that backs itself)
"Let's start from our principle of building a program-focused organisation."
'OK'.
"Let's also start from the principle that we don't want disruption willy nilly."
"OK, but can you say that in a more managerial way, willy nilly sounds silly.'
"Yes. Let's minimise the impact on the maximum number of people."
'That's much better.'
"So what 'structure' do we currently have around programs?"
- 'We have academic staff
We have course coordinators

We have program directors'
"Nothing wrong with that. That's a building block. We should build from that."
'Good.'
"How do we strengthen that? (rhetorical question – they didn't get to answer it) Let's invest in program leadership. Really invest. Senior staff who are responsible for groups of programs, the curriculum, the delivery, making them the best they can be through strategy and investment. Not bogged down with administration. "
'OK, yeah! Sound's great! What'll we call them?'
"Program Deans."
'OK. And what do they do?'
"They are in charge of our programs. They make them the best they can be. They've got leadership and ownership."
A hand goes up.
'Are they line managing staff?'
"Probably. Yes. Probably. But they aren't heads of school. They're focused on programs and making them the best they can be."
Another hand.
'So who's looking after research?'
"A Dean. Of Research."
'OK'
More hands.
'Who's making sure that students are progressing, that pastoral care is happening and that policies are being followed?'
"A Dean. Of student-y things."
'OK'
'What do they do?'
"We'll figure that out. But for now, they're doing the things we don't want the Program Deans doing, because…the Program Deans have ownership and leadership of our most valuable assets – our curriculum – and….."
'….they're making them the best they can be…'
'Ohhhh.' Nodding. Lots of nodding.
Another furtive hand.
'Excuse me your worshipfulness. Who tells Program Deans what to do? Who's in charge? What's going on? WHY AM I SHOUTING??? Sorry.'
"We'll have an Executive Dean in charge of a unit. They'll have support staff around them."
'Ah. So they're PVCs.'
"No. They're Executive Deans. There are no PVCs."
'Oh. And who tells the heads of school what to do?'
"There are no Heads of Schools."
'Huh? Oh yeah. Deans, we have Deans, they're the heads of schools, right?'
"No. They're new. They're definitely not heads of schools. We don't have schools. We have new groupings of academics, built around programs, with Program Deans providing academic leadership and….?"
'…. focused on programs and making them the best they can be…???'
"Exactly!"
Many hands.
'How's it all work then? What are they called? How many of these things will we have? I AM SO FREAKED OUT BY WHAT APPEARS TO BE A MASSIVE CHANGE BUT ACTUALLY THE MORE I THINK ABOUT IT THE MORE LOGICAL it gets and I can see that we probably just have to look at our program offerings and think about how we put them together in groups and then a structure flows from that….ooooooh…..'
I'm paraphrasing, but that's the gist of the conversation. The names have been withheld to protect the freaked out. Nobody actually shouted. Or even raised their voice. They might have internally. We spent two days decoupling our thinking from existing structure to focus on creating a program-oriented institution. That thinking precipitates a structure which is a means to a managerial end and which also satisfies our requirement to have fewer operational silos in the organisation. And it looks, in rough terms, like this: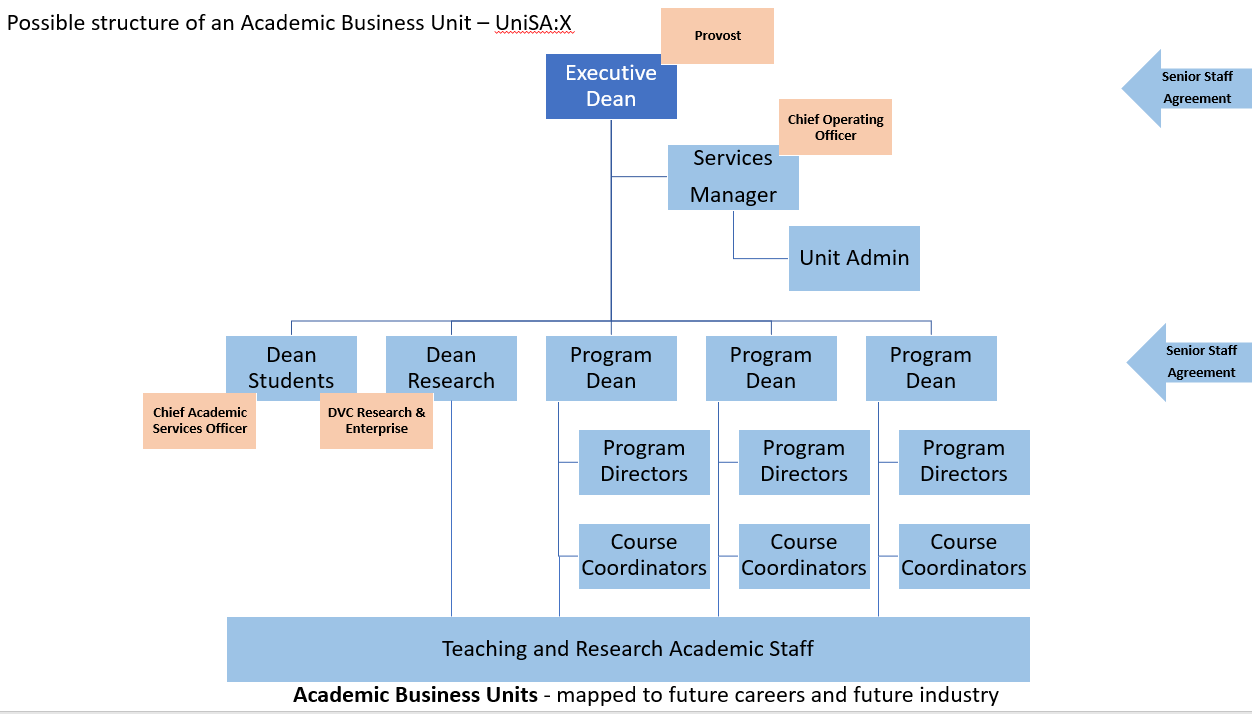 It's got a placeholder name – UniSA:X – where X describes what it is. And what it is will be described by us, working together, to cluster our programs in logical and innovative ways – to pivot our structure and organisation around our core products. And to organise ourselves in this fashion.
The senior staff experiment included three goes at clustering programs – to see what groupings came out. There were nine tables of staff, each had 100 programs to group in whatever way they saw fit, the major constraint was that they couldn't have fewer than 7 units and they couldn't have more than 9. The rationale was to reduce the number of silos, after all.
I won't spoil it, but in 27 passes, they didn't have more than 8 units. In fact, they mostly had 7. They had a *huge* degree of commonality across the nine tables – despite the tables being populated by staff that ordinarily don't work with each other on a daily basis. And there was great creativity and ingenuity around the edges of the possible.
They didn't build the right answer and there wasn't a wrong answer.
They arrived at possible groupings. Most of which are workable. The 'department of fun' suggestion though didn't get much traction beyond the table that dreamt it up by combining all the 'fun' programs from across the university into one structure.
And then they went back around spent a lot of time asking the same questions about roles and responsibilities – and iterating those. And there's more work to do on that too. Then there's considerations of how the budget model would work. The detail. That's the next thing to be worked out.
The experiment demonstrated that we can cluster programs to describe new structure. The principles provide boundary conditions for future roles and responsibilities within that structure.
The university community will have its opportunity to go through the same process – as an input to us reaching the right structure, for us, together. In April, we'll have a very large number of staff – and students – working to cluster our programs into structure. And giving form to E25 ambition. That's a little way away as yet, and in the interim, I've asked the senior staff to work on refining their thinking around the roles, responsibilities and the operationalisation of this type of thinking.
Then – and only then – we will be in a position to effect a change. When we have worked it all through and thought about it. When we have taken the input of the wider university community on populating a new structure and when we all understand it and how we are going to get to it.
So – no secrets. No determination. Just one team – building a new enterprise. Watch this space.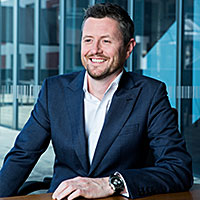 Through The Big Picture, I hope that our whole community gains a greater and current appreciation of what is going on, how it fits together and how our activities connect and reinforce each other at a whole of enterprise level.
Archive
---
Tag cloud