Posted 06/04/2017
by:

Professor David Lloyd
Penfolds has a book about the production of their flagship Grange wine which is called The Rewards of Patience. That's something I think about from time to time. Not Grange, (well not all the time, I do think about Grange from time to time in the context of what it means to have well marketed products of great quality) but the rewards of patience. How sometimes it takes a while for a seed to germinate, for something to grow and yield fruit and how sometimes even the fruit isn't the end product. Universities are a bit like that. Our students have knowledge planted in them over many years. They're equipped to be independent and successful learners. They reach their full potential many years after they leave us.
Last week we saw nearly 3000 successful learners cross the stage over nine graduation ceremonies. For me, that meant nine speeches, nine sets of duelling Irish poetry quotes between me and the Chancellor, five official lunches and in excess of 30,000 handclaps. So life is measured out on occasion. (As an aside I also sometime wonder what other job specification would include 'at certain times, the successful candidate will be required to sit upright, in public, in unusual clothing, with lights shining in his/her eyes for up to five hours per day, while smiling broadly and clapping enthusiastically up to 8000 times during this period').
Graduations also meant bearing witness to around 3000 happy faces, beaming beneath 3000 mortar boards and doctoral bonnets and hovering above 3000 robes and around 6000 interesting shoes. When not contemplating the sometimes extraordinary footwear on display at graduations, I more often think about the one-time student who has now become the new graduate. The sense of pride they feel – a sense of pride I remember from my own graduation. The sense of relief. The sense of possibility. In putting this year's graduation speech together I wanted to emphasise how valuable an education really is. I wanted to touch on how privileged our graduates are to have an education, when you consider all those less fortunate in the world. I also wanted to emphasise the good that can be done when an education is used in the right way – to challenge accepted truths and to cherish wisdom over mere content and opinion.
During the course of the week we were honoured to have some outstanding guests – some delivering occasional addresses and some in receipt of honorary awards from us. Adam Goodes, Janet Holmes a Court, MaryAnn Bin Sallik, Ian Gould and Tom Keneally were just some of those who shared stories and insight with the graduating class of 2017. Each message was different, each was inspired and inspiring. Each gave me pause for thought about the standing of our institution on the world stage. Some put me in mind of past speakers and honorands no longer with us, such as the late, great Sydney Ball, who passed away recently and who was among our strongest advocates and supporters. As was the case with Syd, in each new case last week we had an extraordinary person giving up their time to spend it with our students on their special day. Additionally, each of our guests clearly revelled in UniSA's success and all of them were demonstrably proud of their association with our university. That's something of a pattern that I've observed these past four years. Anybody who gets to know UniSA quickly comes to love what we do and how we do it. More than one comment was passed about our strong commitment to social justice and to equity. Equally, more than one comment was passed on our graduate qualities and engagement with end users and enterprise. My take home message is that we are doing ok. More than that – we are doing what we are meant to do – and doing it well. Independent validation of that is nice to get from time to time.
Oh – it's not just validation from those whom we invite to attend graduations. As of this morning, we learned that we have been placed 32nd in the world's top 200 young universities by THE rankings. For those who monitor such things, in this ranking of the global best 200 universities under the age of 50 years old, ours was the single biggest year-on-year improvement by any Australian university. We rose 25 places from our position in 2016. This now puts us very firmly in the world's top 50 best young universities as assessed by both of the major international rankings systems – QS and THE. I think that's doing ok. I think about 26 years of growth of our institution. And I think the fact that over those 26 years that we have not lost sight of who we are, or why we do what we do, or our role as Australia's University of Enterprise, is an outstanding testimony to those who have been so vested in our success and a wonderful foundation for the future and what is yet to come.
I've said before in this forum that we sometimes don't stop to celebrate the wins. It's time for a pause and a little reflection on the rewards of patience. Well done us.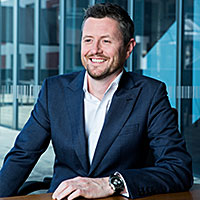 Through The Big Picture, I hope that our whole community gains a greater and current appreciation of what is going on, how it fits together and how our activities connect and reinforce each other at a whole of enterprise level.
Archive
---
Tag cloud