Posted 31/10/2016
by:

Professor David Lloyd
It's been quite a year. As Spring is finally sprung and weather assumes some semblance of normality following its celebration of Winnie the Pooh's 90th birthday (that's a very oblique cultural reference- points will be awarded to those that get it) and, most worryingly, the trappings of holiday season appear ever earlier in the shops, I'm taking a moment to reflect. Only a moment though, because our ongoing pace demands caution at such times – stepping off the treadmill at full tilt can be dangerous.
Saturday night past saw a celebration of what we do best – the production of graduates who go on to do us proud. Our annual Alumni Awards event transforms Brookman Hall as we recognise the achievements of just a few – only four each year – of our 150,000 plus alumni (and that's just those who've crossed the graduation stage in the last 25 years, there are nearly another 50,000 from SAIT, SACAE and our collective antecedent institutions). And while we rightly acknowledged the achievements of a great group of alumni this past weekend – Penny Wong, Janine Mohamad, Dean Brown and Angelica Cheung, this year, this 25thBirthday year, we had additional cause to celebrate.
It's a point of reasonably reliable public record that I am rather fond of music, and within that affection, the band, The Police. From their canon, I am particularly fond of the album 'Synchronicity'. That was released in 1983 – their last studio album – they really went out at the top. For those interested in trivia from the UK pop charts – that was also the year that Culture Club released 'Karma Chameleon'. Maybe I'm getting old, but these titles seem a little more interesting than those we get served up nowadays…. They invoke dictionary use – certainly they did for me in 1983 (I was 9). Synchronicity and Karma are interesting concepts. One distils to 'nothing happens by chance' and the other to 'everything happens for a reason'. Despite my scientific training, the humanist in me can subscribe to that. And here's a little insight into why;
UniSA has always been about graduating modern professionals – even before attaining our university status – it's one of those endearing and enduring qualities of our institution, in all its guises. A young man called Andrew Pridham graduated from SAIT in 1988, with a Bachelor of Applied Science in Property Resource Management. He was a bright guy. A Sydney field trip as part of his final year studies introduced him to both exciting professional football experiences (remember, this is before we had even one Adelaide AFL team) and ignited a passion in him for his profession. He moved to Sydney the day after his graduation ceremony, and moved in time from property development to banking. He credits the technical and analytical skills learned at SAIT, which he describes as 'cutting edge for the time', with enabling that transition – of course his personal ambition, drive and competence played no small part as well. In banking he found his true calling. He also sustained his passion for football in his new adopted city, but he never took his eye off his home town of Adelaide. His success enabled him to hire many SAIT grads from the PRM course, and to help others to secure highly sought-after jobs in other related firms in the industry. Andrew's career blossomed, as did his success. He even became the Chairman of his beloved Sydney Swans – and in recent times, in this our 25th Birthday year, reconnected more formally with his university.
That reconnection has proven literally transformative. On Saturday, Andrew Pridham, graduate of SAIT, presented his university with a gift of $5 million from the Pridham Foundation – the charitable giving arm he established for his family. That donation is our university's largest ever single private philanthropic benefaction. Indeed, it is almost certainly the single largest private philanthropic university donation made in living memory in this State. Andrew's rationale for giving – he feels that our university helped set him on a pathway to success. His personal interests align with our Great Hall project – the interface of celebrating education and sport. We discussed its origins in UniJam and how it will function as the future heart of the university – providing us with our own graduation venue for generations to come and, through innovative design, a dedicated and unrivalled sports facility in the very centre of the City West campus. Andrew was fortunate enough to be in a position to help, to give back to his alma mater. He recognises that as an alumnus, his donation will hopefully inspire others to give. UniSA's Great Hall will now be named Pridham Hall, in recognition of his astonishing generosity and as an enduring statement of the virtuous relationship our university enjoys with its graduates.
But wait, there's more.
The State Government, on learning of this donation, was inspired to augment it by an additional $1m donation of its own, aligned to two of Andrew's core interests – sport and the support of Aboriginal educational success. The State Government's generosity will enable the establishment two new perpetual scholarships at UniSA, one supporting the tertiary education of high performance athletes and a second supporting academically high-achieving Aboriginal students to attend our university. In a fitting nod to the unassuming man whose amazing donation precipitated this, the latter is aligned to the GO Foundation – Adam Goodes' and Mick O'Loughlin's charitable foundation which supports educational success for Aboriginal students. Two proud South Australian footballing legends. Two great Sydney Swans. For those paying attention, Andrew was in year 12 in 1983. Synchronicity? Maybe. Karma? Definitely.
Pridham Hall will open its doors in early 2018. Take a peek through the hoarding on Hindley Street and watch it take shape in the coming months. On Saturday night, in our 25th Anniversary year, in Brookman Hall, the physical point of origin of what ultimately evolved into our university, Andrew Pridham became the very first of our global alumni to be inducted to the UniSA College of Benefactors. A modern professional, truly leading by example and a graduate of whom we are justifiably and immeasurably proud.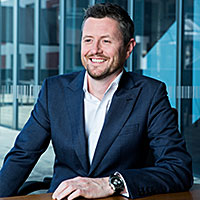 Through The Big Picture, I hope that our whole community gains a greater and current appreciation of what is going on, how it fits together and how our activities connect and reinforce each other at a whole of enterprise level.
Archive
---
Tag cloud