Posted 09/12/2014
by:

Professor David Lloyd
Last Tuesday evening I was in Canberra as the Higher Education and Research Reform Amendment Bill was voted down in the Senate. I wasn't there for the politics, rather I was attending the launch of the New Colombo Plan scholarships for 2015. I was also coming off the disappointment of our not securing the dental tender, and the coincidence of significant efforts unrewarded had cast a little cloud over my usual sunny disposition. Until I met our New Colombo Plan students. I won't embarrass them too much (Michelle, Mitchell and Anthony), but suffice to say they really did UniSA proud. All eloquent, all bright. The very best and brightest, the Foreign Minister called them. And I had to agree. Not least because it was our Colombo Fellow (Michelle) who delivered the only student speech of the night, nor indeed that with only 69 recipients for the whole country, it was clear that our students were outstanding nationally. They cheered me right up. All thoughts of teeth and reform bills pleasantly banished from my mind. Because they reminded me, they embodied, what we are here to do. They come from a mix of backgrounds, they have different motivators and different stories to tell – but they were clearly enjoying their UniSA education, were embracing the opportunities it was affording them and were determined to succeed and to make a difference. They turned a dark day into a bright night. It's worth taking a look here.
I suppose the little tale above is illustrative of the peaks and troughs we all face in our day to day working lives. I think we also feel the pressure more acutely at this time of year. It wouldn't be December if we weren't taking stock at some level of the year we've just had. And what a year it has been – Hills, HP (Hewlett Packard), PAFC (Port Adelaide Football Club), HIB (Health Innovation Building) designs, Great Hall planning, I4C (Institute for Choice), Orchard Gateway, ESPs (Enterprise Support Plans), D2D (Data to Decisions CRC), Centre for Business Growth, EQUIS (European Quality Improvement System), 20 years with HKBU (Hong Kong Baptist University), opening Jeffrey Smart, QS and THE top unis under 50, QS top 300 worldwide, the EDB (Economic Development Board), Hawke EU (European Union) Centre, a year of outstanding Hon Docs, the RAP (Reconciliation Action Plan), the James Morrison Academy of Music…so many great achievements and acronyms!
We also have the first tranche of data back from the cultural survey. It tells me that we have high hopes for the future of the university and that we are collectively engaged in pushing on to meet our ambitions. What it also tells me is that in 2015 we have to work harder on communicating with each other, at empowering one another and at operating as one team. But more of all that in the weeks and months to come. We may even have a jam session to help build more links internally and to tackle the last vestiges of post ESP silos.
We head into a new year without certainty on the future funding of our sector. We also head into a new year secure in the knowledge that our university is differentiating itself successfully. That we are achieving our Crossing the Horizon goals, quietly and occasionally not so quietly, each and every day. Whatever happens in Canberra, we can be sure of ourselves, our potential and our standing as a great, young university. Against the backdrop of all these developments in 2014, we kept the show on the road, we produced graduates and new knowledge, we worked hard at being pro-commercial without losing sight of what makes us a university. For that I am grateful to all of our staff who have worked so hard this year. I think it's reasonably fair to say we were enterprising.
Lastly, as we head into the festive season and the summer holiday period, let me wish you and yours the very, very best.
PS – if you've ended up on the naughty list, you know the song, you'd better watch out…these characters could be underneath the tree on Christmas morning…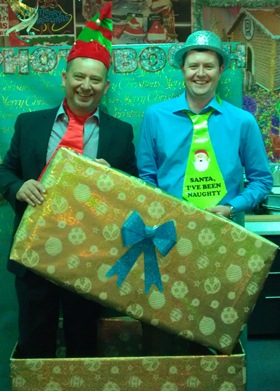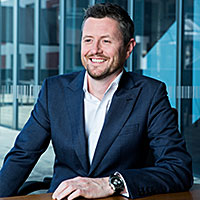 Through The Big Picture, I hope that our whole community gains a greater and current appreciation of what is going on, how it fits together and how our activities connect and reinforce each other at a whole of enterprise level.
Archive
---
Tag cloud