Confronting the Commotion of Celebrity
June 13 2014
UniSA's Hawke Research Institute welcomes Lloyd Cole as Visiting Fellow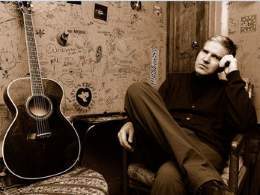 With a singing and song writing career that has spanned almost four decades, UK artist, Lloyd Cole knows a lot more than most about surviving changes in the music industry and the conduit of celebrity.
His transition from front man of the Commotions in the 1980s to solo artist - at a time when the whole music industry is being challenged and fragmented by globalisation and new technologies - is testament to his adaptability.
Australians will get a rare insight into the world of Lloyd Cole - his music, his views on the industry today and on the technologies and trends that are changing the way people access and appreciate music - when he takes up a Visiting Fellowship with UniSA's Hawke Research Institute.
The stint at UniSA's flagship Hawke Research Institute dovetails with Cole's 2014 tour of Australia, in which Lloyd Cole will perform his bookish songs and display his legendary self-deprecating humor in concerts across Australian capital cities.
Director of the Hawke Research Institute, Professor Anthony Elliott, was eager to secure Cole – who he says is a pioneer in the brave new world of do-it-yourself pop music – to Adelaide at UniSA.
"At the Hawke", Prof Elliott says, "we have a global reputation in the field of cultural studies, and one of the big challenges concerns understanding current massive changes to the music industry.
"Colleagues here are trying to figure out how musicians can financially survive in the age of Spotify.
"So, I asked Lloyd Cole to come over – as a Visiting Fellow of the Hawke – to work with us on these challenges, which are crucial to the future of the Australian music industry and also globally."
Along with Morrissey from The Smiths, Lloyd Cole is widely hailed as one of Britain's best songwriters.
His brooding, witty intelligence – evident in pop classics such as Perfect Skin, Brand New Friend and Lost Weekend – has meant he has often been compared to Bob Dylan and Leonard Cohen.
In fact, Cole was so inspired by Bob Dylan's recent Tempest album that he dug out his notebooks and returned to the studio to record Standards – an astonishing record which has generated Cole's inevitable renaissance across Europe.
While visiting the Hawke Research Institute, Cole will deliver various public engagements. In Adelaide, there will be a free public event titled On Music from Singles to Spotify on July 2 from 5.30 pm in the Allan Scott auditorium at City West campus. Cole will be in conversation with Anthony Elliott, and will also perform songs from across his career.
"He will be reflecting on what can only be described as a career of wild and almost reckless eclecticism," Elliott says.
"He will also address the new challenges thrown up for performers and artists by commercial music streaming services such as Spotify or Pandora."
In Hobart, the Hawke Research Institute is partnering with Tasmania's Museum of Old and New Art (MONA) for a repeat performance on July 4 from 7pm. Tickets available from MONA.
Further details:
Lloyd Cole is an English singer, songwriter and musician. His latest album is Standards, released by Tapete Records. In 2014, Lloyd Cole is Visiting Fellow at the Hawke Research Institute, University of South Australia.
Professor Anthony Elliott is Director of the Hawke Research Institute, University of South Australia. His biography, The Mourning of John Lennon, has been widely critically acclaimed. His forthcoming book, The Routledge Handbook of Celebrity Studies, will be published by Routledge in 2015.
The Hawke Research Institute is Australia's largest social science, humanities and creative arts institute. "The Hawke Research Institute", according to Lord Anthony Giddens from the UK Parliament, "is the most innovative body of its type in Australia and is now influencing policy-making debates all over the world".
Media contact: Michèle Nardelli office: 08 8302 0966 mobile: 0418 823 673 email: Michele.nardelli@unisa.edu.au