UniSA donors support the greatest gift, Education - 125 scholarships and grants awarded
June 05 2019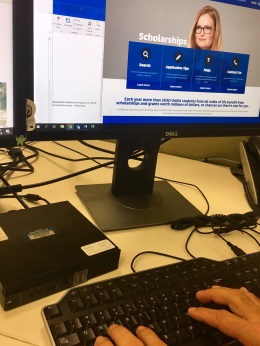 UniSA will see 125 donor-funded student scholarships and grants awarded tonight.
The awards, totalling almost $1 million will recognise 220 students by providing vital encouragement for individuals sharing a common aspiration to succeed both academically and professionally.
The life-changing awards will be presented at a ceremony at UniSA's City West campus this evening thanks to the generosity of hundreds of University donors.
The scholarships and grants program offer transformative gifts to students with exceptional ability who – through an array of cultural, geographical and socio-economic circumstances – might not otherwise have had the opportunity to go to university.
For 22-year-old Foundation Studies student, Shakila Orozgani, the David Pank UniSA College Encouragement Prize is a new beginning after fleeing the violence and oppression of the Taliban in Afghanistan and arriving in Australia just last year.
"Growing up in the Uruzgan province of Afghanistan, which was then under Taliban rule, I was denied the basic right to go to school or university," Orozgani says.
"I'm the first girl in my family who has ever had the chance to have an education.
"It was my dream to have a notebook and pen and go to a class that had a computer. I had heard about such things but had never seen them, except in my dreams."
Now thriving as Foundation Studies student at UniSA, Orozgani has ambitions to eventually complete a Bachelor of Law and International Relations, become a lawyer, and act as an international advocate for refugee rights and a "voice for the voiceless".
"I've been given the freedom to get an education, to help myself and my family, but also to contribute to Australia, and to have value and worth as citizen," she says.
"Now I have the opportunity to just study for the sheer joy of learning, explore my interests at university, and to fully develop myself intellectually, culturally and socially.
"I want to be a positive role model for people who want to pursue their goals and visions. To empower people – especially women and girls – to move beyond what they expected to do."
Similarly, 24-year-old Jordan Trevorrow's dedication to sport and his community has led him on a path, not only empowering likeminded Aboriginal Australians to change their lives, but his own as well.
This year he is receiving UniSA's Goodes-O'Loughlin Scholarship for his outstanding work to support his studies. The scholarship is supported by the GO Foundation, an organisation started by AFL stars and SA sporting heroes, Adam Goodes and Michael O'Loughlin.
"I was never a bad kid, I always had respect for my teachers, I just didn't like doing the work too much," Trevorrow says. "After school, however, I became more involved in my community."
After deciding to pursue tertiary education, Trevorrow enrolled in UniSA's Aboriginal Pathways Program (APP) and in 2018 he became the first male to graduate from the program, allowing him entry into the Exercise and Sports Science degree.
"I am pursuing a health science degree because I want to further my knowledge and improve my own health using sport as a platform," he says.
"Working with professional athletes would be a dream job. But I also realise the potential to complete my degree and go back into my community to improve the health of people back in the country who need it most."
UniSA Vice Chancellor Professor David Lloyd says the importance of philanthropy in the education system can't be underestimated.
"Help takes many forms," Prof Lloyd says.
"Often it is financial, but there is also much to be gained by providing students the opportunity to gain work experience, to travel, to make connections, or simply to find a mentor who can guide and advise as a person finds his or her own path in life.
"We are deeply indebted to our academic and professional staff, to the friends of the University who give of their time and especially, to a dedicated group of corporate and private donors who share our vision to provide educational opportunities to those students with a passion to learn.
"None of these grants and scholarships would be possible without the compassion of our valued donors and their understanding that education is one of the greatest gifts."
If you would like information about contributing to the University, please contact Advancement Services on (08) 8302 7030 or visit www.unisa.edu.au/giving.
Media contact: Michèle Nardelli tel: 0418 823 673 email: michele.nardelli@unisa.edu.au