UniSA celebrates activist and advocate for justice - Amnesty leader, Dr Kumi Naidoo awarded Honorary Doctorate
June 18 2019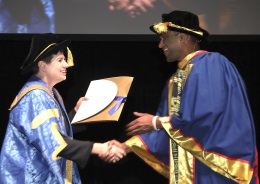 The University of South Australia will pay tribute to the Secretary General of Amnesty International, Dr Kumi Naidoo, during his visit to Adelaide by conferring him an Honorary Doctor of the University in recognition of his commitment to social justice.
The award will be presented at the Hawke Centre's Amnesty International Oration – Human Rights in a Time of Tolerance and Hate - at the Adelaide Convention centre on Tuesday June 18.
UniSA Chancellor, Pauline Carr says she is proud to present the award to a man who has made an active commitment to justice from a very early age.
"It is not every 15-year-old that is willing to get expelled from high school because of the passion of his beliefs, but growing up in South Africa during apartheid, Kumi felt compelled to protest injustice, to organise rallies and engage in civil disobedience – and he got expelled," Carr says.
"He was also arrested, and with pressure mounting, the teenager was forced to live underground and eventually continue his education in exile in the UK where he was awarded a Rhodes Scholarship to attend Oxford University where he studied for his PhD in political sociology.
"Kumi returned to South Africa in the 1990s when Nelson Mandela was released from Robben Island and apartheid was crumbling.
"He was living there working on legislation for the African National Congress on adult literacy and voter education campaigns during the same period that UniSA awarded Mandela an Honorary Doctorate in recognition of his enormous contribution to social justice, civil societies and healing through reconciliation.
"The connections we have had with South Africa through the Mandela legacy and before that, through our academic relationship with Fort Hare University and its distance education program, are deep, and in acknowledging Kumi, we acknowledge the importance of all people who stand up and become agents for positive change."
Dr Naidoo has gone on to hold many international leadership roles – Chair of the Global Call for Climate Action, Founding Chair of the Global Call to Action Against Poverty, Co-founder of Africans Rising for Justice, Peace and Dignity and Executive Director of Greenpeace International.
"Kumi has always been an alliance builder," Carr says.
"He understands that rights don't exist in isolation – that issues like climate change are tied to racial inequality – that sex discrimination is embedded in the economic exclusion of women and right here in Australia, we too understand, that access to education is vital if we are to eliminate poverty and disadvantage.
"We share his passion for education and equality of opportunity and we're delighted to welcome Dr Kumi Naidoo to the UniSA community."
In accepting the award, Dr Naidoo says he is deeply honoured.
"Now, more than ever, we must rally to protect our right to free expression from all forms of discrimination," he says.
UniSA media contact:Michèle Nardelli phone: +61 418 823 673 or +61 882960854 email: michele.nardelli@unisa.edu.au