War graves and WWI trench violin inspire new ballad opera
October 31 2018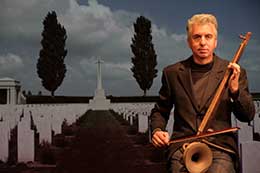 The University of South Australia and Tutti Arts are collaborating to present the premiere of a new ballad opera, Earshot by Director/Writer Russell Fewster and Composer Richard Chew.
Earshot is the story of a blind musician searching for the lost grave of her great grandfather on the WWI battlefields of the Somme.
Director, writer and Lecturer in Performing Arts at UniSA, Dr Russell Fewster says the opera dramatises contemporary Australian pilgrimage to the WWI cemeteries in France, using music and song as a means of healing the profound experience of finding the grave of a relative lost through war.
"The performance features a rare phonofiddle, a violin made in the trenches by an Australian soldier," Dr Fewster says.
"In the 1980s, after I visited the WWI battlefields in France and visited the war graves I had a strong desire to capture the experience in a meaningful and artistic way, and that stayed with me.
"It is a profoundly moving experience – one that is hard to forget and I know that is something many Australian visitors share when they visit the war graves."
He says finding the form to express those emotions has been the challenge.
"The phonofiddle, which was collected by my late father, was a centrepiece for me, connecting the power of music to reach across time and shaping my dramatisation of the healing nature of WWI pilgrimage.
Artistic Director of Tutti Arts, Pat Rix, says the opera is a good fit for Tutti.
"We are especially delighted that the character of Sarah Clarke will be played by Annika Hooper, a member of the Tutti Choir who is herself blind," Rix says.
"Collaborations on productions like Earshot allow Tutti to showcase the talent and leadership of singers with disability in a way that continues to raise community awareness about the capacity of artists with a disability."
Earshot is presented by the University of South Australia and Tutti Arts with support from Veterans SA, the Tower Hotel and Alliance Francaise.
The ballad opera is planned to coincide with the 2018 Armistice Day Commemorations.
Performances are on Saturday November 17th at 8pm and November 18th at 3pm at the Hartley playhouse UniSA Magill Campus.
Bookings can be made at trybooking.com/YCDG.
More information contact: Dr Russell Fewster Russell.Fewster@unisa.edu.au tel +61 8 8302 4461
mobile 0466 314 613
Media contact: Michèle Nardelli mobile 0418 823 673 email michele.nardelli@unisa.edu.au