Food activist Ronni Kahn to deliver 2018 UniSA Nelson Mandela Lecture
November 07 2018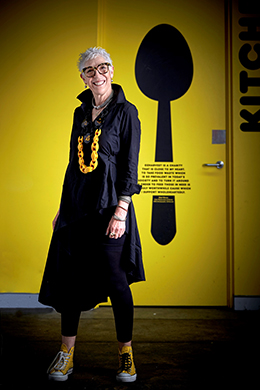 This Wednesday, November 7, the ninth annual UniSA Nelson Mandela Lecture will be delivered at The Bob Hawke Prime Ministerial Centre by Ronni Kahn, a powerhouse in the fight against global food waste and founder of the OzHarvest organisation, Australia's leading food rescue operation.
Born in Johannesburg, Kahn founded OzHarvest in 2004 in response to the huge volume of good food going to waste in the hospitality industry, and the operation now rescues more than 180 tonnes of produce each week from over 3,500 donors including supermarkets, hotels, airports, wholesalers, farmers, corporate events, caterers, shopping centres, delis, cafes, restaurants and boardrooms.
Since establishing OzHarvest, Kahn has campaigned tirelessly to promote the food waste issue, emerging as a renowned international speaker on the subject and working with key stakeholders to halve food waste in Australia by 2030, a role that includes serving as a member of the Federal Government's National Food Waste Strategy Steering Committee.
Jacinta Thompson, Executive Director and Events and Exhibitions Producer of The Bob Hawke Prime Ministerial Centre, says Kahn's example has changed the way we think about human rights in a fundamental and all-too-often overlooked context.
"By highlighting both the dreadful waste and the profound need associated with food, locally and internationally, Ronni has placed humanity and compassion above of so many other competing interests. Thompson says.
In her Nelson Mandela Lecture, Kahn will share how she has navigated and built bridges with naysayers, politicians, people in need, and business leaders, growing a philanthropic enterprise to "Nourish Our Country" and transform lives, with the influence of Mandela as her guiding light.
"I think of myself as an accidental activist," Kahn says.
"What I care about most is making sure hungry people get surplus food – I've done this because the government hasn't, they have completely let down the people of Australia."
Kahn's journey tackling the global issue of food waste was closely followed by an independent film crew over the last three years and the resulting documentary, Food Fighter, received critical acclaim on its cinema release in June.
Kahn has also received numerous accolades for her entrepreneurship and impact in sustainability, including: Australian Local Hero (2010), BOSS magazine Top 21 True Leaders (2017), Gourmet Traveller Outstanding Contribution to Hospitality (2017) and Griffith University Doctor of the University.
She joins a prestigious list of speakers who have delivered the Nelson Mandela Lecture, including human rights activist Dr Musimbi Kanyoro and Former Irish President, Mary McAleese.
The series was established in 2008 to honour Nelson Mandela, The Bob Hawke Prime Ministerial Centre's first International Patron (2001-2013).
Media: Dan Lander office (08) 8302 0578 | mobile:0416 760 162 email: dan.lander@unisa.edu.au
Photograher: Sue Stubbs