Building brand PEACE and fighting for it - new exhibition opens at MOD.
November 23 2018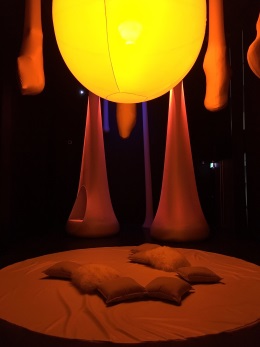 In an era where news is pervasive but unreliable, where peace is ambushed by violence on city streets and in family homes, where wars wage between enemies and the enemies within – is it time to fight for peace more powerfully?
In its second exhibition, Waging Peace, UniSA's MOD. will explore how we might actively fight for peace.
What techniques and ideas might we use to build a peace brand or market peace like a product? How might we develop a games culture that is peace-focused and what other innovations might give people new perspectives around conflict and resolution and the power to wage peace?
And, when we have read all the fake news there is to consume, how will we know what is real about politics, society and conflict, and where the reliable reference points are on the path to peace?
UniSA's Director of MOD. Dr Kristin Alford says the Waging Peace exhibition is important and timely, sometimes posing simple questions with surprising answers, and at other times peeling back the layers on our preconceptions and shedding light on contemporary notions of peace.
"We wanted to move beyond hackneyed peace associations and drill down into systems and technologies that might actively promote peace – especially on a collective or global scale," Dr Alford says.
"We've commissioned UniSA's Ehrenberg-Bass Institute for Marketing Science to research South Australians' perceptions of peace, which has thrown up some really fascinating information about how we view what it takes to construct a peaceful world.
"The survey group were quite divided on what to do to improve peace – with 28 per cent believing connection and social inclusion were vital for peace and 24 per cent advocating heavier punishments for wrongdoers as a path to peace.
"More than 50 UniSA students of communications, illustration and design are working on redefining the peace brand in light of the research. So, you will be introduced to some new visual associations for peace – some of which are quite surprising, and intriguing."
Dr Alford says Waging Peace explores technological innovation, but also research and science related to the human condition.
A key exhibit is Sleep Ops, a space filled with specially designed sleep pods and piped with sounds and scents that explore their impact on sleep quality.
UniSA sleep expert Associate Professor Siobhan Banks says sleep has a huge role to play in maintaining human health and equilibrium.
"This exhibit brings to life the significant place sleep has in healthy functioning," Assoc Prof Banks says.
"Many people experience sleep deprivation in today's busy society, from world leaders travelling across the globe, to the homeless struggling to find a safe place to sleep and new parents waking up frequently to feed a newborn baby. And of course, in conflict zones fear and trauma impact the ability to sleep. Sleep loss can impact mood, cognitive processing, decision making and if chronic it can adversely affect health.
"This exhibit explores the biology of sleep, what happens when you don't get enough and looks at the 'sleep hacks' sleep researchers have uncovered that may help people achieve a better quality of sleep.
"Good restful sleep, leading to improved mood, better cognitive processing and decision-making, might well be a path to global peace."
Other exhibits include Orbitopia in the Universal gallery where visitors will be able to see how thousands of satellites crisscross the globe, providing communications and security technologies.
The exhibit will also include video presentations from key satellite and telecommunications researchers working on the latest challenges and opportunities, especially important as space industries are seeing increasing corporate and citizen participation.
Waging Peace will also feature a games arcade where people can tune into some of the most innovative interactive games set to test their mind, empathy, ethics and wisdom, rather than just their trigger fingers.
"There is much more to discover at the Waging Peaceexhibition and I think it is one where people will spend some time thinking differently about peace while they are here," Dr Alford says.
"We live in times where politics and social movements are increasingly polarized. Uncertainty and social unrest is pervasive and it is ever harder to ascertain what is true or accurate.
"Yet we recognise, that while peace may be the sum of individual actions, it should also be underpinned by justice, quality education, economic opportunities, access to technological development, healthcare and mechanisms for cross-cultural understanding.
"This exhibition will help people see their actions towards peace in a new light and consider how, as a community, we can fight for peace through technology, art, politics, music and science."
Waging Peace will be officially launched by HRH, the Duke of York, Prince Andrew at 1.30 pm on November 26, 2018 and open to the public from Tuesday 27 November.
Find out more at https://mod.org.au/
Media contact: Michele.nardelli@unisa.edu.au tel 0418 823 673