UniSA to lead research and education into social enterprise
March 23 2018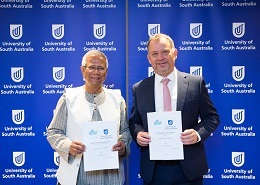 The University of South Australia signed an agreement today to establish the Yunus Social Business Centre at UniSA, affiliated with the global organisation Yunus Social Business.
Named for its co-founder and Nobel Peace Prize winner, Professor Muhammad Yunus - Yunus Social Business was established in 2011 following the success of Prof Yunus' Grameen bank in creating a micro-finance model to support the development of small businesses, a model now successfully applied in some of the poorest communities around the world.
Prof Yunus was in South Australia to formally sign the agreement with UniSA at 8.30 am today at the Mayfair Hotel and to promote the work of Yunus Social Business.
Unlike a charity, social businesses generate profit and aim to be financially self-sustaining.
Social businesses either create income for the poor or provide them with essential products and services like healthcare, clean water or clean energy to support their creation. One hundred per cent of the company profits are reinvested in continuing the company's social mission.
UniSA Acting Vice Chancellor, Prof Allan Evans says the Yunus Social Business Centre at UniSA will provide a unique opportunity for students to learn how business principles can be applied to support the most marginalised groups move out of poverty.
"This relationship will open opportunities for new research across disciplines, harnessing our strengths in business, education and the social sciences to develop research relevant to poor or marginalised Australian communities and to marginalised people in the Asia-Pacific region," Prof Evans says.
"It will also open up the whole area of social enterprise, microfinance and social business for our students and lead to placement opportunities where they can see this vital work in action.
"We are delighted to have made this important connection with Prof Yunus, one of the most innovative minds working to alleviate poverty in the world today, and to the team behind Yunus Social Business and Grameen bank and its work.
"As an institution that has always had at its core a commitment to social equity, we see this new Centre at UniSA as an important step to educate graduates who have the skills to work in developing communities and nations and to make a difference to the life outcomes of people in those communities."
Media contact: Michèle Nardelli mobile 0418 823 673 email michele.nardell@unisa.edu.au