Ultrasound training to save lives in regional SA
February 09 2018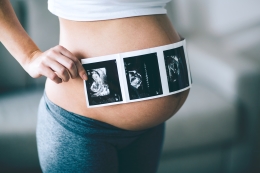 With thousands of soon-to-be mothers across rural and remote Australia missing out on potentially lifesaving antenatal ultrasounds, the University of South Australia (UniSA) is hosting two, two-day intensive workshops for remote midwives and doctors so they can provide basic ultrasound services to their communities as part of The Hospital Research Foundation's (THRF) Healthy Newborn Project.
The project, made possible thanks to more than $100,000 in funding from THRF is being led by UniSA's Dr Nayana Parange with training to take place at the University's specialist facilities on the City East campus which includes a state of the art ultrasound simulation lab. The first workshop will take place on February 10 and 11.
Dr Nayana Parange, from UniSA's Division of Health Sciences, is determined to improve the lack of trained healthcare professionals in regional communities, building on work that she's been involved in over several years, including on UniSA's Whyalla campus.
At least two ultrasound scans during pregnancy are considered best-practice antenatal care to provide vital information for a pregnant woman and the health professional, such as an estimated due date for the baby, which can be crucial in diagnosing complications. Ultrasounds can identify a range of complications, including ectopic pregnancies, which can be life-threatening.
Dr Parange says the lack of regionally-based GPs and midwives who are trained to perform antenatal ultrasounds, as well as a lack of equipment, is a widespread problem putting lives at risk.
"An antenatal ultrasound can be lifesaving but at the moment not everyone is receiving at least one ultrasound during pregnancy – as health guidelines recommend – because of a lack of equipment and a lack of staff trained to use it," Dr Parange says.
"Thanks to the generosity of THRF's community, we are now able to deliver a training program to GPs and midwives that will bring lifesaving antenatal point of care ultrasound service within easier reach for pregnant mums and communities living in regional and remote South Australia.
"We also hope the government will come on board and provide equipment in the rural and remote areas that need it."
While some pregnant women will travel for an ultrasound, many don't – for a range of reasons – or are unable to do so. But there's little data to provide reliable numbers around this.
THRF's Healthy Newborn Project will enable Dr Parange and her team to undertake a needs analysis survey to provide data around access to antenatal ultrasound scans in rural and remote communities across Australia. Over the next 12 months the research will examine factors such as the impact of needing to travel, and determine how many lives could be saved through improved access to antenatal ultrasound.
Women living in the APY Lands in South Australia's remote north west, face a five-hour drive and a plane journey to be able to receive an ultrasound scan.
"Which makes it difficult in itself and there's no funding for a support person to go with them either, so that's another factor that can discourage them," Dr Parange says. "If women are able to get the service locally, then life-threatening conditions can be picked up in a timely way."
THRF's Chief Executive Paul Flynn says the project will save the lives of mothers and babies.
"THRF is thrilled to be supporting this exciting project with UniSA that is set to be a game changer for families in Australia's regional and rural communities," he says.
"This is the first time in Australia that a training program with a focus on antenatal care has been funded through the support of the community. Our donors and ticket buyers in the Hospital Research Home Lottery look forward to hearing about the lifesaving outcomes of this project and seeing its impact for years to come."
The next workshop on March 17 and 18 is still accepting participants. Interested health professionals in regional South Australia are asked to contact Amber Bidner on 08 8302 1317 or Amber.Bidner@unisa.edu.au.
Media contacts:
Georgia Minarelli (UniSA) mobile: +61 413 314 726 email: Georgia.Minarelli@unisa.edu.au
Abbey Bell (THRF) mobile: +61 401 082 124 email: abell@hospitalresearch.com.au
Further information:
Participants attending the February training are from:
Clare
Bamera
Whyalla
Oak Valley (VIC)
Halls Creek (WA)
Port Augusta
Nganampa (NT)
Anangu Pitjantjatjara Lands (NT)
The Royal Flying Doctor Service