Sparking a revolution in pain care in regional NSW
March 07 2018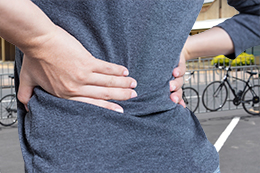 New laws to restrict access to pain medications in Australia may save lives, but they have left many long-term sufferers of chronic pain wondering how they will manage.
Researchers from the University of South Australia believe a whole new approach; a veritable pain revolution, can provide a solution to this problem.
Pain Revolution is an innovative new strategy that applies cutting edge educational approaches to help prevent the onset of chronic pain and help to treat it.
A team from UniSA is setting up a network of Local Pain Educators in rural Australia. They have carefully selected and educated health professionals that will work within their communities to address the burden of pain.
The researchers will be bringing news of their Local Pain Educator Network to regional NSW in April in a unique roadshow that combines a challenging seven-day charity cycling tour, with public and professional speaking engagements and outreach along the way.
From April 11 to 18 leading pain researchers – Professor Lorimer Moseley and Dr Tasha Stanton and leading educator Dr David Butler will be visiting towns between Wollongong and Albury-Wodonga to bring their research to the people and health professionals.
Built on decades of research that shows that chronic pain can be treated by learning how to retrain the many protective systems in the body that cause pain, the Pain Revolution is a mission to disseminate important research evidence across the health professions, so that the new concepts can be used to support people suffering pain.
UniSA chronic pain expert, Prof Lorimer Moseley says the medical and allied health industries need to work closely to tackle a problem that is dramatically impacting the quality of life of one in five Australians every day.
"In the past 20 years, we've learnt a great deal about how to prevent and better treat chronic pain and now it's time to ensure that the knowledge we have uncovered gets into the hands of the people who need it and can apply it to help people living with pain," Prof Moseley says.
"Through the Local Pain Educators, we are now able to truly revolutionise pain care and the effect this will have on local communities is potentially massive."
The Pain Revolution Rural Outreach Cycle Tour will be accompanied by Dr Stanton's Brain Bus, providing another opportunity for the community to engage with the science of pain, and the ways that recovery can be achieved.
"The Brain Bus is a mobile experience lab and we plan to set it up in town centres along our route so that people can actually experience some of the research that explains pain and see for themselves how amazingly adaptable their brains are," Dr Stanton says.
"People will get to feel first-hand how quickly their brain can change with illusions, virtual reality and more, and how they might unlock the incredible potential of their system to change their experience of pain.
"Learning about pain and the brain and retraining these systems is an effective therapy is already helping people recover from chronic pain and reduce its impact on their lives."
The Pain Revolution is a joint effort from dozens of scientists, clinicians, community organisations and industry partners.
Key dates for the Pain Revolution Rural Outreach Cycle Tour :
April 11: Ride departs Sydney, Wollongong events
April 12: Nowra events
April 13-14: Canberra events
April 15: Cooma events
April 17: Albury-Wodonga events
Media contact: Lissanthea Taylor email hello@flareup.io skype lissanthea.taylor
Michèle Nardelli mobile 0418 823 673 email michele.nardelli@unisa.edu.au