Small price to pay to support brain cancer research
March 13 2018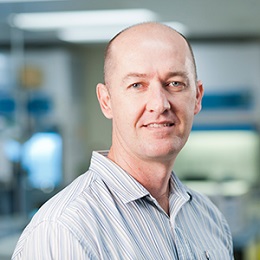 Would you give up wine or coffee for 15 days to help a good cause?
It's a tiny sacrifice to support a new campaign launched this week by the Neurosurgical Research Foundation (NRF) in partnership with the University of South Australia (UniSA) to fight brain cancer, which takes one life every seven hours in Australia.
Approximately 1000 Australians are diagnosed with glioblastoma each year - a highly malignant and the most commonly diagnosed brain tumour in adults. The current median survival period from diagnosis to death is only 15 months. Mortality rates have barely changed in 50 years.
The funds raised through the campaign, Give 15, will enable UniSA's leading brain cancer researcher, Professor Stuart Pitson, to further his research into glioblastoma and increase the current patient prognosis of 15 months to years.
"I am grateful for the generous support we have received so far from the Neurosurgical Research Foundation," says Professor Pitson.
"However, further research is vital in the fight against this devastating brain tumour. The additional funds raised will allow my research team at the Centre for Cancer Biology to develop new therapies for glioblastoma and improve patients' life expectancy and quality of life."
The concept of Give 15 is for Australians to pledge the funds saved by giving up 15 things. For example:
15 cups of coffee = $60
15 glasses of wine = $150
15 café purchased lunches = $225
15 pairs of shoes = $2,250
Or donate $15 a month for 15 months = $225
"I strongly encourage everyone to get behind this campaign," says Adelaide widow Kerry Buttery, who lost her husband Richard to glioblastoma in 2015.
"Please support this essential research and help increase the glioblastoma survival period from 15 months to years. When faced with this devastating disease, any extra time spent with loved ones is priceless," Kerry says.
For further information and to be involved visit: http://give15.gofundraise.com.au/
Media contact: Candy Gibson mobile 0434 605 142 email mailto:candy.gibson@unisa.edu.au