SIRI can you help me? - Public lecture looks at the possibilities and perils of our dynamic AI future
September 06 2018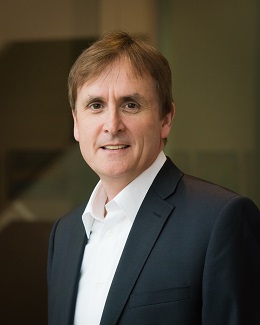 When you're lost, Siri can be your best friend, but when she can't actually retrieve the right telephone contact, she can also drive you crazy. And only 20 years ago, while people predicted the wonders of an AI assisted future, the idea that you could become so frustrated with what is in effect a complex algorithm, was practically inconceivable.
Living with and responding to AI as it weaves its way into every part of our lives is set to be one of the greatest adjustments of the modern age and, as University of South Australia's Professor of Sociology Anthony Elliott says, we are only at the beginning of a wild ride through the digital revolution.
Celebrating the first-ever Australian Social Sciences Week (September 10- 16), Prof Elliott will be delivering a public lecture at Western Sydney University on Thursday, September 16, from 6.30 to 7.30pm.
Entitled, AI is not what you think - Everyday life and the Digital Revolution the public lecture will take you from industrial robots and military drones to chatbots and virtual personal assistants, arguing that these innovations in the here and now are already transforming our lives and our social relationships.
"This is not future forecasting, our lives are already saturated with AI – evidenced in the rise of chatbots, Google Maps, Uber, Amazon recommendations, email spam filters, robo-readers, and AI-powered personal assistants such as Siri, Alexa and Echo," Prof Elliott says.
"Just like electricity, AI is largely invisible and will soon be ubiquitous.
"It functions automatically, operating behind the scenes, opening airport doors, navigating your car through unknown streets, reminding you of your daily appointments and often providing that online customer care support that you thought was handled by a real person."
Prof.Elliott, a Fellow of Academy of the Social Sciences in Australia, is Executive Director of the Hawke EU Jean Monnet Centre of Excellence at UniSA, which addresses the grand challenge of how the digital revolution – AI, advanced robotics and accelerating automation – is increasingly transforming large tracts of social, economic and political life today.
Recently appointed as a member of the Australian Council of Learned Academies Expert Working Group on Artificial Intelligence, Prof. Elliott currently leads an international, interdisciplinary team investigating the social impacts of AI.
Prof Elliott says while the march of AI will herald massive socio-economic disruption and the disappearance of some jobs, like most social transformations, some jobs will be enhanced by the technologies and new work will be created.
"But this revolution is testing us in other ways – it is changing how people talk and communicate with each other because it is blurring the lines of what is human to human communication," he says.
"More than 60 per cent of Internet traffic is now generated by machine-to-machine communication, conversation generated by chatbots and softbots.
"Advanced AI is very different from previous forms of technological automation – these new technologies are increasingly mobile, situationally-aware, adaptive and in communication with other intelligent machines.
"On a global scale, our future in an intensive AI world offers stunning new opportunities but also disturbing risks.
"The key question is whether our societies can tolerate the uncertainty of the culture of AI, react creatively to it, and become more open to constantly evolving digital transformation."
The Lecture will be held at Western Sydney University, 255 Elizabeth Street, Sydney (Level 4 Room 4.10 and 4.11). Guests are welcome from 6 pm for a cocktail reception.
Registrations can be made at: www.bit.ly/anthonyElliottSocialScienceWeek
Find out more about Anthony Elliott and his work by visiting his website http://www.anthonyelliott.org/
Media contact: Michèle Nardelli mobile 0418 823 673 email michele.nardelli@unisa.edu.au