Pauline Carr named Chancellor of the University of South Australia
August 17 2018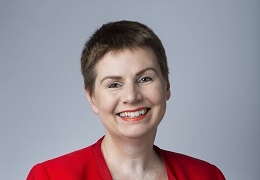 The University of South Australia is pleased to announce Pauline Carr as its Chancellor.
Carr will take on the role from next month following the current Chancellor, Jim McDowell's appointment as Chief Executive of the Department of Premier and Cabinet.
Carr, who has been involved in the merger discussions since their inception, says she is delighted to take on the leadership position at what is an extraordinarily exciting time in higher education.
"We are an institution that is playing an important role in delivering innovation and excellence to the state and I am pleased we have been able to approve our new strategic plan, Enterprise 25, which sets us up to confirm our place as Australia's University of Enterprise," Carr says.
"At the same time, we are engaged in conversations around the creation of a new university and the consideration which that idea is being given can only strengthen our understanding of our role in the community into the future.
"I have been on University Council for several years and always feel extremely proud of UniSA and the work it does to empower people and help them achieve their ambitions.
"UniSA is also deeply engaged with industry to support growth and innovation.
"I feel privileged to take on this role and look forward to working with a great team on Council and with the executive team at UniSA."
With more than 30 years of management and commercial experience in the resources industry with both Australian and international listed companies, Carr brings a wealth of business, management and governance experience to the position at UniSA.
She has been a member of UniSA Council since 2010 and is currently serving as Pro Chancellor.
Originally an accountant, Carr worked for Exxon Mobil and held senior positions in Newmont Asia Pacific and Normandy Mining Limited.
She is Chairman of National Pharmacies, a non-executive Director of ASX listed Highfield Resources Limited, a Board Member of the SA Government's Minerals and Energy Advisory Council and the Deputy Chair of the South Australian Minerals and Petroleum Expert Group.
She also provides management support, business improvement, governance, compliance and risk consultancy services to companies in a range of sectors.
At UniSA she has been Chair of the Audit and Risk Management Committee and a member of both the Finance Committee and Senior Remuneration Committee..
Media contact: Michèle Nardelli mobile 0418 823 673 email michele.nardelli@unisa.edu.au