UniSA leads the way on healthy strategies to cope with city life
April 19 2018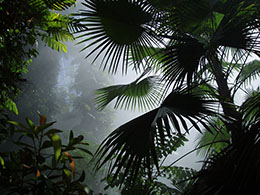 Cities that provide opportunities to walk in nature are critical for residents' mental health and emotional wellbeing, an Adelaide symposium will hear next week.
Hosted by the University of South Australia and led by UniSA urban sociologist Professor Adrian Franklin, the two-day symposium on 23-24 April will discuss how cities can offset the impacts of fast-paced urban environments.
"We know that walking and contact with nature can help maintain people's mental and emotional health as well as improve the mood of people with severe mental health issues," says Professor Franklin. "Our environments are constantly changing through urban planning and development and we need to ensure that people's health is a priority."
The symposium, titled Walking, City Environments and Mental Health, will feature some of the world's leading researchers in the field, including the following:
Dr Andrea Mechelli from Kings College London, whose team has developed a smartphone application called Urban Mind, inviting city residents around the world to photograph their surroundings and record their mood;


Dr Sjerp de Vries from Wageningen University, who is leading a group of researchers in The Netherlands on quantifying green space and its implications for health, well-being and social safety – the so-called 'Vitamin G' effect;


Professor Andrew Dannenberg from the University of Washington, an expert in urban design, particularly relating to the link between transport modes and health. Professor Dannenberg will also give a public lecture on Thursday 19 April at 5.30pm on the City West campus.
UniSA Planning for Healthy Cities Course Coordinator, Dr Hans Pieters, says some Adelaide residents took part in Dr Mechelli's Urban Mind project. The findings will be discussed at a public lecture on Thursday 26 April at 4pm on the City West campus.
"This research is designed to help planners and community health practitioners design city environments so that there are sufficient parks, street trees, water features, reserves and other forms of open green space for residents' emotional wellbeing," Dr Pieters says.
During the symposium, UniSA PhD candidate Mark Daker will also present his research findings on public open spaces in Adelaide, laying the foundation for improved policies in this area.
Stefanie Dühr, recently appointed Professor of Urban and Regional Planning at UniSA, says Professor Dannenberg's research on public transport and health will be of interest to Adelaide residents.
"We are experimenting with tram extensions, additional train spurs and greater investment in cycling infrastructure in Adelaide so we are looking forward to hearing his findings," she said.
Dr Mechelli, Dr de Vries and Professor Dannenberg are available for media interviews in the days prior to or during the symposium on 23-24 April.
For more information and a copy of the symposium program and public talks, please contact Hans Pieters on 0418814885.
Media contact: Candy Gibson mobile 0434 605 142 email mailto:candy.gibson@unisa.edu.au