Hello, this is your (UniSA) captain speaking…
April 27 2018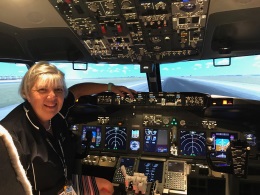 Want to know how pilots react in an emergency? University of South Australia students will have a cockpit view – literally – after taking delivery of a $250,000 737 flight simulator today.
The simulator, based in the School of Engineering at UniSA's Mawson Lakes campus, will be used for research and training purposes relating to human factors safety management, advanced navigation and heavy aircraft systems.
UniSA commissioned New Zealand-based manufacturer Pacific Simulators to build the training device which is an exact replica of the Boeing 737NG aircraft with high fidelity visuals to simulate flying conditions.
Dr Doug Drury, Discipline Leader for UniSA's Aviation Program, says there is an escalating demand for more research into human-related factors in high-risk industries such as aviation.
"The simulator will be used for research into how factors like fatigue and decision making can affect pilots in a crisis," he says. "Technical skills are just one component of flying. We need to know more about how the mind and body reacts in an emergency to reduce the likelihood of errors and accidents."
UniSA has more than 500 students enrolled in the Bachelor of Aviation, South Australia's only tertiary aviation degree which prepares students for a global career in the aviation industry, either in management or flying. Pilot training is taught by UniSA's partner, Flight Training Adelaide.
"This simulator will help us conduct high-quality research into aviation psychology, communication and pilot performance," says Dr Steve Leib, Program Director in the School of Engineering.
What: Launch of new 737 flight simulator
Where: Room M2-11, Mawson Lakes Campus
When: 3.30pm-4.30pm Friday 27 April 2018
Media contact: Candy Gibson mobile 0434 605 142 email mailto:candy.gibson@unisa.edu.au