Artists-in-Residence explore mental health 'From Within' as part of SALA
August 09 2018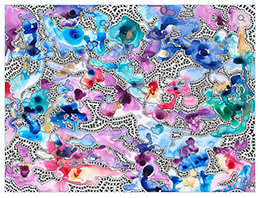 Artists working the Rural and Remote Inpatient Unit at Glenside Health Services will unveil their artworks this week as part of the South Australian Living Artists (SALA) Festival.
The artists Thomas Readett and Ashton Boyd (who works by the name BAY), have worked alongside consumers, carers, staff and researchers from the University of South Australia to produce a body of work based on the theme of 'From Within' as part of an artist-in-residence program, which is delivered in a partnership between Country Health SA and UniSA.
Inspired by her Tongan Heritage and mental health Bay says she hopes her work raises awareness of the broad spectrum of mental health symptoms.
"I have found that while society is aware of mental health issues, many people still don't know what to do when somebody asks them for help, or what to say when a loved one confides in them," BAY says.
"I hope more complex illnesses can be talked about more openly. I think people are still scared to talk about many difficult symptoms. That worries me, because people are remaining sick for fear of what others might think."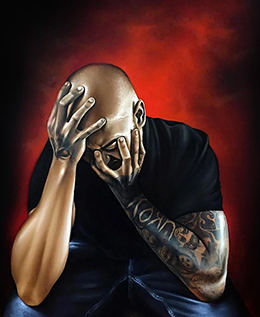 Thomas Readett's main areas of practice are drawing and painting. Working as Tarnanthi, Education Officer at the Art Gallery of South Australia, Readett says the Artist-in-Residence program through Country Health SA and UniSA, has given him an insight into the lives and perspectives of mental health consumers.
"By spending time together, we were able to communicate human to human, soul to soul," Readett says.
"I think that was a beautiful thing. No matter what they had been through, every person I spoke with wore their heart on their sleeve, as I did.
"It was through these stories that I was able to create my works, giving people back their voices so they are able to be heard outside of the ward."
UniSA Chair Mental Health Nursing, Professor Nicholas Procter, says the partnership between Country Health SA, SALA and UniSA is providing an important opportunity to bring new ways to communicate about and with people experiencing mental health challenges.
"Our research shows that when the artists take up a residency at a mental health facility, they are a link to the everyday world for people undergoing treatment," Professor Procter says.
"What happens is a meaningful human connection and that is empowering for both the artists and the mental health consumers."
Country Health SA Mental Health Strategic Operations Director, Umit Agis, says by all accounts, having the artists' work with and among mental health consumers, clinicians and employees is an enriching and therapeutic experience for all involved.
"Both the creative process and the work that has been produced highlight the importance of art as a means of communication, as well as showcasing the vital role art can play in destigmatising mental illness," Mr Agis said.
SALA Festival General Manager Penny Griggs says SALA is proud to again exhibit the work produced as part of the Artist-in-Residence program.
"The relationship between health and the arts provides so many benefits and exciting opportunities for collaboration and artistic exploration."
The SALA exhibition From Within opens at 6:30pm on Friday, 10 August at Raj House, Hyde Street, Adelaide.
Media contact: Michèle Nardelli mobile 0418 823 673 email michele.nardelli@unisa.edu.au
Visit the UniSA Media Centre - Follow us on @UniSAnewsroom