Adelaide tram extension estimated to cut CO2 emissions by 9%
February 06 2018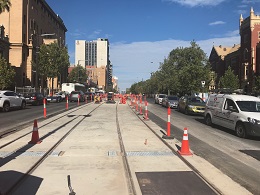 Adelaide CBD residents, workers and visitors should be able to breathe a little easier once the $80 million tram extension to the city's East End is completed, according to a University of South Australia (UniSA) study.
The one-kilometre extension – from King William Street to East Terrace – (pictured right) is anticipated to cut carbon dioxide emissions by up to 9 per cent with many motorists planning to swap their cars for free public transport within the inner city.
A UniSA survey of almost 200 people who regularly travel along North Terrace found that 27 per cent of car users said they would 'certainly' switch to use the tram line, while 40 per cent said they would 'probably' use it in replace of a car.
Professor Ali Soltani and Dr Andrew Allan from UniSA's School of Art, Architecture and Design said that the tram extension is part of a State Government long-term plan to change Adelaide's dependency on cars in favour of public transport.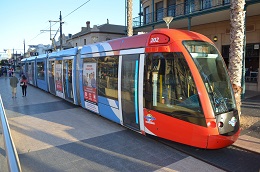 "The 30-year plan for Greater Adelaide 2017 Update has a carbon neutral city as its goal and bringing back trams into the inner-city area is part of that plan," the researchers say.
Around three million journeys a year are recorded on the existing tram line that runs from the Entertainment Centre to Glenelg (pictured left), but this figure represents only 4 per cent of Adelaide's 75 million public transport trips in 2015 and 0.3 per cent of overall transport usage in Adelaide.
"Adelaide is the most car-centric capital city in Australia," Professor Soltani says. "This is mainly due to the relatively cheap parking and the huge number of parking places in Adelaide's CBD – more than any other city, at 42,700 spaces. The average cost of parking in the CBD is $23 a day, which is also cheaper than all other capitals."
Bus services currently account for almost 19 per cent of transport use in Adelaide's CBD but around 23 per cent of people surveyed used a combination of transport modes, including cycling and walking.
Existing car users said free public transport was the biggest drawcard influencing them to switch from cars to the tram. Convenience was cited as the second main factor.
The survey, published in the journal Travel Behaviour and Society, showed that 66.7 per cent of car users (both drivers and passengers) said they would choose the tram for their future travel to destinations along North Terrace.
The paper is available at: http://bit.ly/2nEZryg
Media contact: Candy Gibson mobile 0434 605 142 email mailto:candy.gibson@unisa.edu.au