Adelaide dances to its own tune this July for global event
June 21 2018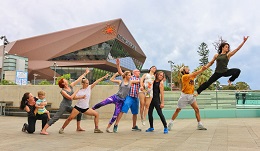 Up to 800 people from 25 countries are expected to converge on Adelaide next month for one of the world's largest dance gatherings, hosted by the University of South Australia and venue partner Adelaide College of the Arts.
Panpapanpalya 2018 is a week-long dance congress from 8-13 July organised by dance and the Child international (daCi) and the World Dance Alliance (WDA).
Its convenor, UniSA arts education lecturer Dr Jeff Meiners, was the key driver in winning the bid to stage the international event in Adelaide, which will feature world-class dancers, educators and researchers from around the world, as well as a strong Indigenous presence.
The name Panpapanpalya means gathering and sharing in Kaurna – the language of the Aboriginal people in the Adelaide region - and reflects the conference themes of dance, gathering, generations and learning.
High profile speakers will include:
Dr Meiners says the event will give dancers, educators, choreographers, teachers and dance enthusiasts a unique opportunity to collaborate and build networks.
"This will be an important one-off event for South Australia, as well as interstate and international visitors," Dr Meiners says.
"It is only the second time a global joint dance congress has been held; the first hosted in 2012 by the Taipei National University for the Arts.
"UniSA now has the honour of hosting this event which is generously supported by Arts South Australia and Adelaide City Council."
Around half of the delegates will be young people visiting Australia for the first time, who will receive a traditional welcome at Victoria Square/Tarntanyangga followed by contemporary Aboriginal and Torres Strait Islander dance at Adelaide Town Hall led by Kurruru Arts and Culture Hub.
UniSA's City West Campus will host a program of more than 100 scholarly papers, panels and lecture presentations, while the Adelaide College of Arts in Light Square will host nearly 80 performances and 50 workshops.
Other local dance companies who will be involved in the event include the Leigh Warren Dance Hub, Stomping Ground Studios , The Mill, and Australian Dance Theatre.
SAHMRI and the Royal Adelaide Hospital are also getting into the act, hosting a Dance Epidemic of different performances across selected locations in the SA Biomedical Health and Research precinct.
The closing event, led by Adelaide's acclaimed Cirkidz, will be held at the Queen's Theatre with a handover to the next international hosts.
Panpapanpalya 2018 also coincides with the inaugural Adelaide Dance Festival (8-21 July). Congress delegates will be granted discounts to selected events, including performances by the Australian Ballet and Australian Dance Theatre.
For more details about the event and program, go to http://www.jointdancecongress2018.com/
Media contact: Candy Gibson mobile 0434 605 142 email mailto:candy.gibson@unisa.edu.au