$6.6m ARC support for UniSA research to benefit society
November 01 2016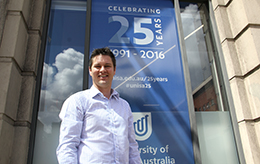 Engaged, bright and enterprising – that's the future for the University of South Australia which today has achieved funding support of more than $6.6million across 14 different projects, including a range of Discovery Early Career Researcher Awards and Future Fellowships, from the Australian Research Council (ARC).
With potential outcomes that could improve the quality of life for the elderly, lead to the next generation of wearable touch display technology, benefit the Australian tourism industry, enhance culturally sensitive education practices, or provide a new direction in a solar cell technology, the diversity of projects achieving funding are unified in their focus on addressing real world concerns.
Dr Drew Evans, Associate Professor of Energy and Advanced Manufacturing at the Future Industries Institute, secured the largest grant with funding of over $900,000 for a project examining the further potential use of conductive polymers, beyond their application in smartphone and laptop displays. The funding follows a license agreement made just yesterday for technology developed between Dr Evans and Sentek Pty Ltd, a local sensor manufacturing company.
In total three Future Fellowships, four Discovery Early Career Researcher Awards, six Discovery Projects and one Discovery Indigenous scheme proved successful in bidding for grant funding from the ARC, as announced this morning by the Federal Minister for Education and Training, Senator Simon Birmingham.
UniSA Vice Chancellor, Professor David Lloyd described the funding awards as testament to the strength and variety of research undertaken at UniSA and the value of the projects in making positive changes in the wider world.
"It is a measure of the value of our research and of the world class standard of our academic community that UniSA has achieved such successful funding outcomes through the ARC, in what is an increasingly competitive market," Professor Lloyd says.
"Identifying real world issues and working innovatively and collaboratively to address them is the bedrock of our research and the funding secured through the ARC will help these projects achieve positive impacts across society in myriad ways."
UniSA Deputy Vice Chancellor: Research and Innovation: Professor Tanya Monro said the award funding was an endorsement of UniSA's solutions-focussed research.
"The interdisciplinary approach to research that we engage in is creating knowledge that makes a significant difference.
"That difference is progress, and the latest round of ARC funding is a strong investment in these projects which will help accelerate research outcomes to achieve progress across fields including health, education and technology."
Successful UniSA projects announced today include:
Professor Ina Bornkessel-Schlesewsky will lead a project that has secured funding of $897,120, aimed at understanding the relationship between linguistic complexity metrics and cognitive decline in old age. By studying the relation between complexity scores and real-time information processing (measured via electroencephalography) across the adult lifespan (20–80 years), this project will develop a simple and accurate marker of the individual balance between processing capacity and strategy, with the potential to increase quality of life for the elderly and cut costs of age-related cognitive impairment.
Dr Simon Conn's project, which aims to identify the functions of circular RNAs, the most contemporary and enigmatic family of RNA molecules, is receiving $802,992 funding. The project aims to delineate circular RNA function by systematically identifying their interacting partners at the DNA, RNA and protein levels, the so-called molecular interactome. This project will reprogram embryonic stem cells to model developmental processes and is designed to validate circular RNA research. Benefits may include a higher-quality research workforce by mentoring students, refining fundamental tenets of RNA biology and may extend to improving health in the long-term.
Associate Professor Dr Drew Evans is leading a project which aims to understand the optical, electrical and optoelectronic properties of conductive polymers by studying how ions influence the charge transport through the polymeric structure. This project has secured $904,000 funding and could lead to an ability to harness and control these properties for energy storage and wearable displays. These materials' biological neutrality may also have value in areas of drug delivery and sensing applications in the agriculture and healthcare spaces.
Professor Lester-Irabinna Rigney has secured $337,000 funding for a project which aims to examine how teachers in mainstream middle school classrooms can teach young Indigenous Australians in a culturally sensitive way, with outcomes that are expected to inform theory, policy and practice in schools and teacher preparation courses. Teachers, researchers, Aboriginal Education Officers and Elders will develop an Australian theory for culturally responsive pedagogy that draws on International and Australian Indigenous Studies, pedagogy studies, and empirical work in schools.
Dr Jia Tina Du's project, which has been awarded $360,000, aims to better understand group behaviour of information seeking. The project builds models and develops guidelines for understanding and supporting collaborative information seeking behaviour in the context of tourism. It is expected to benefit the Australian tourism industry, making it easier for tourists to find information.
Dr Inyoung Kim's project, designed to help generate clean energy, has been awarded $360,000 grant funding. This project aims to synthesise highly active electrochemical catalysts of two-dimensional (2D) inorganic nanostructure for hydrogen evolution reaction (HER). The electrocatalysis of water to produce hydrogen gas could generate clean energy, but the platinum catalyst's cost and low activity make it impractical. This project will develop 2D inorganic nanosheets with tuneable pores and electronic band structures, hybridised with organic and/or inorganic semiconductor nanomaterials for HER, and use density functional theory calculation to investigate these hybridised nanosheets' mechanisms for HER. These highly efficient and low-cost catalysts are expected to generate clean energy.
Media contact: Will Venn office +61 883020096 mob 0401 366054 email will.venn@unisa.edu.au