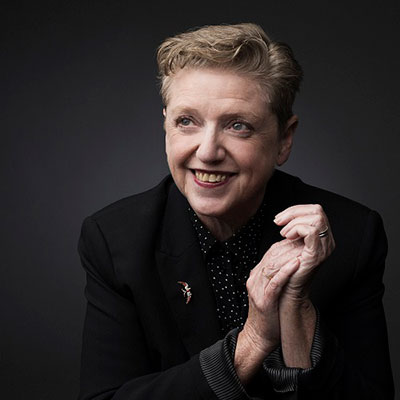 Renowned singer, writer, artistic director and public advocate for the arts, Robyn Archer AO was awarded an Honorary Doctorate from UniSA during the April/May graduations while Chief Executive Officer of the Hospital Research Foundation (THRF) Group, Paul Flynn, became a University Fellow.
Archer was honoured for her distinguished service to the community, acknowledging her extensive contribution to the arts as both a creative and a mentor, dedicated to developing the next generation of arts and cultural leaders.
In awarding the Honorary Doctorate, UniSA Vice Chancellor Professor David Lloyd said Archer's creativity has touched audiences around the world while her passion and drive have had a significant influence on the arts and culture scene in Australia.
"On behalf of the University, I would like to acknowledge Robyn's role in shaping the contemporary arts sector in Australia," Prof Lloyd said.
"Considered by many as a national treasure, we are honoured to have Robyn join the UniSA community."
Flynn was named a University Fellow in recognition of his outstanding contribution to the growth and the development of UniSA.
An accomplished board director and executive in both the finance and not-for-profit sectors, Flynn has been the CEO of THRF Group since 2009. During this period, he has regularly collaborated with UniSA to drive research projects that benefit the wider community.
Prof Lloyd said that under Flynn's leadership, THRF Group has helped the University expand its research reach and impact.
"Paul has an impressive track record of leadership in the non-for-profit sector, delivering real outcomes for the community," Prof Lloyd said.
For more information, see the related media release.