Student Lounge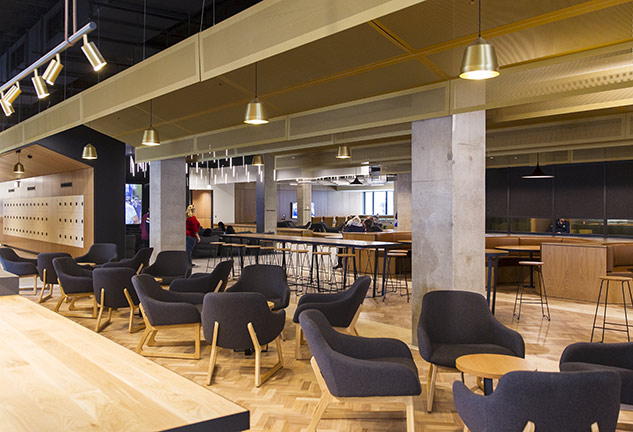 Designed by students for students.
The newest social space of our West End, the Student Lounge, is located on the ground floor of City West campus's Catherine Helen Spence Building and offers students a space to interact outside of study time. Opened in September 2015, the lounge is devoted to enhancing the student experience and campus life.
The space's concept design was driven by ideas from the University's architecture students and will be available for all students, not only those based at City West campus. The space will also cater for social and recreational events organised by the Student Experience Team, USASA and student groups.
Read more about the students involved in designing the Student Lounge.
For more information on UniSA's campus projects read the Enterprising Spaces: Campus Projects 2015 - 2018 brochure.
Building facilities
The new $3 million lounge is open 24 hours a day, 7 seven days a week and has:
Central town square
Fully equipped kitchen facilities and vending machines
Abundance of social spaces
Mobile charging facilities
Student lockers
College Green with gaming, table tennis and pool tables
The lounge is also home to UniSA Sport who have a one-stop-shop counter for all sporting club, registration and event information and will showcase club's achievements and award recipients. USASA also calls the space home and sell campus wear clothing, second-hand textbooks, event tickets, feature art installations and has free diaries and more available to students.
A team of UniSA architecture and interior architecture students were involved in designing the building, along with Chris Trotta. After Chris consolidated design ideas, Phillips Pilkington Architects and Harrold and Kite made the space a reality.
The student design team included:
Ghislain Maiden
Amie Blanden
Alyssa Ellenwood
Emily Rogers
Rachel Aistrope
Bonnie Hamilton.
For more information on the University's Enterprising Spaces visit unisa.edu.au/enterprisingspaces
Enterprising Spaces

By 2018, UniSA will increase its engagement with local and global industries, enhance its current world-leading, relevant and informed research and produce more highly skilled and innovative graduates.

View the brochure

Great Hall

The Great Hall will be a one-stop shop for students and the local community, featuring a sports complex, swimming pool and facilities for graduations, exams, corporate and cultural events.

Find out more

Healthy futures

UniSA's Health Innovation Building will be home to the Centre for Cancer Biology, the Science l Creativity l Education Studio (SciCEd) and an ICT Innovation and Collaboration Centre.



Find out more