Mount Gambier New Learning Centre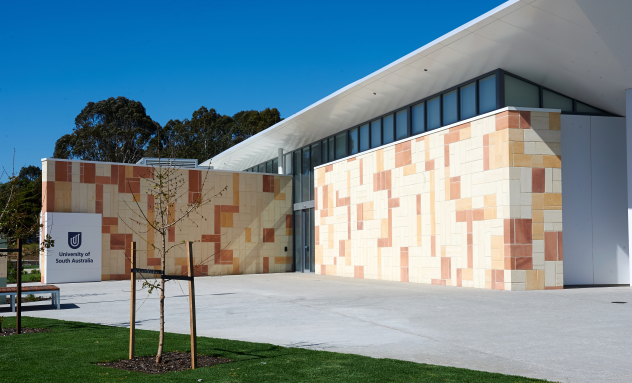 Established in 2005, the Mount Gambier campus is an extension of the University of South Australia and a reflection of an ongoing commitment of over 10 years to the community and has developed strong collaborative partnerships. More than 30 local subcontractors and suppliers were used during the construction phase of the new learning centre creating $4.5 million dollars worth of work for the region.
Students have the opportunity to access flexible study options in foundation studies, nursing, teaching, social work and music through the James Morrison Academy. This new learning centre has now tripled the size of UniSA's facilities in the region, enabling up to four times as many students to participate in our programs.
&nbsp Based in the vibrant Limestone Coast, our new Mount Gambier Learning Centre on Wireless Road West is set to enhance education opportunities and university life for regional students. The learning centre includes high technology specialist facilities for a number of programs and has increased the capacity for students to interact via new state-of-the art collaborative learning facilities.
For more information on UniSA's campus projects read the Enterprising Spaces: Campus Projects 2015 - 2018 brochure.
Building Launch:
The Mount Gambier Learning Centre was officially opened on 19 April 2016, showcasing some of the most sophisticated facilities for teaching and learning in regional Australia.
&nbsp New building facilities:
Spanning 2,500m2, this brand new learning centre is a world-class tertiary education facility using high-speed fibre optic infrastructure, which will revolutionise the student learning experience. By upgrading our information and communications technology capacity, our Mount Gambier students are able to access resources at the same rate as metropolitan students.
The building has a range of features including:
Central sky lit piazza with variety of spaces and furniture for socialising and informal learning
Collaborative teaching and learning facilities that allow lecturers, tutors and students to instantly display their work on large screens for discussion and debate
Technology-driven lecture gallery space, which is open to the Mount Gambier community for shared use
Specialist facilities that promote experiential learning for nursing and birthing (modelled on the new Royal Adelaide Hospital and Mount Gambier Hospital facilities) and social work courses
Active tutorial spaces providing flexibility for IT and practical based learning.
UniSA Regional Connections project:
The Mount Gambier New Learning Centre is part of UniSA's $22 million Regional Connections project, which aims to revolutionise the student learning experience and enhance access to higher education programs for regional students across South Australia.UniSA has secured $18 million in total funding from the Federal Government under the Regional Priorities round of the Education Investment Fund, $10.5 million of which has been invested into this new building and $7.5 million for delivery of High Speed Fibre connections to Mount Gambier and Whyalla Campuses.
Building project team:
This new Learning Centre has been developed by a talented project team including Architecture firm Russell & Yelland Architects in association with Guida Moseley Brown Architects and contractor BADGE Constructions (SA) Pty Ltd. During the construction phase, BADGE Constructions awarded more than 30 local subcontractors and suppliers with $4.5 million dollars' worth of work.
Enterprising Spaces

By 2018, UniSA will increase its engagement with local and global industries, enhance its current world-leading, relevant and informed research and produce more highly skilled and innovative graduates.

View the brochure

Great Hall

The Great Hall will be a one-stop shop for students and the local community, featuring a sports complex, swimming pool and facilities for graduations, exams, corporate and cultural events.

Find out more

Healthy futures

UniSA's Health Innovation Building will be home to the Centre for Cancer Biology, the Science l Creativity l Education Studio (SciCEd) and an ICT Innovation and Collaboration Centre.



Find out more