Pridham Hall

The heart of our City West campus.
In 2014 the University embarked on a project that has transformed on-campus life and provided purpose-built facilities for students to celebrate University life, milestones and achievements. Pridham Hall is a one-stop shop for students and the local community, featuring a sports complex, swimming pool and facilities for graduations and corporate and cultural events.
Sitting alongside UniSA's Jeffrey Smart Building and near a new student accommodation block on Hindley Street, Pridham Hall's architecturally expressive design continues to transform Adelaide's West End and enhance the vibrancy of the City West campus. The facility is a public drawcard and will attract the South Australian Health and Biomedical Precinct's growing population.
The first graduation ceremony was held in Pridham Hall on Monday 9 April, where over 4,000 students graduated for the first time in the new space. The gym facilities and pool are now open and more information about membership options are available via the UniSA Sport webpage.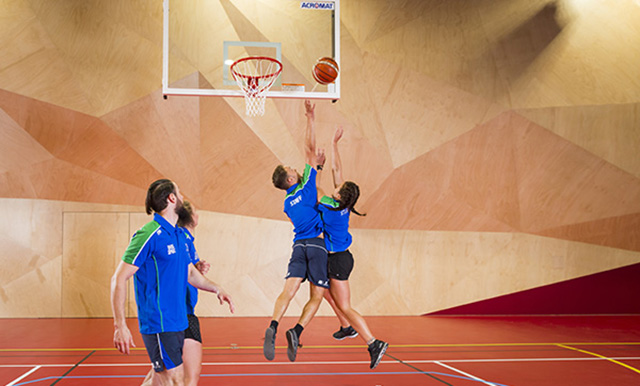 Generous alumni donation
The Pridham Foundation, which administers the philanthropic giving by the family of UniSA graduate Andrew Pridham, has presented a $5 million gift to the University of South Australia to support this new transformational building. Read more about Andrew and his family's generous contribution.
Building facilities
Each year over 9,000 students graduate from the University of South Australia and over 20 UniSA Sporting teams compete in local competitions. Pridham Hall houses both of these, offering a dynamic space for graduation ceremonies and sport.
As UniSA's publicly accessible sports, cultural and recreation complex, Pridham Hall includes:
A large multi-purpose hall that is transformed for graduations, functions and sporting events

Multi-purpose playing courts for many sports including basketball, netball and rock climbing

Fitness Centre incorporating a weights room and exercise equipment

25m five-lane, heated swimming pool.
Visit the Sport at Pridham Hall webpage for more information on the multi-purpose playing courts and for gym and swimming pool memberships visit the Pridham Hall gym webpage.

Pridham Hall facts
7,400m2 gross floor area

3,500m3 cubic squares of concrete

400 tonnes of structural steel

1,400m2 tiling

2,931 plants in the green wings at the entrance of the building

210 doors in the building

60 solar panels providing 80kw

400m3 of water in the pool

over 17,000 workers have contributed to this building to date
Building time lapse
Gain insight into the building process by viewing the below time lapse with footage from October 2015 - February 2018.
Become a permanent part of the new heart of UniSA
You can join hundreds of graduates, staff and supporters by donating $1,000 to have your name and three words to live by permanently etched into one of three sculptural features in the University's new ceremonial and sporting complex, Pridham Hall.
For further details or to secure your space, visit the Pridham Hall donation webpage.
Project team
Pridham Hall project team was led by South Australian firm JPE Design Studio together with Norwegian architecture firm, Snøhetta, and SA's JamFactory. Snøhetta was recently ranked sixth in UK's Building Design Weekly's top 100 architecture firms of 2015 list.
The project team also included:
Structural and Civil Engineers : Aurecon
Services Engineers : WSP / Parsons Brinkerhoff
Cost Manager : Rider Levett Bucknall
Managing Contractor : Mossop Construction and Interiors
Enterprising Spaces

By 2018, UniSA will increase its engagement with local and global industries, enhance its current world-leading, relevant and informed research and produce more highly skilled and innovative graduates.

View the brochure

Great Hall

The Great Hall will be a one-stop shop for students and the local community, featuring a sports complex, swimming pool and facilities for graduations, exams, corporate and cultural events.

Find out more

Healthy futures

UniSA's Health Innovation Building will be home to the Centre for Cancer Biology, the Science l Creativity l Education Studio (SciCEd) and an ICT Innovation and Collaboration Centre.



Find out more