Food operators at City West
Abbots and Kinney
Kaurna Building
Abbots and Kinney will bring a little bit of Italy and France to UniSA, with their passion for serving the best quality coffee, buttery pastries, cheeky cakes, vibrant salads, hearty sandwiches and more. They've got you sorted, whether you're looking for a caffeine hit, a freshly baked pastry, a light breakfast or lunch. Abbots and Kinney will also cater your next meeting or event with its unique and exciting catering options - serving up breakfast, lunch or morning/afternoon tea.
For catering contact email UniSA@abbotsandkinney.com or visit abbotsandkinney.com
Get to know Abbots and Kinney
Our tips for healthy eating
Eat fresh seasonal produce, as it needs very little interference to bring out the best flavours and is full of nutrients.
We deliver a healthy food menu by…
Making our salads and sandwiches fresh every day from seasonal ingredients, sourced locally where possible. All of our bread is made in-house and has no added sugar or preservatives.
Dietary requirements we cater to…
Gluten intolerant, vegans, vegetarians, pescatarian and carnivores alike.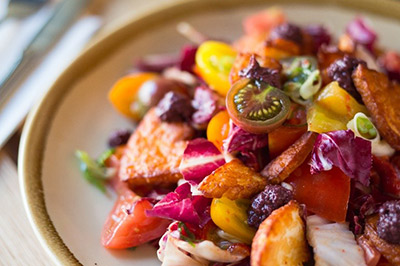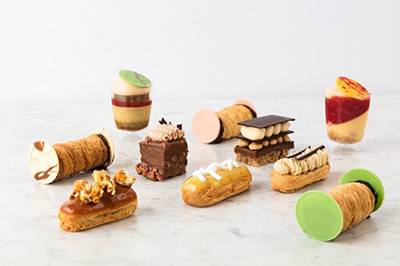 Honki Tonki
Barbara Hanrahan Building
A combination of South East Asian inspired cuisine, with favourites from Sit Lo's Vietnamese menu, comes Honki Tonki Canteen. Come for steamed buns, dumplings or noodles with all the favourites from both its Bank Street and Hindley Street stores now available on campus.
Click here for our Corporate Catering Menu
For catering contact Hello@honkitonki.com.au or visit www.facebook.com/honkitonkiadl
Get to know Honki Tonki
Our hero healthy dish
Noodle bowl range (fresh vermicelli noodles, mixed lettuce, pickled carrots, herbs and condiments with your choice of protein!)
Our tips for healthy eating
Make sure your dish is always colourful by using fresh ingredients like in season vegetables and herbs!
We deliver a healthy food menu by…
Using quality fresh ingredients. Dishes are all handmade fresh to order including our dumplings and steamed buns! No frozen processed ingredients and we also love using Asian herbs and condiments!
Dietary requirements we cater to…
Gluten intolerant, vegans and vegetarians.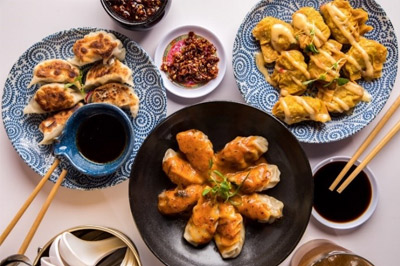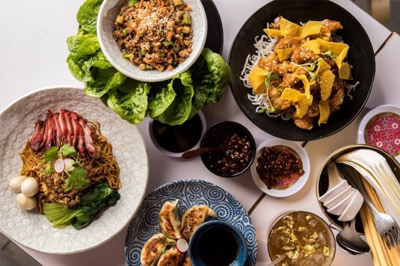 Food Lore
University of South Australia Cancer Research Institute
Taking inspiration from all around the world, the Food Lore ethos is truly modern Australian. Locally sourced is always the preference and big flavour is non-negotiable. The evolving menu means you will always have something new and exciting to try.
Try the corporate catering menus that is designed to invigorate work lunches and special events with unique and delicious offerings.
Food Lore can also assist with your special event catering and drinks services. Ask them for more information about their premium event services.
To order your catering online visit foodlore.com.au or for catering questions contact hello@foodlorekitchen.com.au or 0451 946 718.


West Oak Hotel
Hindley Street
Established in 1838, The Royal Oak was once at the heart of Adelaide's west end. It has lived through more than 175 years and several incarnations to survive as one of the city's oldest continual licensed venues. Now re- launched as the West Oak Hotel, this heritage icon is returning to its former standing as the best in the west, including the original front bar, West Oak Deli in the old dining room, a rejuvenated kitchen serving pub classics, the new Jolly Bar and Function Room, upstairs, and live music and DJs continue to be the heartbeat of the newly-greened beer garden.
The West Oak Hotel can cater your next meeting or event at a venue of your choice or one of ours.
For catering view the catering menu online. To book contact hello@westoakhotel.com.au or call 08 8410 5048. For more information visit www.westoakhotel.com.au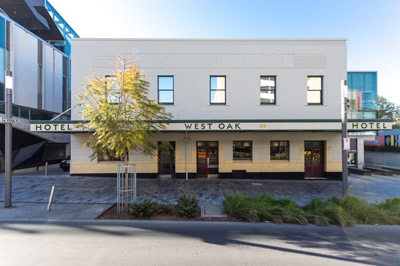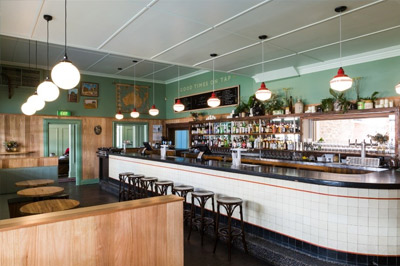 Espresso Room
North Terrace
Espresso Room located on the corner of Fenn Place and North Terrace is a great little coffee spot catering to lunch seekers and those wanting a quiet coffee. The team provide fast and efficient service offering lunchtime favourites such as rolls and focaccias, salads and hot soups. With vegetarian and gluten free options available there are always small cakes and cookies to have with your coffee. The Coffee Barun at Prospect roasts the Espresso Room's own unique blend and there is a wide selection of teas and herbal infusions available.