RCLC Symposia
2015 Symposium - The nature of learning in languages education
The RCLC held its 8th Annual Symposium on 26 and 27 November 2015 at the City West Campus. This year's theme was The nature of learning in languages education. The concept of learning would appear to be central to any understanding of language learning, but it is a concept that has been given little serious attention in applied linguistics. In the context of globalisation and the increasingly complex, multilingual and multicultural character of the contemporary world, there is a pressing need to reconsider what 'learning' means in the context of language education. This context challenges the largely monolingual understanding of learning that has prevailed in traditional SLA. It also challenges the predominantly functional, communicative orientation that has not sufficiently foregrounded the diverse, situated meanings that learning a particular language holds for diverse learners, with distinctive affiliations with the language being learnt.

Although there has been substantial theoretical expansion in understanding language and culture, less attention has been devoted to the conceptualisation of learning itself – its substance, processes and meanings for diverse individuals. The purpose of this symposium was to consider the nature and characteristics of learning in languages education – in relation to both teaching and learning and to assessment – recognising that the way researchers and educators understand language learning is highly influential in shaping languages education.
See program and abstract details
2014 Annual Symposium, Public Forum and Symposium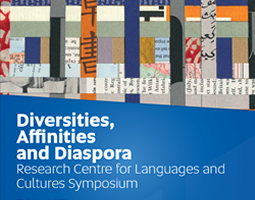 The Research Centre for Languages and Cultures hosted its 6th annual symposium and free Public Forum on Monday, 18 August 2014. The theme of these events was Diversities, Affinities and Diaspora and brought together a group of high-profile, internationally respected scholars working on multilingualism and multiculturalism. The symposium was designed to explore the changing nature of languages, cultures and identities in diverse global settings, partly as a consequence of mobility.
Following the symposium, the RCLC hosted the first roundtable meeting of a new collaborative network, the Southern Multilingualisms and Diversities Consortium, chaired by AsPr Kathleen Heugh (RCLC) and Christopher Stroud (Stockholm University and University of the Western Cape). This initiative follows a current trajectory of research specialisations of both centres, which is to develop evidence-based capability in and theory of linguistic diversity as this occurs in different contexts. The consortium consists of a group of research-active scholars who are renowned for their scholarly work and research associations with prominent institutions in Asia, Europe, Latin America, Africa, the Middle East and Australia. For more information on these events please see:
Diversities, Affinities and Diaspora - Program and Abstracts

Public Forum Program

Southern Multilingualisms and Diversities Consortium
2013 Symposium - Translation as intercultural mediation
Research Centre for Languages and Cultures – 2013 Symposium
14-15 November 2013
Bradley Forum, City West Campus
On the face of it, the task in translation is to rework a text written in one language into another so as to make available to a new audience something they would not otherwise be able to access. This means that a translator is involved in communicating meanings that have been constructed in one language—with its accompanying cultural contexts, for readers who share the language and participate in some way in that culture—to an audience that does not share that language and culture. Hence translation cannot entail simply reproducing the meanings of one text in another language; rather, after constructing a reading of the text and its intention, the translator must rearticulate meanings for new audiences. Through the medium—and mediation—of the translator's voice multiple linguistic and cultural framings are brought into relation so that meanings may be communicated across linguistic and cultural boundaries.
Mediation may be intrapersonal, and involve the individual in understanding the meanings of another's language and culture. Or it may be interpersonal, and communicate meanings to another who does not share the linguistic and cultural framings in which the meaning was communicated.
Translators are potentially involved in both such forms of mediation, but in their work the interpersonal dimension of mediation is very much foregrounded. This interpersonal dimension may be made more complex, and problematic, by pressures on the translator to become invisible, and to make the act of translation transparent (to use Venuti's metaphors), where the audience reads a translation not as the product of another's language and culture but as a product of the language and culture into which a text has been translated. The audience may not be aware of, or give significance to, the act of translation that has produced the text being read. In this way, intercultural mediation of the translator may be 'off the record', at least in some contexts.
At the other extreme, the issue of the translator's mediation can reflect the potential intersection between mediation and cultural appropriation in a text, or mediation and the discourse of power. Filtering down to the specifics, the translator's intercultural mediation is reflected in the need to negotiate culture-bound terminology, semantic gaps between languages and the like.
The translator's work can be investigated from multiple perspectives. It can be seen in the ways translators position themselves between languages and cultures and engage in the processes of mediation. It can be seen in the ways that translators themselves are brought into the process of mediation through their education. It can also be seen in the ways that education in the processes and practices of translation is, or can provide, education in the process and practices of intercultural mediation. This symposium aims to provide an opportunity to investigate such issues across a range of languages, cultures and contexts.
As in previous years, the symposium hosted internationally respected scholars. This year's symposium included the following speakers:
Professor Michael Grenfell, Trinity College, Dublin
Professor Sandra Hale, University of New South Wales
Professor David Katan, University of Salento, Italy
Associate Professor Kevin Windle, Australian National University
Dr Mino Saito, Tokai University, Japan
Dr Michael Walsh, AIATSIS and University of Sydney
Dr Isobel Grave, Dr Christopher Hogarth, Dr Michelle Kohler, Professor Tony Liddicoat, Dr Ioana Petrescu, Associate Professor Angela Scarino, Andrew Scrimgeour, University of South Australia
2012 Symposium
3 - 4 December 2012
The Research Centre for Languages and Cultures at the University of South Australia is excited to present a symposium on Language and Wellbeing: Perspectives on education and health.
Each year the University of South Australia's Research Centre for Languages and Cultures hosts an applied linguistics symposium designed to encourage discussion and debate on a diverse range of issues related to language and languages.
This year's symposium will stimulate discussion around the relationship between language and wellbeing in the contexts of education and health.
2011 Symposium
Shifting sands: Perspectives on the changing face of languages education in the Asia-Pacific region
14 - 15 November 2011
The continuing globalisation of education, in tandem with migration trends and significant socio-economic developments in the Asia-Pacific region that have changed the geopolitical landscape, gives pause for thought concerning the evolving role of languages education in this part of the world. In particular, these things raise questions about how and on what basis governments and educational institutions are promoting both languages in general as well as specific languages, the degree of uptake by students, the way in which educators think about languages and design and deliver language curricula, and how languages taught in the region sit in relation to one another - and, most intriguingly perhaps, the role of English in relation to that of Asian languages.
This year's Symposium, then, has a distinctly regional focus and its three sub-themes have been chosen to allow for an expansive discussion of key issues and debates. As such it promises to be a particularly relevant and engaging event for those of us involved in languages education in the Asia-Pacific region.
Click here to download the flyer.
2010 Symposium
The Research Centre for Languages and Cultures held its annual symposium on 2-3 December 2010. The symposium placed a spotlight on the changing dynamics, theory and research of linguistic and cultural diversity in the international arena. In particular, discussions in this symposium highlighted the challenges and dynamic responses to Indigenous Australian and new migrant languages, cultures and education.
Public forum
Languages in flux: the place of Chinese and English in the Asia-Pacific region

14 November 2011
5.00 - 6.30 pm
Sir Hans Heysen Building room HH3-08
UniSA, City West

The Research Centre for Languages and Cultures (RCLC) is privileged to present a seminar featuring distinguished scholars of international renown who will offer individual perspectives and insights on the status and roles of the Chinese and English languages, particularly in the context of China as the emerging economic and political superpower in the Asia-Pacific region and beyond.

Among other things, the discussion promises to provoke questions around notions of language and power, the nature of the relationship between English and Chinese, and whether and under what circumstances English might be usurped by Chinese as the world's lingua franca.

The discussion promises to be of interest to all those involved in language, languages education, language change and the social, political and economic forces that govern the perception and influence of languages.
Click here to download the flyer.
Click here to download the abstracts.
Please email kate.loechel@unisa.edu.au to register.