Pharmaceutical Innovation and Development Group (PIDG)
Your Partner in Translational Pharmaceutical Research
Pharmaceutical science is a key strategic research area within UniSA with an ERA ranking of 5 (outstanding performance well above world standard). The Pharmaceutical Innovation and Development Group (PIDG), led by Prof Sanjay Garg covers the full spectrum, from basic mechanistic studies to preclinical and clinical product development. Our interdisciplinary research is based on the principles of engagement, innovation, translation and impact. With a patient and partnership-driven approach, PIDG is a one-stop destination for progressing molecules to medicines, ensuring significant savings of time and resources. The team excels in solving difficult product development challenges such as poor solubility, stability, and the need for local and systemic drug targeting. PIDG work closely with several companies developing human and veterinary pharmaceutical, biotechnological, complementary, nutrition and cosmetics products.
Our Services
PIDG delivers customised R&D solutions to fulfil your product development requirements from preformulation, formulation, manufacturing (at pilot scale) to technology transfer, and developing alternate formulations for late lifecycle challenges. Our industry engagement is tailored to each collaborator/client with agreed intellectual property (IP) arrangement and can include "fee for service", collaboration, consulting or hybrid models. We specialise in partnerships for generating funding under the joint industry-academia programs such as ARC Linkage and CRC-P programs.
The PIDG team excels in offering the following services to companies developing human and veterinary pharmaceutical, biotechnological, complementary, nutrition, aquaculture and cosmetics products.
Analysis and Bioanalysis

Drug release and stability studies
Analytical method development, validation and optimisation of complex test procedures
Quantitation of test compounds in biological samples (plasma, blood, urine, tissues)
Raw material testing, product characterisation and stability assessment
Identification and evaluation of degradation products, metabolites; stress testing for stability indicating method
Compendial verification and qualification
Transfer of analytical procedures

New Drug Development

Preformulation:

Solubility and stability assessment and improvement
Solid state characterization
Polymorphism etc.

Preclinical and clinical drug development
Formulations supplies for in-vitro, ex-vivo, and in-vivo safety and efficacy studies
Process optimisation and validation
Scale up and Technology transfer

Dosage Form Design

Conventional dosage forms including solid (tablets, capsules, beads), semi-solid (gel, cream, ointment, paste, suppositories) and liquid (solution, suspension, emulsions)
Novel dosage forms

Modified release: Fast acting, long acting, pulsed, sustained, delayed, and enteric
Improvement of physicochemical characteristics e.g. solubility, stability, metabolism, permeability, bioavailability and taste
Site specific delivery: localised or systemic

Advanced Delivery Systems

Nanotechnology: Mesoporous silica nanoparticles, liposomes, micelles, polymeric nanoparticles, lipid nanoparticles, nanoemulsion, nanocrystals, nanosuspension
Coating and Encapsulation: conventional pan coating, Fluid bed coating, spray dryer, dip coating, extrusion/spheronisation
Novel drug delivery systems: Solid dispersion, films, implants, lipid suspension, microparticles, microcapsules, microspheres, pellets, in-situ gel, co-solvent, coated stents
Drug loaded medical devices: Hydrogel
3D printing technology for precision therapy

Veterinary Formulations

Formulations for dogs, cats, cows, horses, pigs, and fish
Dosage forms including

Intramammary delivery systems
Semi-solid topical formulations
Modified release pellets
Sustained release otic formulation
Suppositories
Single layer and bilayer tablets
Palatable oral formulations
Drug loaded feed and pour-on

Pharmacokinetics

PK Studies determine drug behaviour in the animal body and facilitate critical decision making on drug dosage and safety. PIDG provides the full range including protocol design, ethics submission, conduct study using mice or rat model and generate the PK sample analysis data using a fully validated bioanalytical assay to evaluate relevant PK parameters such as bioavailability, distribution, metabolism, and clearance.
Research Focus
PIDG focuses on novel anticancer drug delivery systems, infections, veterinary medicine, and other patient-centric projects:
Cancer drug targeting: both local and systemic delivery approaches:
Oesophageal and colonic stents as the vehicles for delivering single and the combination of drugs
Intracellular drug targeting using monocytes specific polymers
Novel drug loaded site specific and responsive hydrogel for colon cancer
Actively deliver anticancer agents to breast tumours, by functionalizing drug-loaded and pH responsive mesoporous silica nanoparticles with targeting ligands
3D Printing technology for drug targeting.
Novel antimicrobial compounds and formulations for human and veterinary applications:
Preclinical development of new drug candidates with activity against resistant pathogens.
The role of pH in wound healing and design of novel pH responsive wound healing systems
Developing new therapeutics for wound repair using nano-technology
Veterinary delivery systems for cattle, horses, pigs, cats, dogs, fish and other animals:
An innovative long-acting injectable IM formulation for the treatment of equine gastric ulcer
Antimicrobial formulation for mastitis
Sustained release formulation for canine otitise infections
Oral paste formulations for horses
Delivery systems for use in the pork industry
Taste masking of drugs used in aquaculture
Patient-centric projects that benefit patients directly and are at the crossroads of pharmacy practice and science:
Innovative technologies to improve patient adherence, especially in Alzheimer's Disease, cancer, and infectious diseases using 3D printing and Lipid-based formulation strategies
Extemporaneous compounding stability and product development, in collaboration with local hospitals
Bioanalysis of drugs in human milk
Industry Partners
Bova Aus and Bova UK
Cleanseas, Australia
Evofem, USA
GD Pharma, Australia
Labskin, UK
Luoda Pharma, Australia
Mayne Pharma, Australia
Neoculi Pty Limited, Australia
Noxopharm Ltd, Australia
Rezolve Scientific, Australia
Separation Science, USA
Sirtex Medical, Australia
Sunpork Farm Supplies, Australia
Vaxine, Australia
Yaso Pharma, USA
International
We love International collaborations and partnerships. We have close collaborations with Shandong University in China (China-Australia Centre for Health Science Research, CACHSR); International Medical University (IMU) in Malaysia; Manipal Academy of Higher Education (MAHE), Jamia Hamdard, and Nirma University in India. The group is very keen to develop new collaborative partners, especially research staff and students exchanges for the short or long term and joint research programs.
Why PIDG?
Agile and highly-skilled team
Dedicated project manager
Specialist facilities
Customised IP arrangement
Flexible contract arrangement
Access to joint industry-academia programs
Up to 43.4% cashback for R&D expenses
Training
In addition to the University HDR program, PIDG offers specialised training programmes and organising joint symposia on various topics such as HPLC, LC/MS, and formulation Laboratory skills. Custom-designed training programmes can be arranged to match with the requirements.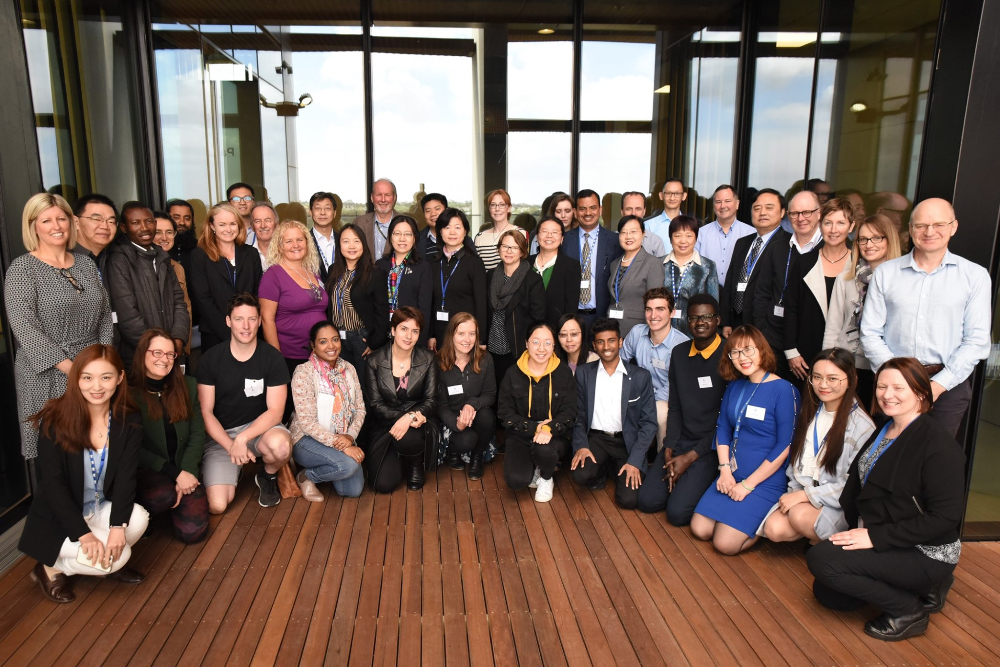 Sixth joint symposium of China Australia Centre of Health Science Research at PIDG
Our Facilities
PIDG is based in the new 247 million AUD purpose-built Bradley Building in city west Adelaide. The PIDG facilities are well equipped with state of the art laboratory and pilot scale pharmaceutical development, analysis and characterisation equipment for various dosage forms. The team also has easy access to advanced facilities in Future Industries Institute.